Celebrating outstanding contributions
Annual CCSL and LIVE Centre awards honour active students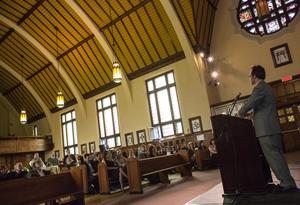 Every year, Concordia's Council on Student Life (CCSL) recognizes members of the university community who have made outstanding contributions to student life and services. At the same event, the LIVE Centre hands out its Volunteer Recognition Awards to deserving individuals who have shared their time and talent to benefit the external community.

"The beauty of the CCSL Outstanding Contribution and Volunteer Recognition Awards is that they are the one time in the year where the breadth and depth of engagement by members of the Concordia community is recognized," says Dean of Students Andrew Woodall.
"Whether it be volunteering in a hospital or overseas, or organizing a bake sale, we are here to celebrate each and every one of these contributions to making Concordia a more vital and caring community."

This year, the CCSL gave Outstanding Contribution Awards to six students, one faculty member and two staff members. Below is a list of the winners, together with some information about why they were recognized.

Firas Al Hammoud (graduate student)
• Executive Vice-President of the Economics Graduate Students' Association (EGSA).
• Mentor to fellow students.

Chad Walcott (undergraduate student)
• Vice-President, External and Sustainability, for the Arts and Science Federation of Associations (ASFA).
• Worked closely with Sustainable Concordia to address the issue of bottled water on campus.
• As member of the Concordia Student Union, led campaign to raise awareness and mobilize students around pending tuition increases.

Sophie Kräuchi (undergraduate student)
• Communications Director with the Concordia WUSC chapter and co-president of the Golden Key Society.
• Organized and executed numerous community events.

Emran Ghasemi (undergraduate student)
• Founder of SWARM, a group dedicated to enhancing school spirit at Concordia.
• Currently working with a joint group of students from the Faculty of Engineering and Computer Science and the John Molson School of Business to launch the first cross-faculty case competition in Canada.

Rami Khoriaty (undergraduate student)
• As president of the Lebanese Student Association at Concordia, Rami organized the world's biggest "dabke" dance, earning a spot in the Guinness Book of World Records.
• Has held numerous roles including: CSU Orientation Director, ENCS representative on the CSU council, member of the University Senate. Involved in the implementation of the student emergency response team.
• Currently, as president of CUSACorp, runs Reggie's, Concordia's student bar.

Anthony Garoufalis-Auger (undergraduate student)
• Involved in numerous campaigns on campus this year including the Fight the Causes campaign, the Divestment Concordia campaign, and all campaigns and initiatives related to the School of Community and Public Affairs.

Rosemarie Schade (faculty member)
• Member of the Department of History and the principal of Loyola College for Diversity and Sustainability.
• Worked with other professors, students and student leaders to realize the creation of the Loyola Sustainability Research Centre and a minor in sustainability.
• Recently created a course that will take six Concordia students to Germany to work on internships with six German counterparts. Read the related article.

Special Awards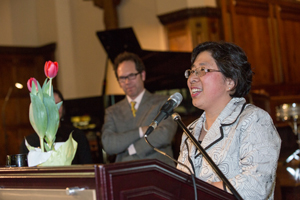 The Lina Lipscombe Staff Award is given annually to a staff member for an outstanding contribution to student life or services at the university. It was awarded this year to Chen Feng Huang, associate director of the Institute for Co-operative Education.

Huang has held many positions during her 23 years at Concordia, while also offering workshops and teaching English as a second language to students needing assistance and members of the James Bay Cree Nations.

The CCSL's Lifetime of Giving Award was given to Stan Charbonneau. Known for his exceptional customer service, Charbonneau began working at Concordia in 1981 in Printing Services, before moving over to the Digital Store in 2006. Charbonneau now holds the position of department assistant in the Department of Art Education.

Volunteer Awards
The Volunteer Recognition Awards were instituted to recognize students, staff and faculty who have contributed significantly to the larger community, either in Montreal or across the globe. The winners of this years awards are:

Allison Carr (undergraduate student)
• Has dedicated 17 years of her life to volunteerism, including 10 years of international volunteer experience.
• Recently founded Happy Village International (HAVI), a charitable organization dedicated to creating awareness about children living with disabilities.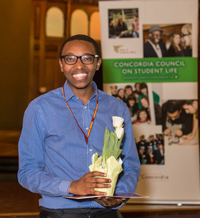 Eric Moses Gashirabake (undergraduate student)
• Volunteered with Montreal's Ururembo Group, where he was a language tutor and co-founded a youth choir.
• Initiated a series of bake sales at Concordia with the goal of raising $5,000 to educate youth in the Kibera neighbourhood of Nairobi, Kenya.

Christopher Webster-John (graduate student)
• Volunteer with Apathy is Boring, a national non-governmental organization that uses art and technology to engage youth in Canadian politics.
• In the summer of 2012, volunteered to develop a '"How To Vote" guide and do extensive outreach to mobilize youth to vote.

• Also volunteered during a volleyball tournament raising money for Head and Hands, and helped organize a conference for the Canadian Association of Planning Students.
• Sits on numerous boards and committees at Concordia, including the Sustainable Concordia Board of Directors.

Hartley Dutczak (undergraduate student)
• Helped revive the Mikinak Youth Stone Carving Co-operative, which helps urban Aboriginal youth develop a profitable skill while upholding their traditions.
• Volunteers in the Post Anesthesia Care Unit of the Montreal General Hospital and with the Prometheus Project (run by Big Brothers and Big Sisters), meeting with a young protégée weekly to help her stay in school.

Lillia Cherkasskiy (undergraduate student)
• Volunteered at the Shriners Hospital for Children, the Montreal General Hospital, and as a literacy tutor at the YMCA.
• Currently volunteering at the Montreal Children's Hospital, where she animates arts and crafts workshops for children in the oncology ward.

Eva Ferrara (staff)
• Department coordinator in the John Molson School of Business (JMSB).
• Participated in and organized the JMSB/Concordia University team for Pedal-for-Kids in support of the Montreal Children's Hospital Foundation since 2008, raising close to $100,000.
• In 2007, spearheaded the first edition of the JMSB Toy Drive, which has grown yearly under her leadership.
• Assists with other fundraising activities on campus.

Sharon McLean (staff)
• Helped with the organization of countless campus fundraisers benefitting Centraide, the Canadian Cancer Society, Multiple Sclerosis, Chez Doris, the Heart and Stroke Foundation, 5 Days for the Homeless, the Student Emergency Food Fund, the Breast Cancer Foundation and many more.
• Recently became a member of the Sons of Scotland, a non-profit group raising funds for local and nationally sponsored charities.

Related links:
• Dean of Students
• LIVE Centre
---