Giving back to the community
Results of Concordia's fundraising events
During the holiday season, a number of Concordia groups came together to raise funds to support charitable organizations and causes. Here is a summary of their efforts:

A number of Concordians raised funds during Movember, an event that has seen legions of moustaches grown in November to increase awareness about prostate cancer. The Center for Studies in Behavioral Neurobiology put together a team of 34 Mo Bros and Mo Sistas (who provide moral support and have conversations to promote awareness) to raise $12,000. The fact that professor Shimon Amir shaved his beard — older than most of his students — was likely a contributing factor in reaching their goal!

The 2011 Centraide campaign at Concordia raised close to $190,000. Centraide of Greater Montreal is an umbrella organization that distributes funds to 360 community agencies that help support over half-a-million people.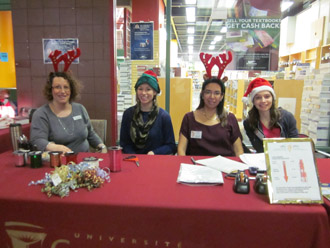 The Carolers for a Cause raised an impressive $1,200 for the Multi-Faith Chaplaincy's Student Emergency and Food Fund by singing carols in the lobbies of Concordia's larger buildings. Carolers Cynthia Hedrich, Danielle Pullen, Lorraine Toscano, Adrienne Willott, Roberto Chen-Rangel, and Katherine Hedrich (in silent support) wish to thank pensioners and ACUMAE members who supported their efforts by joining in and passing the hat.

The stellar team at the University Libraries held yet another successful auction, raising $5,000 for a number of charities. Twenty-three door prizes and 26 raffle items were given out, and plates of baked goods were sold. Kudos to the committee and volunteers for their efforts and incredible organizational skills. Visit the website for the list of committee members, volunteers, prizes, sponsors and charitable organizations to benefit from the auction.

The fourth annual John Molson School of Business Toy Drive, in support of the Montreal Children's Hospital, was another resounding success. This year's goal of 600 toys was almost doubled with a grand total of more than 1,000 toys. Eva Ferrara and her colleagues on the Toy Drive Committee, Jay Mazzamauro, Ramona Senecal and Donna Craven, thank everyone who participated in this year's collection, in particular the "wonderful elves from Distribution Services who delivered the toys to the Montreal Children's Hospital," and Denawares Corp. and the Mad Science Group Corp. for their invaluable donations of toys.

The Campus Retail Stores chose to support the Montreal Children's Hospital with a gift-wrapping fundraiser, organized by the hospital's auxiliary. Students and some staff volunteered to wrap gifts and raised $500.

A huge thank you to everyone who supported these causes. In doing so, Concordia University continues to be a vital and contributing member of its surrounding community.

Related links:
• "MOtivated to support a good cause" — NOW, December 14, 2011
• Concordia's Centraide campaign site
• Libraries Auction site
• "Annual Toy Drive Success, Over 1000 Toys Collected for Montreal Children's Hospital" — JMSB site
• Campus Retail Stores
---