JMSB students selected to be "CEO for a Day"
Three Concordians will spend a day with one some of the country's top senior executives
Following a rigorous recruitment process designed to gauge their leadership potential, 21 of the hundreds of Canadian undergraduate students who participated in Odgers Berndtson's annual CEO for a Day competition were selected and matched with a local CEO in Toronto, Montreal, Vancouver or Calgary.
Of the six winners in Quebec, three are students at the John Molson School of Business.
This marks the second year of the nation-wide competition, as well as the second time that Concordia has featured among the finalists. Last year, JMSB finance student and valedictorian, Katerina Fragos spent a day with Videotron's CEO, Manon Brouillette.
In the coming weeks, bachelor of commerce students Jesse Carmichael, Anthony Esposito and Michael Richardson will have the opportunity to shadow the CEOs of Via Rail, the SAQ and Ubisoft respectively.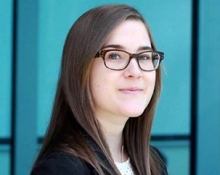 Jesse Carmichael
Major: Finance
Minor: Marketing
Paired with: Yves Desjardins-Siciliano, Presdient and CEO, Via Rail Canada
---