Concordia artist reimagines the classic children's book Goodnight Moon for a gallery space
PhD student Matthew-Robin Nye's art installation is now showing at the Beaverbrook Art Gallery in New Brunswick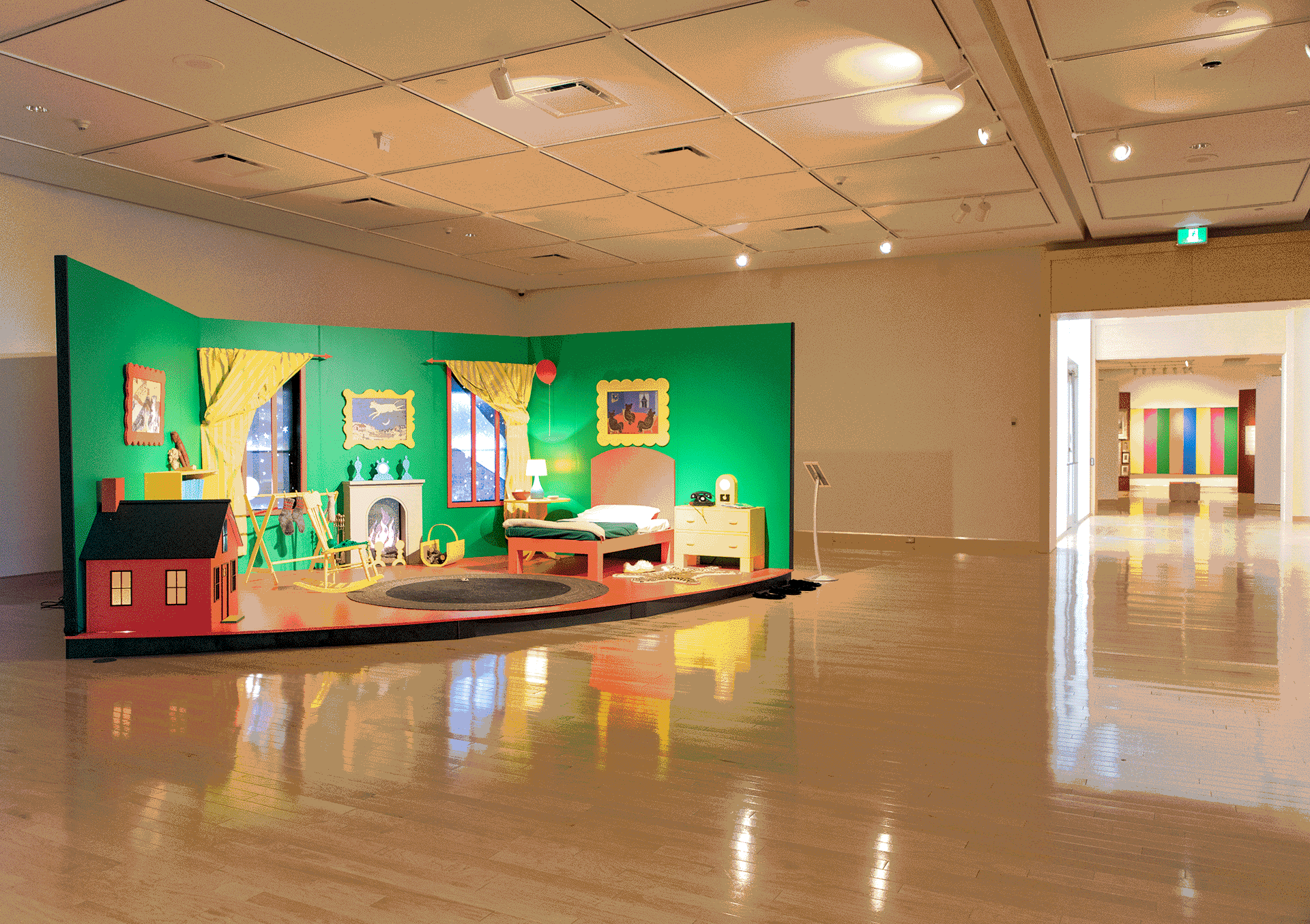 Artist Matthew-Robin Nye's full-scale installation of Goodnight Moon in the Beaverbrook Art Gallery.
Goodnight Moon, written by Margaret Wise Brown and illustrated by Clement Hurd, is a timeless classic of children's literature. The bestselling bedtime book, celebrating its 75th anniversary this year, has been turned into a full-scale interactive art installation by artist Matthew-Robin Nye, a doctoral candidate in Concordia's Humanities program.
Nye's exhibit Goodnight Moon: a Rhythm, a Tempo, was commissioned by Joel Mason (Humanities PhD '21) for the Sunbury Shores Arts and Nature Centre and is now showing at the Beaverbrook Gallery in Fredericton, New Brunswick.
As a visual artist and cultural producer, Nye has exhibited, lectured and held residencies in Canada and abroad. He is currently a Joseph-Armand Bombardier PhD candidate at Concordia's Centre for Interdisciplinary Studies in Society and Culture.
He is a founding member of the Curatorial Research-Creation Collective, which asks what curation as research-creation can do; a member of the Senselab/3ecologies project; and he is a principal research assistant at the Dramaturgical Ecologies project, led by P.I. Angélique Willkie, which studies the encounter between black studies and dance dramaturgy. He also teaches in Concordia's Interdisciplinary Studies in Sexuality program.
Matthew-Robin Nye took a moment to discuss his show and how it forms a part of his ongoing research at Concordia.
What was your motivation for bringing Goodnight Moon into a gallery space?
I believe that the children's book Goodnight Moon is one of the great artworks of the 20th century. It is a children's book as work-of-art, the product of a fruitful collaboration between an artist and a poet (albeit for children); a great participatory work; an intergenerational work; an experiment and revolution in form in children's pedagogy.
Bringing the book into a gallery helps it to be taken seriously as a work of art, and allows me to observe how audiences interact with it; and stage a series of dramaturgical experiments with respected artists in order to play around its edges, teasing out its artfulness.
What are some of the surprising ways that people have interacted with the installation?
There have been so many. The book is replicated masterfully in life-size and exactly as possible by local craftsperson Rob Bird, inviting the visitor to enter into it. It has been a delight to watch audiences negotiate the space. I've counted at least seven self-identified "old ladies" who have sat in the rocking chair and added a row of stitches to the green knitting that is placed on it. I've had kids crawl into the bed and try to take a nap. Hundreds of school tours went through. There was also a nude drawing class!
I invited two artists from Montreal, supported by the Canada Council for the Arts, k.g. Guttman and Jordan Arseneault, to each join me in St Andrews, New Brunswick, where it was first mounted at Sunbury Shores Arts and Nature Centre.
k.g. brought handmade periscopes for viewing the work from a perpendicular angle, rearranging the image and its perception to the beholder; a green screen overlay to 'hide' or immerse oneself in the work (which was a crowd favourite); and padded gloves with ridiculously long fingers to 'touch' the image differently.
Jordan produced a half-hour solo performance for the work, sponsored by the Arts Atlantic Symposium. Dressed up in a head-to-toe bunny costume made by local costumier Sara Brinkhurst, his performance, in the words of one local artist, "brought the weird to St. Andrews" in the most phenomenal way. He produced an homage to Margaret Wise Brown, Clement Hurd, Gertrude Stein and to the exhibition itself.
To have such enthusiastic and wholehearted engagement confirmed my intuition that there really is something remarkable in the original work.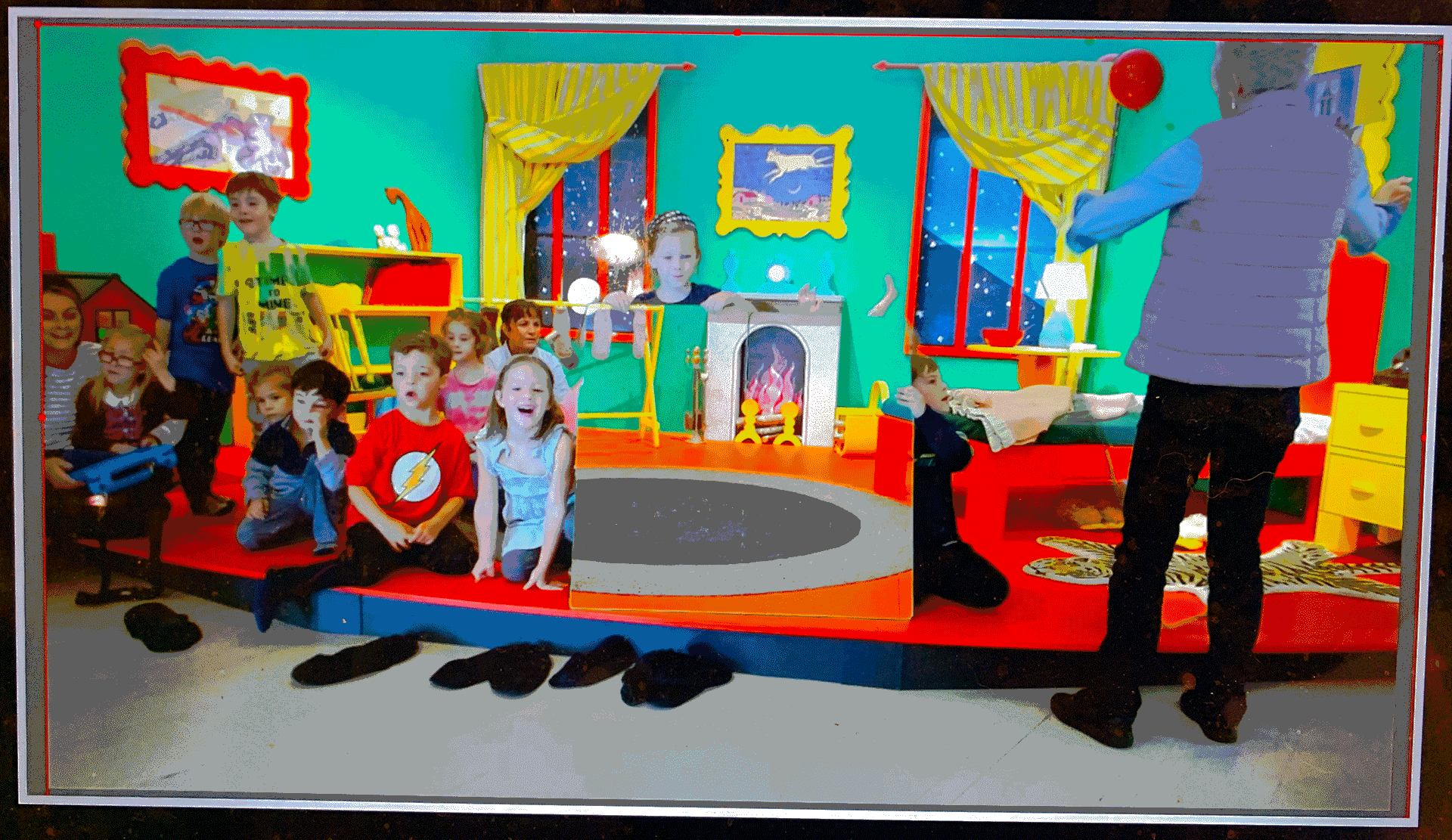 Artist k.g. Guttman works with a green screen so visitors can immerse themselves in the work. Photo by Matthew-Robin Nye.
How does your installation, and people's interaction with it, act as a bridge to your research themes?
What interests me is thinking about what the reading of this book as a collaborative and participatory performance, which is intergenerational, has to say about identity when there are remarkably few markers or instructions for how one is to 'perform the self' contained within the text.
Compare this to a morality fable of the Victorian age or earlier, where if you climb a wall, you die. If you disobey your parents, you get eaten. Even a 20th century Disney movie softens these tales, only to supplement them with instructions for how to behave as a nice young woman in society… she may wander off, but will ultimately reach happiness by getting married and falling in love. Each of these examples are scripts for how to perform as a gendered, productive member of society.
Goodnight Moon, on the other hand, allows one's imagination to wander further afield and return, nourished in more complete ways.
My installation both pays homage to the work and asks the audience to re-engage with that form of speculative and pragmatic thinking. I don't tell them what to do with the work: it is an open invitation to participate and invent. In this way, I'm drawing on a shared nostalgia in order to activate a queer feeling in the present for a (hopefully imagined) future.
To follow up on that, can you explain your research idea of 'shimmers' and how this idea manifests itself in Goodnight Moon and in your doctoral research at Concordia?
My doctoral project looks at what I call 'shimmers' in queer art and performance, where the shimmer indicates a queer world-making event. A shimmer is processual. What I mean by that is that it is not mysterious; it is grounded in a radical openness to the world and its capacity to change. It's a sign that that possibility for change is afoot. Shimmers, both process-oriented and pragmatic, function both as a tool and a technique for thinking and doing differently.
In many surprising ways, Goodnight Moon is a phenomenal historical example of many of these techniques for building shimmers into children's art, pedagogy, and theories of identity and politics. Goodnight Moon is a book in the here-and-now school of thought, radical in its time, developed at the Bank Street School by Lucy Sprague Mitchell. Her theory was that a child was most moved by their direct and immediate experience; not by appeals to myth or fear. In other words, the a child's world is wondrously here-and-now!
The interplay of rhythm and tempo in the reading, recitation, pointing, negotiating, drifting to sleep of Goodnight Moon is a ritual - that is, in the process of shimmering, a [queer] utopia germinating; and also, a theory of identity developed by Gertrude Stein, who has some fascinating historical connections to this book. In the reading of a nighttime story, the ritual of insisting, repeating — Stein's words — or, in mine, rhythm and tempo, are early rituals of identity-in-germ, and in this work, a shimmering artwork worthy of study and exploration.
Visit the show at the Beaverbrook Gallery in Fredericton, New Brunswick.
Learn more about Matthew-Robin Nye and about Concordia's Humanities PhD program.
---