Studying the sensation of 'groove'
A Concordia grad student studies how groove engages motor and reward networks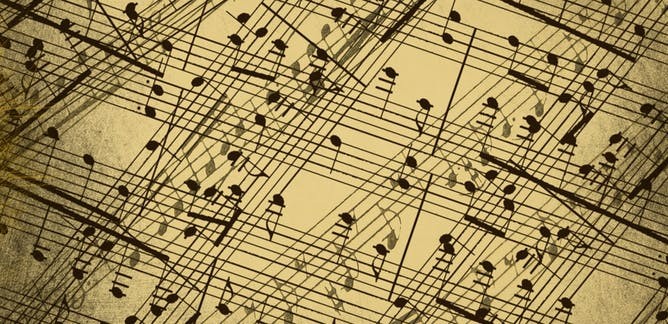 Tomas Matthews: "As a musician, and primarily a drummer, the idea of combining my interests in music and neuroscience was very appealing,"
Stuck in the house? One too many zoom meetings? Kids bouncing off the walls?
It's time to put on your favorite music and dance.
Respect. Happy. Superstition.
"Certain kinds of music give us intense pleasure and make us want to move, a combination described as the sensation of 'groove', explains Tomas Matthews, a PhD student in the Faculty of Arts and Sciences' department of Psychology
In a recent study published in the journal NeuroImage Matthews worked with a team of music researchers to discover exactly how groovy music makes us want to get up and dance.
"As an undergraduate student, I realized I was more interested in the brain than cellular biology or genetics, so I switched to psychology, with a specialization in neuroscience," Matthews says.
"As a musician, and primarily a drummer, the idea of combining my interests in music and neuroscience was very appealing,"
Following a class with psychology professor Virginia Penhune, Matthews eventually joined her lab as a masters student.
"The study is significant because it clearly demonstrates the link between movement and pleasure in the brain," says Penhune, Matthews' PhD supervisor. Penhune has a long history of studying music's effects on the brain, and is a founding member of the Montreal Laboratory for Brain, Music and Sound (BRAMS).
"We and others had shown that 'groove' music brings together the feeling of pleasure and the urge to move, but this study showed that this combined sensation is encoded in the motor and reward networks of the brain."
The networks Penhune refers to include the basal ganglia, a collection of small nuclei in the brain's centre that controls key movement, emotional and mental functions.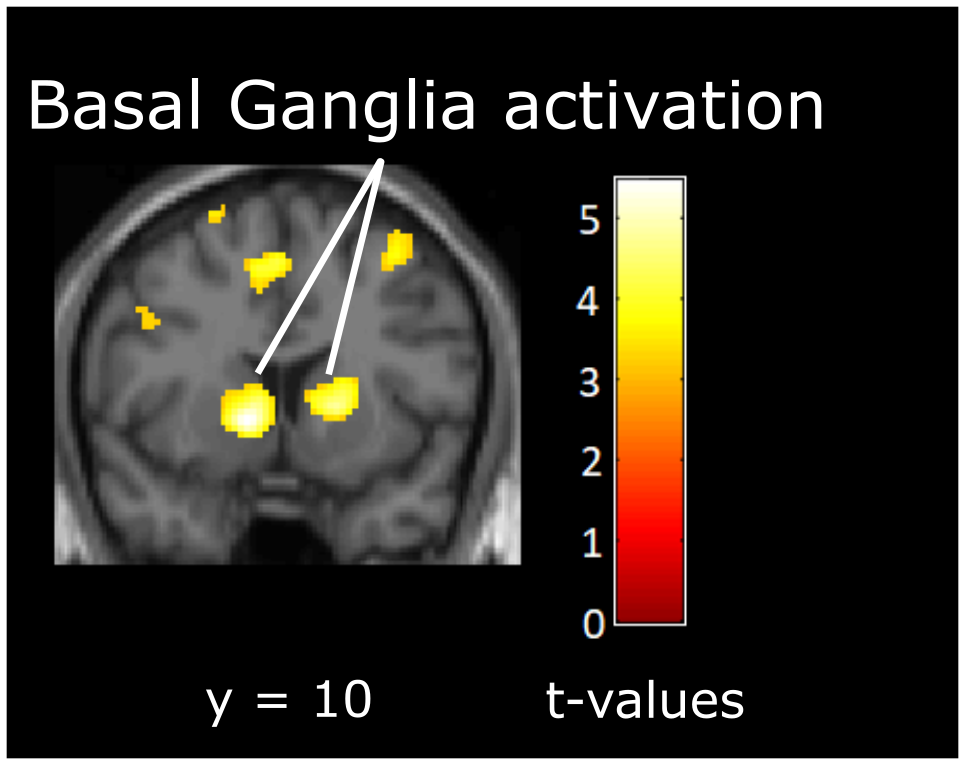 This brain image shows the activation resulting from contrasting high-groove vs low groove stimuli. The yellow blobs represent the activation resulting from this contrast superimposed on this section of the brain.
Getting subjects into the groove
The study used short rhythmic sequences made up of piano chords.
Key? A groovy rhythm can't be too simple, or too complicated.
"A high groove rhythm is one that is moderately complex and plays with our expectations or predictions about where the beat will fall," Matthews explains.
It helped that two of the paper's co-authors were also musicians: Maria Witek, from the Faculty of Music in Birmingham UK and Peter Vuust, from the Center for Music in the Brain, Aarhus University/The Royal Academy of Music, Denmark.
Study participants went through two testing phases, designed to isolate both the urge to move and the pleasure caused by listening to music.
In the first phase, participants listened to music while undergoing fMRI, which measures brain activity, and rated their urge to move.
In the second phase, participants listened to music again outside of the scanner, and rated how much pleasure they experienced.
Findings a 'pleasant surprise'
Both pleasure and the urge to move were related to changes in brain activity, specifically in the basal ganglia.
Matthews says he was 'pleasantly surprised' by the study's findings.
"Previous neuroimaging studies on music had shown activity in a part of the basal ganglia associated with processing rewards such as food and money, only to very intense pleasurable music-listening experience, i.e., when we experience chills in response to music," Matthews explains.
The study demonstrated that groove can indeed be an effective way to activate these parts of the brain, increasing ratings of pleasure and the desire to move.
Matthews says the study results could prove useful for various kinds of physiotherapies – from helping recovering stroke patients to individuals with Parkinson's disease.
"In the case of Parkinson's disease, the link is quite clear as it is associated with loss of cells in the basal ganglia. Furthermore, music, or music-like stimuli, has been shown to help patients with their walking. Therefore, studying the connection between moving to music, pleasure, and the basal ganglia may help to understand this disease and why this treatment works."
Penhune says this research will be central to the work her lab will be doing in the coming years.
"Looking at how pleasure influences movement and learning is crucial to understanding how music can contribute to rehabilitation and health promotion."
Matthews says he plans to continue studying the brain regions and underlying mechanisms involved in the experience of groove. His next study involves studying how groove can get your toes tapping – literally.
"I would like to continue investigating the brain regions and underlying mechanisms involved in the experience of groove as part of a larger goal of investigating why it feels good to move to music."
Want to get your own groove on?
Matthews suggests these groovy tunes to boost your mood and get you moving from home:
Tony Allen & Hugh Masekela - Slow Bones
Jungle Fire - Comencemos (Let's start)
Kaytranada - 10% ft. Kali Uchis
Danny Brown - uknowhatimsayin¿ (feat. Obongjayar)
Read the cited paper here.
Learn more about the Penhune Laboratory for Motor Learning and Neural Plasticity here.
Related articles
http://www.concordia.ca/cunews/main/releases/2016/10/05/research-how-the-performing-arts-can-create-more-developed-brain-pathways.html
---