Workshops & seminars
Movement and Dance Workshop
---
DATE & TIME
Friday, April 28, 2023
2 p.m. – 5 p.m.
Registration is closed
Other dates
WHEEL CHAIR ACCESSIBLE
Yes
---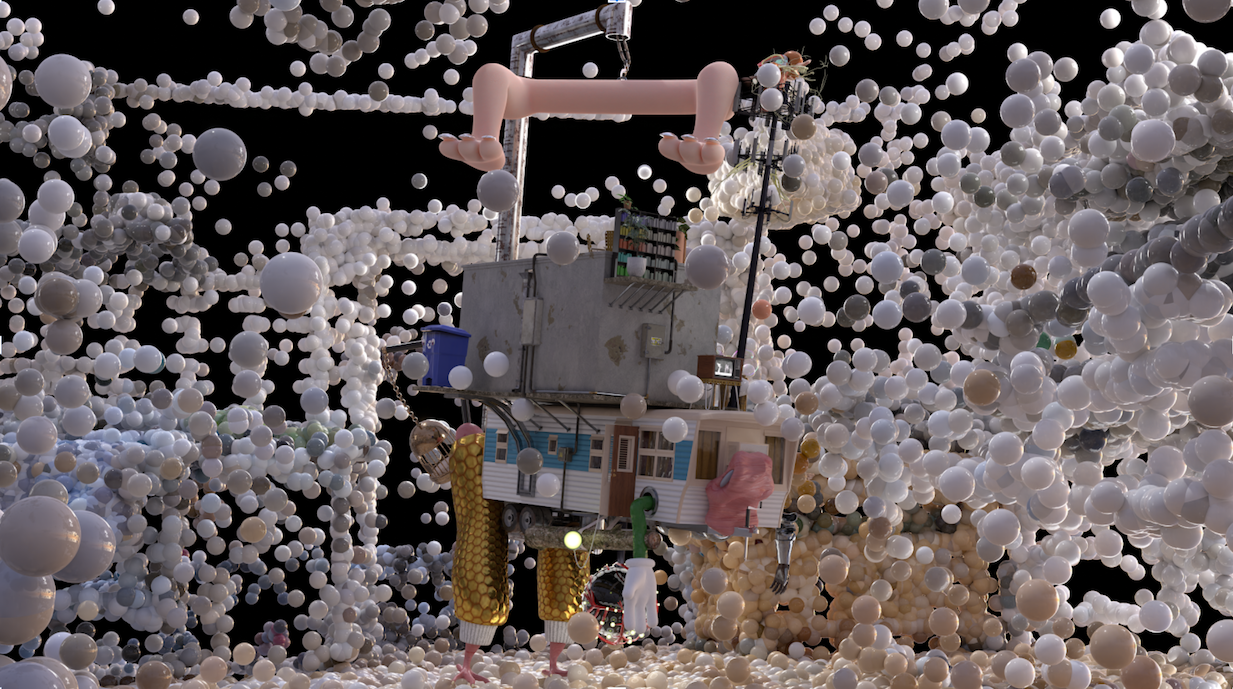 The Spectre Animates our Bones, video still, 2022, courtesy of the artists
In collaboration with the Performing Arts Research Cluster, Emilie Morin and Ryan Clayton are organizing a series of events around their currently exhibited work Le spectre anime nos os // The Spectre Animates our Bones, in the FOFA Gallery's Black Box until June 2. Happening throughout the week of April 24, all events are free and independent. You may participate in one, two or all of them!
Inspired by their individual experience of watching the motion captured animation The Spectre Animates our Bones, participants will be invited to share and explore how the animation translates into their own body, its movements and its physical states. After a group warm-up, participants will explore different images through free and structured improvisation and through discussion.
The goal of this workshop is to create collectively a choreography that acts as a new iteration of The Spectre Animates our Bones. Although the work is an animation, the artists (us) think of it as an animated performance, stemming from an original motion capture dance performance. What is left of the original performance after it has moved from one body to another, to motion capture data, to animation, and finally to a new set of human bodies? The choreography is thought of as an open score, imagined and performed collectively. With potential to use 3D rendered images from The Spectre Animates our Bones and from the 3D modelling workshop as scenography material.
At the conclusion of the workshop interest will be polled to see if the new collective choreography should be publicly performed as part of the event Embodied Interventions, where artists and researchers from LeParc, Milieux' research cluster on performance, will be presenting work-in-progress the weekend of 29-30 April. The Spectre Animates our Bones new performance would be presented on Saturday 29 April (afternoon, time TBD).
Participants of all levels are welcome, whether you have experience in different styles of dance or not, or in any movement technique. You may come in for just one afternoon, the format is very open. Please make sure to wear clothes and shoes (not from outdoors) that you feel comfortable to move in (and maybe sweat a little bit in) and a bottle of water. We might also dance in socks or bare feet.
Emilie Morin is a contemporary dancer with more than 20 years of training and 15 years of instruction experience. She has experience working with all levels of performers and brings an empathetic and excited energy to all dance classes she helms.
Other events in the series:
Gallery Tour & Discussion: The Spectre Animates Our Bones
Monday, April 24, 5 to 7 p.m.
Using Blender to create virtual sets
Tuesday, April 25, 7 to 10 p.m.
Led by Ryan Clayton
About the Exhibition
The Spectre Animates our Bones is a work of braided dance. Emilie and Ryan choreographed a movement piece which each of them performed individually and recorded through motion capture technology. Each of their individual captures has been mapped onto the same virtual object, animating its virtual body through space.
Presented as a dual-channel video, viewers can stand within an undulating 3D scan of the performer's kitchen and watch the performance from multiple perspectives. Although the artists' performances for motion capture are not directly visible in the animation, the human quality of movement injected into the virtual form generates a distinct experience of performance for the viewers. It is a braided performance in that each movement strand is limited to its own characteristics, but braided together, they create a whole that superimposes itself to produce new meanings while still maintaining the characteristic movements of each individual.
Motion capture technology is deployed in this piece to question human agency and movement: can performers possess qualities that make them undeniably recognizable? Can virtual movement act as a stand- in for these unique human agents? The choreography was built with these main questions in mind, finding ways to confuse the viewers' eyes into a blurred vision of virtual and "real" movement. With Emilie's professional experience as a dance performer and Ryan's background in solo and collective performance art, the duo also examines how to position the dancing body in a traditional gallery space. Dance and performance are often associated with the ephemeral, compared to the groundedness of the art object. Our virtual forms become an archive, rooting a dance performance in the gallery space, and suggesting that what contemporary artist Brendan Fernandes calls the "footmade" is as valuable as the "handmade".
About the artists
Since 2017, Ryan Clayton (contemporary artist) and Emilie Morin (dance and new media artist) have maintained a collaborative performance practice focusing primarily on the subject of consumer telecommunication technologies such as Skype, Twitch and Zoom. Through their practice, they have noticed that the world's telecommunication networks have turned ubiquitous almost to the point of invisibility. These networks seamlessly integrate their way into humanity's lives, deeply impacting the ways in which humans communicate and relate to one another. Without prioritizing a particular form, the artists deploy various technologies in their performances, phone calls, text messaging, VR conversations, and motion capture software to manipulate immersive and digitally created worlds. Their collaboration is specifically interested in telecommunication's capacity for meaning making, and its ability to transfer the indiscernible.
---