Exhibitions
Gallery Visit + Discussion: The Spectre Animates our Bones
---
DATE & TIME
Monday, April 24, 2023
5 p.m. – 7 p.m.
SPEAKER(S)
Emilie Morin, Ryan Clayton
WHEEL CHAIR ACCESSIBLE
Yes
---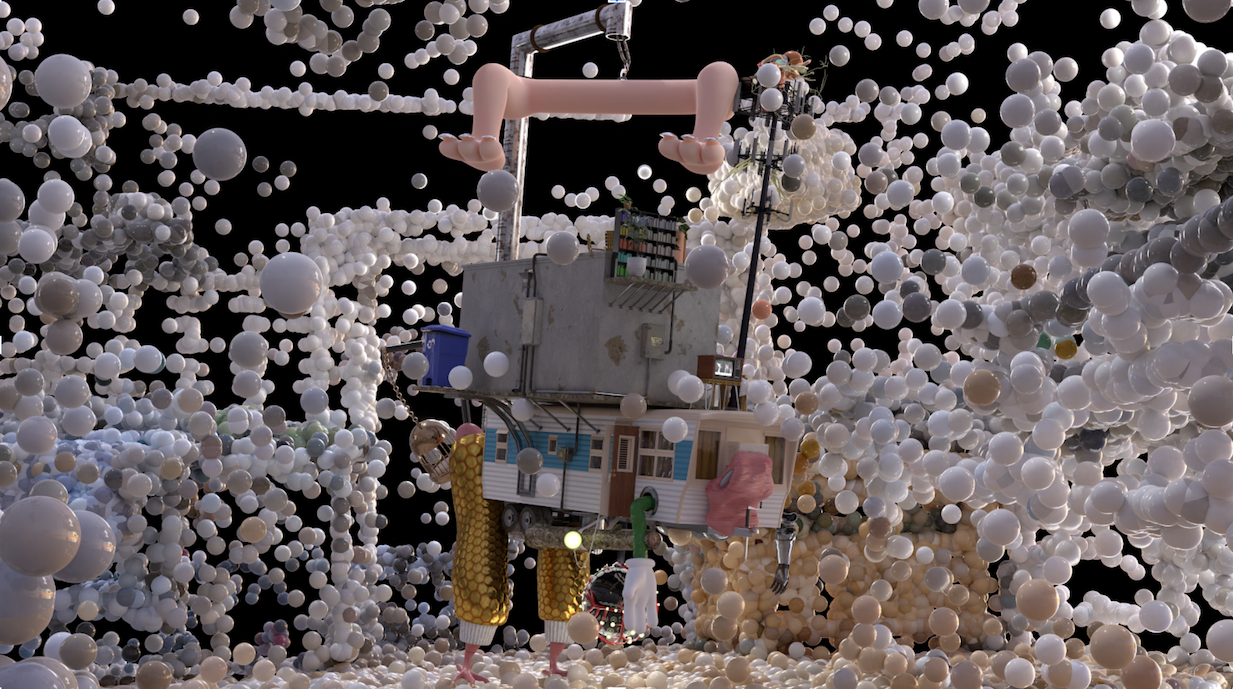 The Spectre Animates our Bones, video still, 2022, courtesy of the artists
In collaboration with the Performing Arts Research Cluster, Emilie Morin and Ryan Clayton are organizing a series of events around their currently exhibited work Le spectre anime nos os // The Spectre Animates our Bones, in the FOFA Gallery's Black Box until June 2. Happening throughout the week of April 24, all events are free and independent. You may participate in one, two or all of them!
Gallery Visit & Discussion
During this gallery visit and discussion, participants will experience the motion captured animation in FOFA's Black Box. This is also an opportunity to see the other exhibitions happening at the same time at Fofa.
The visit will be followed by an informal discussion in which Emilie Morin (in person) and Ryan Clayton (streaming live from Winnipeg!) will share their process and their interests while creating The Spectre Animates our Bones. The discussion is considered a time of exchange between artists and audience: questions, comments and discussion are more than welcome!
Visit at 5pm | FOFA Gallery (515 Rue Sainte-Catherine Ouest EV 1-715)
Discussion at 6 p.m. | Milieux Institute Resource Room (EV 11.705)
Other events in the series:
Using Blender to create virtual sets
Tuesday, April 25, 7-10pm
Led by Ryan Clayton
Movement and dance workshop
Thursday April 27 & Friday April 28, 2-5pm
Led by Emilie Morin
About the Exhibition
The Spectre Animates our Bones is a work of braided dance. Emilie and Ryan choreographed a movement piece which each of them performed individually and recorded through motion capture technology. Each of their individual captures has been mapped onto the same virtual object, animating its virtual body through space.
Presented as a dual-channel video, viewers can stand within an undulating 3D scan of the performer's kitchen and watch the performance from multiple perspectives. Although the artists' performances for motion capture are not directly visible in the animation, the human quality of movement injected into the virtual form generates a distinct experience of performance for the viewers. It is a braided performance in that each movement strand is limited to its own characteristics, but braided together, they create a whole that superimposes itself to produce new meanings while still maintaining the characteristic movements of each individual.
Motion capture technology is deployed in this piece to question human agency and movement: can performers possess qualities that make them undeniably recognizable? Can virtual movement act as a stand- in for these unique human agents? The choreography was built with these main questions in mind, finding ways to confuse the viewers' eyes into a blurred vision of virtual and "real" movement. With Emilie's professional experience as a dance performer and Ryan's background in solo and collective performance art, the duo also examines how to position the dancing body in a traditional gallery space.
Dance and performance are often associated with the ephemeral, compared to the groundedness of the art object. Our virtual forms become an archive, rooting a dance performance in the gallery space, and suggesting that what contemporary artist Brendan Fernandes calls the "footmade" is as valuable as the "handmade".
About the artists
Since 2017, Ryan Clayton (contemporary artist) and Emilie Morin (dance and new media artist) have maintained a collaborative performance practice focusing primarily on the subject of consumer telecommunication technologies such as Skype, Twitch and Zoom. Through their practice, they have noticed that the world's telecommunication networks have turned ubiquitous almost to the point of invisibility. These networks seamlessly integrate their way into humanity's lives, deeply impacting the ways in which humans communicate and relate to one another. Without prioritizing a particular form, the artists deploy various technologies in their performances, phone calls, text messaging, VR conversations, and motion capture software to manipulate immersive and digitally created worlds. Their collaboration is specifically interested in telecommunication's capacity for meaning making, and its ability to transfer the indiscernible.
---