Studio arts, Conferences & lectures
Swapnaa Tamhane, Santiago Tavera and Laura Acosta in conversation with Aaron McIntosh
Hosted by Conversations in Contemporary Art
---
DATE & TIME
Friday, September 29, 2023
6 p.m. – 7:30 p.m.
WHEEL CHAIR ACCESSIBLE
Yes
---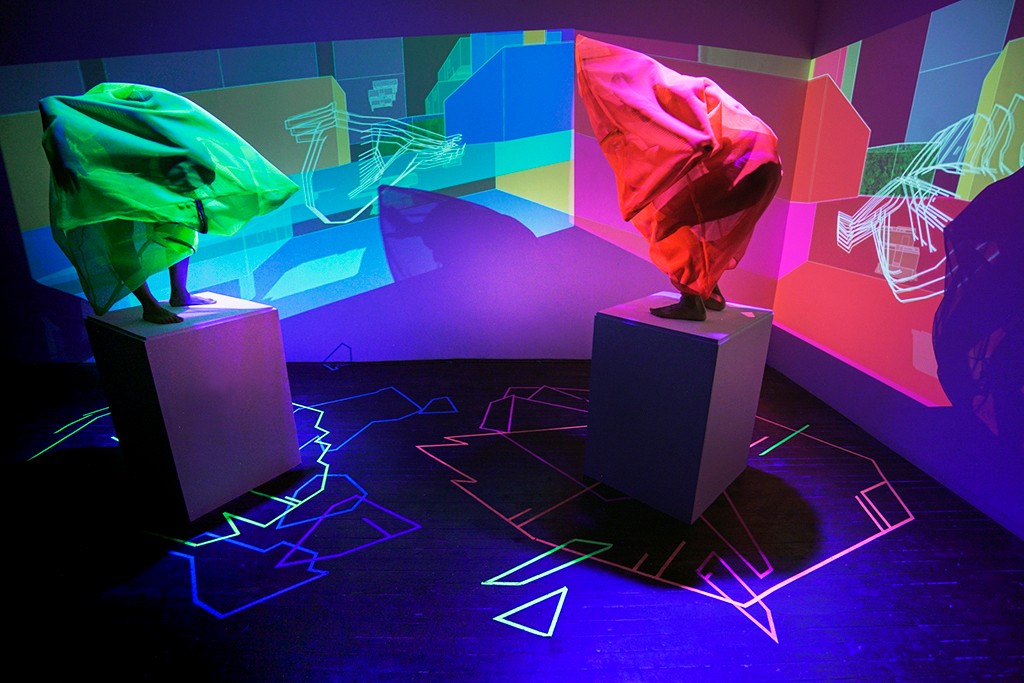 Image courtesy of Santiago Tavera and Laura Acosta. Live Despecho, Articule, Montreal, 2018. Photo by Abraham Mercado.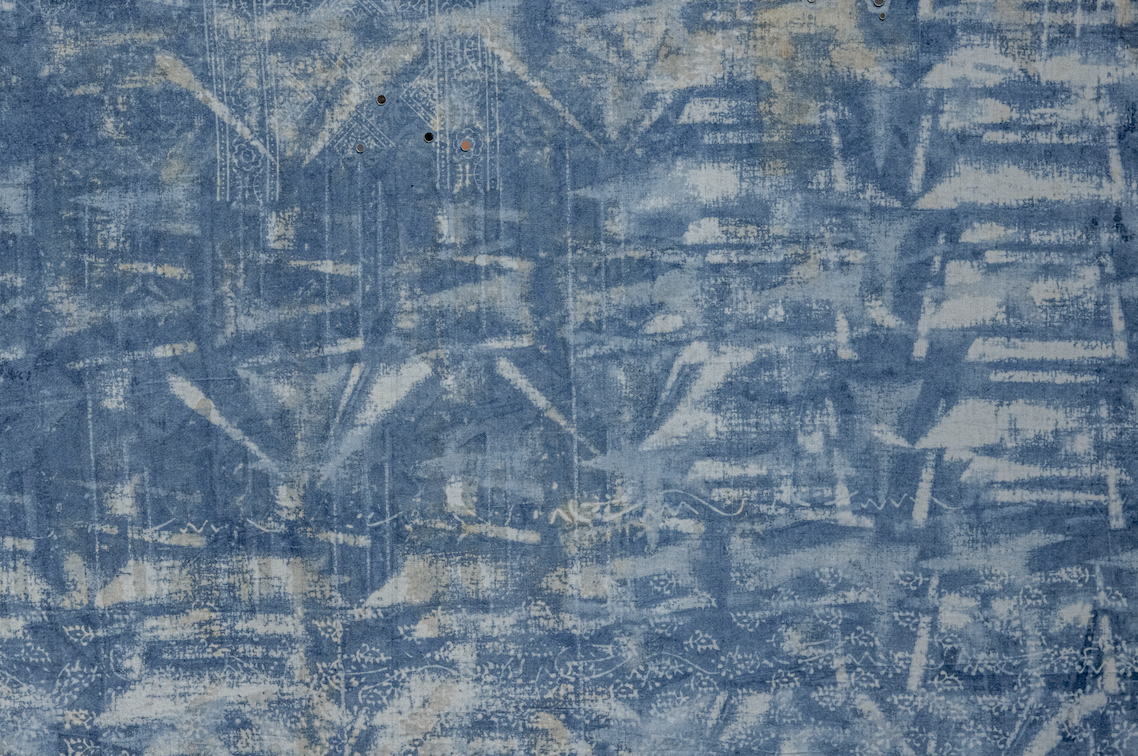 Swapnaa Tamhane. Made with Salemamad Khatri. DROP CLOTH, 2020-2021. Block print, indigo, and mirrors on cotton, aluminium, cables. Photograph by Toni Hafkenscheid
Department of Studio Arts Artists in Residence Swapnaa Tamhane and Santiago Tavera, with his collaborator Laura Acosta, consider the kindred and distinct aspects of their practices in a conversation moderated by faculty member and colleague, Aaron McIntosh.
This event will be held in person and on Zoom.
Swapnaa Tamhane (b. 1976, Toronto, based in Montreal), works to destabilize and untether colonial constructs as an artist, curator, and writer. Her process focuses on drawing, considering the presence of her hand in making paper and the treatment of surfaces. She works in collaboration and a skill-sharing process with artisan-designers in Kutch, Gujarat, India, who are block printers, embroiderers, and dyers. This process of working is intentionally driven by wanting to find new languages for image-making, and developing new ground for how art, craft, and design in India have been historically articulated by colonialism. Her interests in craft and design led to the publication of SĀR: The Essence of Indian Design, published by Phaidon Press (2016), written together with designer Rashmi Varma. Tamhane has been a Research Fellow with Shastri Indo-Canadian Institute (2009), and an International Fellow with Kulturstiftung des Bundes (2013). She has been supported by the SSHRC, Ontario Arts Council, Canada Council for the Arts, and Kunststiftung NRW. She has exhibited her work at A Space Gallery, Toronto; Nature Morte, Delhi; Sculpture Park 3, Jaipur; articule, Montreal; ROM, Toronto, V&A Dundee, Scotland, and Surrey Art Gallery, BC.
Laura Acosta and Santiago Tavera are a Colombian-Canadian artistic duo based in Montréal. Their collaborative practice forges an intersection between Tavera's investigation of video practices, virtual and interactive environments in relation to the body, with Acosta's exploration of identity through performance and textiles. Through this, they create immersive experiences and expanded performances that present narratives of displacement and experiences of the 'other'. Their collaborative projects have been supported by the Canada Council for the Arts and Le Conseil des arts et des lettres du Québec. Since 2017 their transdisciplinary collaboration has expanded through large scale exhibitions, workshops, and publications, which they have presented in Canada and abroad, such as at Optica - un Centre d'art contemporain, MAI - Montréal, arts interculturels, Articule, SUR Gallery, Projet Casa, La Géoparc UNESCO de Percé, Printemps Numériques in Montréal and Belgium, the Changwon Sculpture Biennial in South Korea, the International Symposium on Electronic Arts - ISEA and the International Images Festival of Manizales in Colombia. Their works have also been mentioned in Vie des Arts magazine along with the publications 'Vues Transversales: Panorama de la scène artistique latino-québécoise" and "Ecocene: Cappadocia Journal of Environmental Humanities". Most recently Tavera and Acosta were long listed for the Sobey Art Award from the National Gallery of Canada in 2023.
Aaron McIntosh is a cross-disciplinary artist and fourth-generation quiltmaker whose work mines the intersections of material culture, family tradition, sexual desire and identity politics. His research looks closely at various traditions of working with scraps, a methodological lens through which he explores the patch-worked nature of identity. His current research creation project, Hot House/Maison Chaude, is supported by a 2020-2023 SSHRC Insight Development grant. Additionally, he is a 2020 United States Artist Fellow in Craft, and other honors include a 2017 Virginia Museum of Fine Arts Fellowship, and two Windgate Fellowships in 2006 and 2015 from the Center for Craft. He has held residencies at the Oak Spring Garden Foundation, Banff Centre, Haystack Mountain School of Crafts and the Virginia Center for Creative Arts. His critical writing has been published in the Brooklyn Rail, Hyperallergic, the Surface Design Journal, and the Journal of Modern Craft. He is an Associate Professor in the Fibres & Material Practices program at Concordia University.
---
---