Workshops & seminars
Information Session: Funding Opportunities for Graduate Studies in a Research Program
---
DATE & TIME
Wednesday, September 20, 2023
1:30 p.m. – 2:30 p.m.
SPEAKER(S)
Cecilia Kramer, School of Graduate Studies, and Pablo Gilabert, Undergraduate Program Director in Philosophy
CONTACT
514-848-2424 ext. 2500
---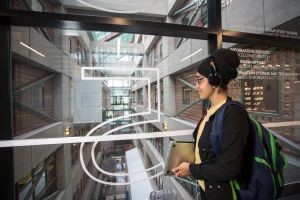 Smiling student wears headphones, walks and carries laptop in Webster Library.
Is Graduate school in your future plans? Join us to learn more about funding opportunities and how to maximize your chances of success in securing funding for your graduate studies.
The Philosophy Department will host an information session for undergraduate students in Philosophy on how to secure funding for your graduate studies at Concordia University or elsewhere. Get important tips and resources on preparing a funding application.
An advisor from Concordia's graduate awards team will offer all the necessary information to understand the funding landscape. You will learn more about the tri-agency and other key external sources of funding available, many of which you can apply for prior to starting a research or thesis-based graduate program.
It will also offer expert tips on how to showcase your strengths and write a successful research funding application, as well as how to develop skills and experiences that can strengthen your candidacy for these awards. Don't miss this opportunity to gain valuable insights and enhance your chances of securing funding for your future graduate studies.

Learning Objectives
After attending this workshop students will be able to:
- Understand the Canadian funding system (tri-agencies, FRQ, foundation-awards, etc.)
- Understand the main elements of an application and their relevance.
- Develop an action plan to create a strong application and beat the deadlines.
Facilitated by Drs. Cecilia Kramer, Advisor, Fellowship Application Development, School of Graduate Studies, and Undergraduate Program Director in Philosophy Pablo Gilabert.
---