Guy Cormier is Concordia's EMBA class champion for 2023-25
The president and CEO of Desjardins Group will lend his time and expertise to students in the John Molson Executive MBA program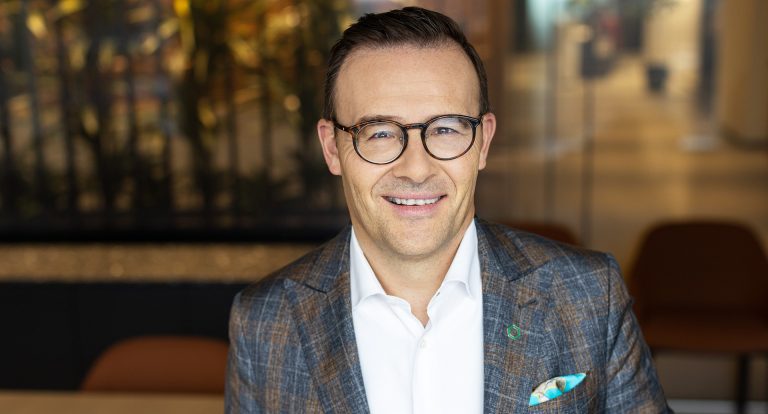 Guy Cormier, LLD 22, president and CEO of Desjardins Group, says mentorship has always been important to him.
"Spending time with the next generation is something that motivates me," he shares. "Making room for their ambition brings a diversity of viewpoints that allows all of us to make better decisions."
Cormier is Concordia's 2023-25 EMBA class champion. A key element of the Executive MBA program, the class champion provides mentorship, guidance and networking opportunities. In sharing their own journey, the class champions inspire and support the cohort, create a sense of community and contribute to students' overall growth and development.
Cormier will support the 2023-25 cohort as they progress through the program, working closely with the program's professors to facilitate discussions, foster connections and networking opportunities and more.
"I'm incredibly proud to be involved with the EMBA students at the John Molson School of Business," he says.
'There is no better guide for our students'
Over his 30 years with the Desjardins Group, Cormier's ascent includes becoming a caisse general manager in 2002 and vice-president of finance in 2009, and joining the senior management team in 2012.
Since stepping in to become the cooperative's youngest-ever president and CEO in 2016, his focus has been to instill a strong member- and client-focused culture.
A graduate of HEC Montréal, where Cormier earned both an undergraduate degree in business administration and an MBA, he also taught finance there for close to a decade.
He currently sits on several boards and has been named a Chevalier of France's Légion d'honneur. Cormier received an honorary degree from the John Molson School in 2022 for his business vision and social conscience.
"One of our school's overarching pursuits is to be a catalyst for positive societal impact," says Anne-Marie Croteau, dean of the John Molson School. "There is no better guide for our students than Guy Cormier, whose commitment to shared prosperity, youth and a greener, more equitable economy embodies our values as a school and will surely inspire the next generation of conscientious business leaders."
'Listening is key'
Cormier says he's looking forward to hearing from students about their aspirations, ideas and challenges.
"Listening is key," he says. "Whether you're a leader in the business world or in another sector, listening is the most important quality for me."
For Cormier, the business world and academia are perfectly complementary.
"Students are brimming with ideas. This ability to think critically, question and challenge is an asset that employers prize," he says. "And I'm convinced that in an Executive MBA program like this one, we'll be pushing these qualities even further to continue to innovate and improve."

Find out more about the Concordia's Executive MBA program.
---