Concordia biology prof awarded $6 million investment for innovative genomics-solution research
Adrian Tsang's project will use genome-editing technology to produce an alternative to antibiotics in livestock feed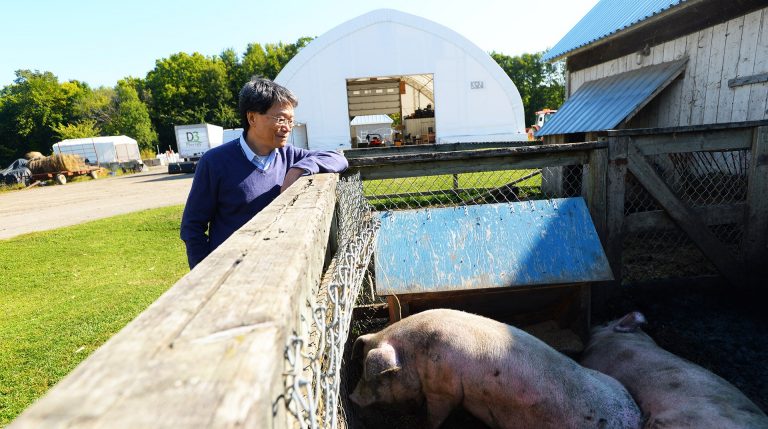 As part of a pan-Canadian competition, the Genomic Applications Partnership Program (GAPP) has awarded $6 million dollars over three years to Adrian Tsang, Concordia professor of biology.
The research funding will support the production and engineering of an alternative to antibiotics in livestock animals' feed and comes from Genome Canada and Génome Québec and is in partnership with Elanco Animal Health.
Tsang is director of the Centre for Structural and Functional Genomics, one of 25 university-recognized research units. He will use this investment to build on work from two previous awards he received from Genome Canada and Génome Québec.
"We are very pleased that Adrian has received another significant investment that will allow him to continue his ongoing multi-year research on this topic," says Paula Wood-Adams, interim vice-president of research and graduate studies.
Tsang's past projects used genomics-enabled technologies to identify and characterize lysozymes, which are naturally occurring antibacterial enzymes that are part of animals' immune systems. These enzymes can perform as well as antibiotics in reducing disease transmission production. Use of antibiotics in livestock production has been linked to the spread of antibiotic-resistant bacteria, which can be transmitted to humans through the food chain, posing a threat to human health.
Now, Tsang and his team of Concordia research assistants, associates and technicians are working on stabilizing the lysozyme formulations for feed pellets. "The work is continuing, and we are modifying the product's properties and also improving the production level," he says.
Real-world research impacts
One of the improvements Tsang's research will focus on is increasing the lysozymes formulations' stability. Greater stability will help make these enzymes resistant to heat and other environmental conditions when they are added to animal feed, which in turn will allow for large-scale feed production and long-term storage, he explains.
Adding lysozymes to feed as an alternative to antibiotics will also help improve animals' gut health and reduce waste and disease, leading to significant cost reductions for Canadian livestock producers.
Tsang notes that using lysozymes instead of antibiotics in animal feed can also have positive impacts on public health.
"Decreasing antibiotic use in animal production may reduce the spread of antibiotic-resistant bacteria. This could also reduce the risk of transmitting diseases from animals to humans."
"Tackling big challenges that have real-world impact is second nature to Concordians," notes Wood-Adams. "I have no doubt that this project reflects the type of research talent and ambition that we strive for as a next-generation university."

Find out more about Concordia's Centre for Structural and Functional Geonomics and Department of Biology.
---