Concordians from the Film Animation program show up big at multiple competitions this year
Work by students, faculty and alumni are honoured at the Ottawa International Animation Festival and the Festival du nouveau cinéma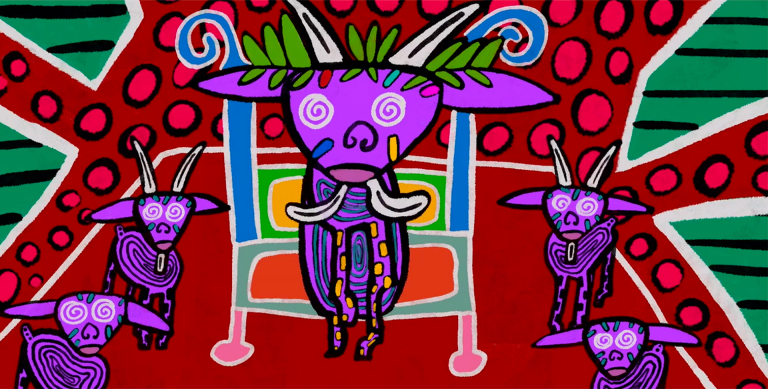 Two Concordians — Gilnaz Arzpeyma (MASc 12, BFA 21) and Alexandra Ouchev — earned special mentions at the 2021 edition of the annual Ottawa International Animation Festival (OIAF).
This was the 45th anniversary of the festival, in which many of the screenings and talks took place online. Before wrapping up on October 3, OIAF featured 107 animated works selected for competition from 2,528 submissions from 38 different countries. Arzpeyma and Ouchev were both recognized in the Canadian Student Competition.
Arzpeyma is a visual artist and earned a BFA in film animation from Concordia in 2021. Inspired by organic and water-based mediums and by using under-camera animation technique, Arzpeyma combines hand drawing with digital technologies to explore contemporary questions of borders, identity and technology through bodily expressions and visual poetry.
In Arzpeyma's film Fleeting: Here and There, mechanical and organic loops morph into each other in an experimental exploration of saturation and breath as a "never-ending quest of presence."
Ouchev's piece, titled The GOAT, is her first animation film. It tells the story of a king who, through his lies, instills a hatred and fear of goats and their "sickness" in his people. Scared for their lives, his subjects go in absurd directions to fight the perceived danger, which leads everything to devolve into chaos.
A recent graduate of Dawson College in Montreal, Ouchev is now in her first year of the Film Production program at Concordia's Mel Hoppenheim School of Cinema.
Major Concordia presence in multiple categories
Concordia was also the institution with the most films featured in the OIAF Canadian Student Competition, including For White Folks Only by Sydnie Baynes; Deuxième Prénom (Middle Name) by Vivien Forsans; Roots Home by Audrey Rainville (BFA 21); Spray Fight by Katie Finn; and SHIFT by Zach Fenlon.
The Canadian Panorama section of the OIAF featured a number of Concordia alumni and current faculty films. These included Wine Story by Keith Del Principe (BFA 16); What is That by Elise Simard (BFA 03); Pote de baise (Fuck Buddy) by Daniel Sterlin-Altman (BFA 16); and Parc à chats (Cat Park) by Rachel Samson (BFA 19).
Concordians celebrated at the Festival du nouveau cinéma
Rainville also came up big at the Festival du nouveau cinéma short film competition. She won the award for best student short film with Roots Home, which also received the Concordia Film Festival prize for best cinematography last May.
Rainville received a $2,000 scholarship from Netflix as well as a research and creation residency opportunity.
Another Concordia alum, Marie Valade (BFA 10), won the Prix Dada National for the best short film in the Nouveaux alchimistes competition. A graduate of the Film Animation program, Valade received the prize for her film Lolos (Boobs)

Find out more about Concordia's Mel Hoppenheim School of Cinema.
---