Concordia MFA candidate receives a 2021 Claudine and Stephen Bronfman Fellowship in Contemporary Art
Anishinaabe sculptor Nico Williams wins the $60K award alongside UQAM's Leila Zelli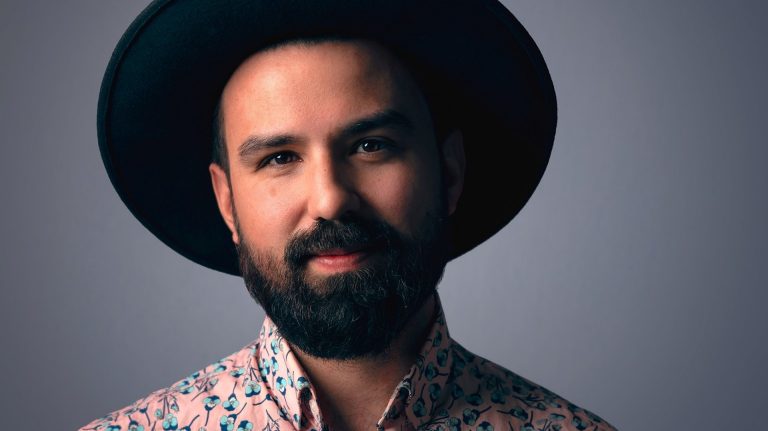 Nico Williams, an MFA sculpture candidate at Concordia, and Leila Zelli, a master's candidate in visual and media arts at Université de Québec à Montréal (UQAM), are the 2021 recipients of the Claudine and Stephen Bronfman Fellowship in Contemporary Art.
The prestigious fellowships, each worth $60,000 over two years, are the most generous post-MFA awards for emerging artists in Canada. Each provides recipients with the recognition and support they need to refine their work and further their creative research at a turning point in their career paths — when they move out of academia and into the professional arts community.
The fellowships are awarded annually to two students enrolled in a master's or PhD program in the media arts or visual arts programs at Concordia's Faculty of Fine Arts and UQAM's Faculty of Arts.
Nico Williams, Concordia's 2021 Bronfman fellow
The first thing Williams plans to do with his award is to upgrade to a larger studio. An Anishinaabe artist from Aamjiwnaang First Nation, Williams has a multidisciplinary, often collaborative practice centered around sculptural beadwork.
"Getting this Bronfman fellowship is a fantastic opportunity to continue my explorations with beadwork," he shares.
"It is preparing me for my next two years. I'll be able to work on larger collaborative projects with a team of people in Tiohtià:ke | Montreal, to do more experiments and to push this practice further. I'm so excited to see what it could become."
Williams's research and creative practice in contemporary beadwork has led him to researchers at the Massachusetts Institute of Technology (MIT) and to join the Contemporary Geometric Beadwork research team.
Pre-pandemic, his work meant travelling extensively: to the Venice Biennale and around Europe, to Boston and to New York, where he connected with members of this global research network. He also gave workshops at MIT, NSCAD University, the Indigenous Art Centre, Crown-Indigenous Relations and Northern Affairs Canada and Carleton University.
"I was able to have this research practice, meet with MIT research teams and do school full-time. Concordia really allows you to grow your career and your practice," Williams says.
"The faculty really helped me get from point A to point B. It was an overload of work, but big gratitude to the university. Pre-MFA I wouldn't have been ready for a serious research practice."
'Coming to Concordia really shifted how I do my practice'
During this time, Williams's career and practice have flourished.
His work has been shown internationally and across Canada, including at the Art Museum at the University of Toronto, Musée des beaux-arts de Montréal, Musée d'art contemporain de Montréal, Victoria Arts Council (British Columbia), PHI Foundation for Contemporary Art (Tiohtià:ke), La Guilde (Tiohtià:ke) and his most recent solo exhibition, chi-miigwech, at Never Apart (Tiohtià:ke) open until June 26.
"Coming to Concordia really shifted how I do my practice. It has had excellent artists coming into the institution. Having them come into my studio really got me ready for life in a Canadian art practice," Williams says.
"When I was told something, I really opened my mind, listened and applied it to my practice. I followed the advice from each artist and from faculty members. It got me out of my comfort zone and really helped me evolve in the program."
His first public sculpture, "Monument to the Brave," was commissioned in 2020 by the SickKids Foundation and is now on display at Toronto's Hospital for Sick Children. In fact, Williams says, he had just put the finishing touches on the sculpture and shipped it off when he received a call from Annie Gérin, dean of the Faculty of Fine Arts, informing him that he got the Bronfman fellowship.
"Nico will be one to watch in the contemporary art world, and the fellowship will be a critical boost for him. We're immensely proud of his accomplishments and all that he has done while in the MFA program at Concordia," Gérin says.
"Most importantly, the Bronfman fellowships provide emerging artists like Nico and Leïla with the time and resources to expand on the research–creation practices they developed in our programs. Stephen and Claudine Bronfman fully understand that these are the most precious commodities at this point in a young artist's career. I thank them warmly for their generosity and for their continued support and faith in graduating students from Concordia and UQAM."
Previous winners
22 other exceptional artists have received the fellowships in the past 11 years:
2020: Heidi Barkun (UQAM) and Mara Eagle (Concordia)
2019: Céline Huyghebaert (UQAM) and Madeleine Mayo (Concordia)
2018: Frédérique Laliberté (Concordia) and Émilie Serri (UQAM)
2017: Andréanne Abbondanza-Bergeron (Concordia) and Martin Leduc (UQAM)
2016: Yannick Desranleau (Concordia) and Guillaume Adjutor Provost (UQAM)
2015: Velibor Božović (Concordia) and Myriam Jacob-Allard (UQAM)
2014: Marie Dauverné (UQAM) and Brendan Flanagan (Concordia)
2013: Nadia Seboussi (UQAM) and Kim Waldron (Concordia)
2012: Sébastien Cliche (UQAM) and Julie Favreau (Concordia)
2011: Aude Moreau (UQAM) and Pavitra Wickramasinghe (Concordia)
2010: Steven Bates (Concordia) and Véronique Savard (UQAM)
Find out more about Concordia's Faculty of Fine Arts.
---