Quebec's first Indigenous artist-run centre is opening soon
Co-founded largely by Concordians, daphne will be a community gathering space and a means to bolster the profile of those on the margins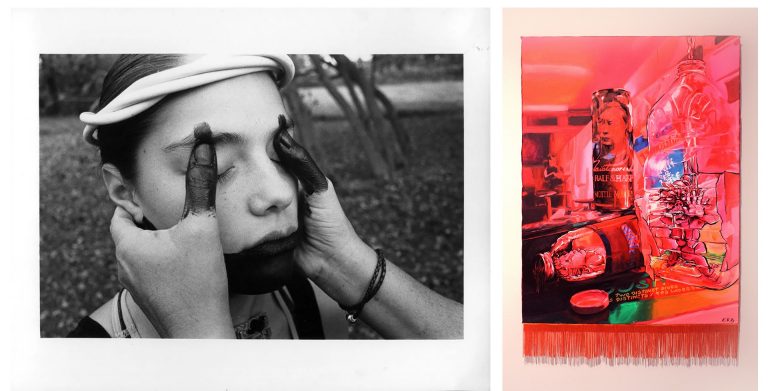 Four Indigenous artists are about to launch daphne — an Indigenous artist-run centre in Tiohtià:ke/Mooniyang/Montreal.
The co-founders are Hannah Claus and Nadia Myre (MFA 02), both assistant professors in studio arts at Concordia, Skawennati (BFA 92, GrDip 96) and Caroline Monnet. They created the non-profit art centre to serve the needs of emerging, mid-career and established Indigenous artists through exhibitions and associated programming, workshops, residencies and curatorial initiatives. Lori Beavis (MA 06, PhD 16) is daphne's executive director.
The centre is named after Anishinaabe (Odawa and Potawatomi) artist Daphne Odjig, who was one of the first contemporary Indigenous artists to create a similar space. It is meant to encourage a culture of peace through critical and respectful exchange with Indigenous and non-Indigenous peers and audiences, and will emphasize community-building.
According to the founders, daphne programming will include exhibitions and regular community gatherings such as beading circles, reading groups, film screenings, artist and curatorial talks and feasts — all of which, they say, will allow people to engage in critical discussions framed within an Indigenous worldview.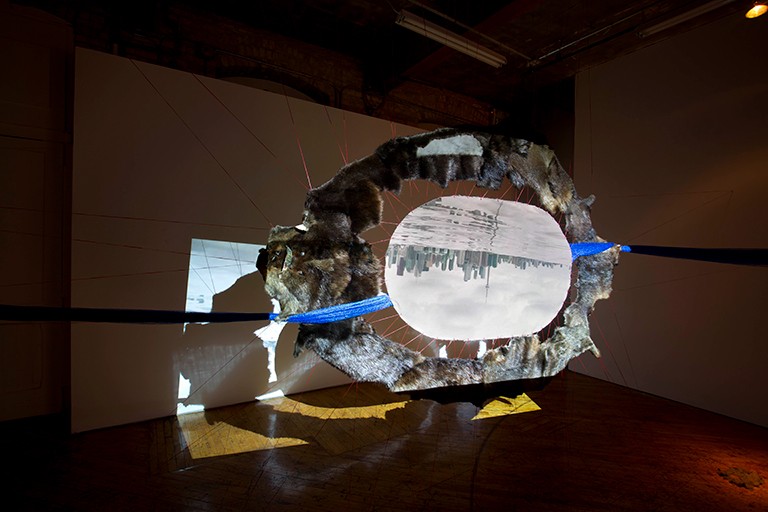 Mishtamishk
, by Sonia Robertson, 2018.
A dream realized
"Indigenous artists have been dreaming of their own artist-run centre in Montreal for a long time," says multimedia artist Skawennati. "Finally, the planets have aligned to make it possible for this dream to be realized."
In 2018, the centre's founding artists came together to put their idea into action. After being officially established in 2019, the daphne team hired Lori Beavis as director and were awarded a grant by the Conseil des arts de Montréal and the Canada Council for the Arts for their first year of programming.
"I am thrilled to be working with these four amazing women to help bring their vision to light," says Beavis. "daphne is going to be a space that is grounded in Indigenous methodologies and ways of being in the world."
The co-founders report that of the approximately 60 artist-run exhibition centres in Quebec, daphne is the first to be Indigenous-run.
"This idea came collectively," says interdisciplinary artist Myre, who is Canada Research Chair in Indigenous Material Practice at Concordia. "I think it's incredibly important that we have a space that reflects us and the kind of the work that we're wanting to do."
'We need our Indigenous art communities'
The upcoming year's program has been designed to build relationships between artists, curators and audiences, as well as contribute significantly to the knowledge of contemporary Indigenous art.
"daphne is about creating a safe place to develop, validate, disseminate and work together in harmony, bridging the gap between cultures and activating meaningful reconciliation," says Monnet, a multidisciplinary independent artist and filmmaker.
As part of daphne's mandate, the centre will prioritize solo exhibitions to affirm and support artists and their work.
"Community is important to all artists, but urban Indigenous artists who are living and working in primarily non-Indigenous spaces are particularly vulnerable," says transdisciplinary artist Claus. "Being a part of an Indigenous art community helped me find my voice when others would have kept it down. We need our Indigenous art communities."
There are four curated solo exhibitions scheduled for daphne's first year, focused on Quebec-based Indigenous artists Teharihulen, Catherine Boivin, Sonia Robertson and Kaia'tanoron Dumoulin Bush.
The daphne team add that they are working to bring more Quebec-based French-speaking Indigenous artists into public art conversations.
The co-founders are also currently hosting a fundraiser on GoFundMe, which has a $25,000 goal and runs until December 21. The funds will help furnish the new exhibition space, set to open in 2021.

The location of daphne, the new Indigenous artist-run centre in Montreal, will be revealed within the coming weeks, along with a website. Until then, you can visit daphne's Facebook and Instagram pages for more information.
---