CODE-E meets Gina Cody: robot makes Canadian debut to meet Concordia donor
150 people attend exchange between android, Gina Cody School of Engineering and Computer Science namesake and PwC Canada partner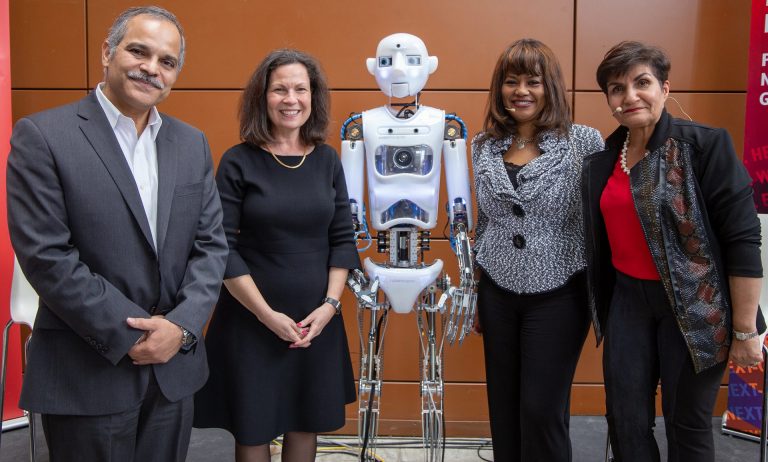 CODE-E, a theatrical robot created by PwC to interact with students and spark interest in technology, made its first Canadian appearance at Concordia University.
CODE-E visited the Sir George Williams Campus to moderate a discussion on the importance of women in science, technology, engineering and math on May 7.
The exchange featured Gina Cody, MEng 81, PhD 89, namesake donor of the Gina Cody School of Engineering and Computer Science, in conversation with Lori-Ann Beausoleil, a partner and national leader of Compliance, Ethics and Governance at PwC.
About 150 faculty, staff, students and alumni attended the event held in the Atrium of the Engineering, Computer Science and Visual Arts Integrated Complex.
"Conscious engineering will allow us to build a better society," said Gina Cody. "Diversity, inclusion and equity are so important in today's society — Concordia is a pioneer in embracing this direction."
Lori-Ann Beausoleil added that diversity, inclusion and equity are pillars of a progressive society. "It starts at home," she said. "We need to teach our children that regardless of their gender, they get to be treated equally in this world. Our education system and workforce need to demonstrate that, too."
PwC's $87,000 gift for students
As part of CODE's visit, PwC announced support for the Campaign for Concordia: Next-Gen. Now.
"PwC has added to Concordia's momentum with a gift of $87,000 towards support for John Molson School of Business and Gina Cody School of Engineering and Computer Science students," said Paul Chesser, BA 94, GrDip 97, vice-president of Advancement.
CODE-E is part of PwC Canada's Young People Project — the firm's commitment to help 10,000 young people across Canada prepare for the future of work.
Through hardwired connection and with the support of a voice actor via telepresence, CODE-E can interact with students while PwC volunteers deliver digital and financial literacy curriculum.
To date, CODE-E has traveled to classrooms around the United States to get students excited about future careers in technology.
View photos from CODE-E's appearance at Concordia on Flickr.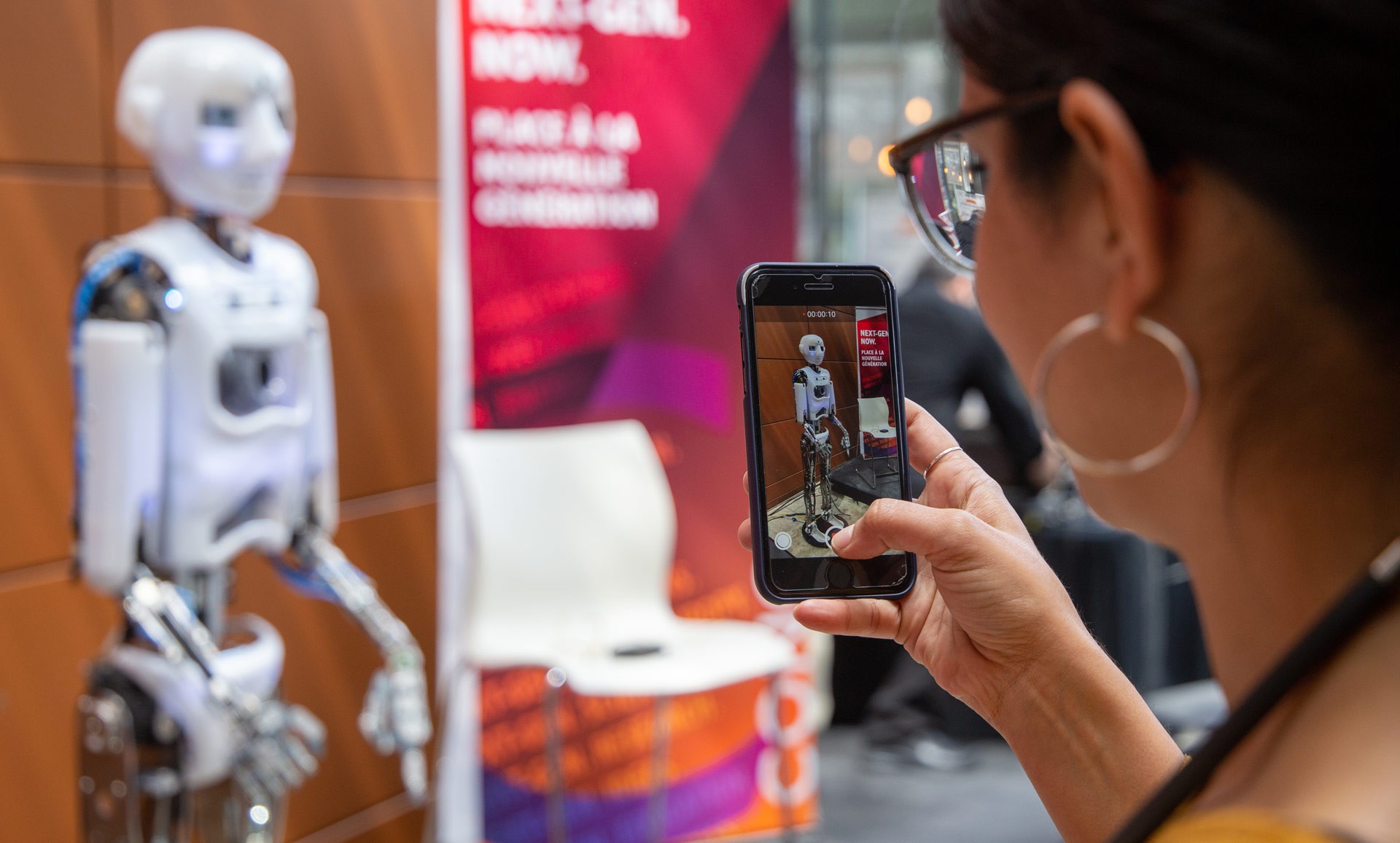 A student snaps an image of CODE-E at Concordia.
---