Concordia hosts 2 days of intergenerational, bilingual exchanges on aging in the city
MAY 16-17: B/OLD event series examines what makes an age-friendly city through panels, workshops, games and more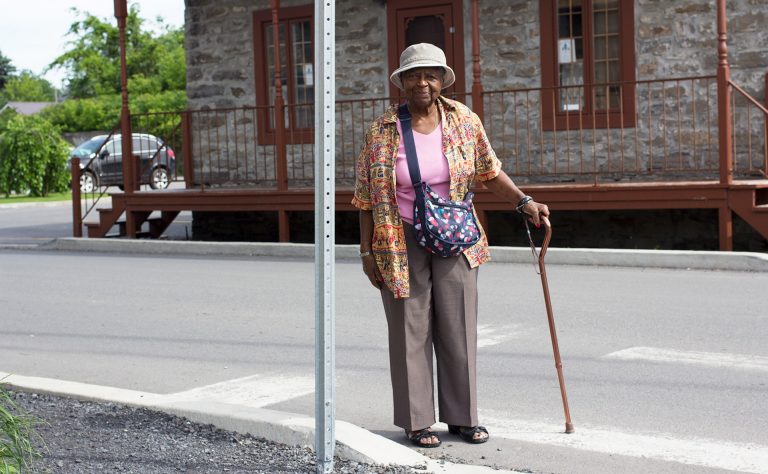 As cities find themselves with rapidly aging populations, many are creating action plans in an effort to be more age-friendly, inclusive and accessible.
These initiatives touch on every realm of civic life — from politics to health to art and leisure.
Concordia's ACT Project (Ageing, Communication, Technologies) and engAGE, the Centre for Research on Aging are taking an interactive, intergenerational approach to exploring issues related to this growing population.
B/OLD: Aging in our City is a bilingual two-day event series on May 16 and 17, with extended programming in 4TH SPACE until May 24.
Researchers, city representatives, activists and community leaders will engage in discussions around issues affecting older adults. The list of topics includes effective housing solutions, accessibility and social inclusion.
In addition, B/OLD will feature digital art-making and immersive activities.
Shannon Hebblethwaite, engAGE director and associate professor in the department of applied human sciences, says that at its core, B/OLD is a collaborative effort.
"By bringing community groups, decision makers, researchers, activists and citizens into conversation with one another in new ways, we hope to help ground research and practice in a better understanding of older people themselves," she says.
She adds that including older adults in the conversation is a crucial step in grounding research, practices and policies that improve the experience of aging in Montreal.
"It's a forum to challenge traditional notions about aging," she explains, "and facilitate opportunities in all realms of life, particularly the social and the political."
We've challenged ourselves to think of creative ways to examine aging
One example of a creative exploration of a serious issue related to aging is an escape room on elder abuse.
Escape rooms are immersive games that invite small groups of players to solve puzzles and riddles. As they progress through a game narrative, they become acquainted with the different forms and manifestations of elder abuse and what resources are available in the community.
"We've challenged ourselves to think of creative ways to examine aging in the city," says Kim Sawchuk, ACT director and a professor of communication studies in the Faculty of Arts and Science.
"We think it's important to have a lot of voices and experiences around the table. We hope that B/OLD is the start of meaningful conversations around these issues."
Below is a selection of events to explore:
Escape room on elder abuse
May 14 to 24
10 a.m. to 5 p.m.
4TH SPACE
An immersive live-action game in which players are invited to think about the complexities of elder abuse.
Graffiti workshop
May 16 and 17
9 a.m. to 5 p.m.
4TH SPACE
A collaborative project between older adults and high-school students, led by visual artist Jimmy Baptiste. This graffiti-inspired design workshop asks who is and is not allowed to leave their mark on the city. Participants are invited to contribute to a collective graffiti that will be publicly displayed at the university.
Panel: What is an age-friendly city?
Thursday, May 16
9:30 to 11 a.m.
J.A. DeSève Cinema
This panel will feature representatives from the City of Montreal; Meghan Joy, engAGE member and assistant professor of political science; and Pascual Delgado of L'Alliance des communautés culturelles pour l'égalité dans la santé et les services sociaux (ACCÉSSS).
Keynote: Co-designing for social futures
Larissa Hjorth, RMIT University
Friday, May 17
11:30 a.m. to 12:30 p.m.
J.A. DeSève Cinema
This talk focuses on creative and ethnographic approaches to how we might recalibrate the city as a playful and creative place that fosters aging well.

B/OLD is free and open to the public. It will take place on May 16 and 17 on the ground floor of the LB Building on the Sir George Williams campus. You can find out more about the event's programming on the B/OLD website.
---