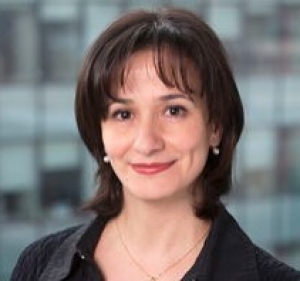 Nadia Kherif joined the Media Relations Department in November of 2001. As a member of the team, her primary responsibility is working with the French language media.
Nadia worked as a journalist and television newscaster in Algeria for 4 years until, like so many of her colleagues, she was forced to leave Algeria for France in 1994 following the tragic events which shook the country. While in Paris, she worked as a reporting journalist for many French radio stations.
After moving to Quebec in 1996, Nadia studied the media's portrayal of the Algerian crisis while pursuing her Masters in Communications at l'Université du Québec à Montréal (UQAM) – which she achieved with great distinction. Her thesis pertains to the power of images and their influence on the daily lives of Algerians living in Quebec, with a focus on the images from Radio-Canada television.
Being from a culture distinctly different from the local dominant culture, Nadia is often consulted by journalists on issues related to Islam, as well as the integration of immigrants.
Nadia is particularly interested in international news and concerned with human rights issues and the situation of women around the world.
nadia.kherif@concordia.ca
514-848-2424, ext. 4187