Human Resources' Sun Youth campaign exceeds expectations
The annual fundraiser surpasses its goal by collecting 3,210 items — and $2,055 in donations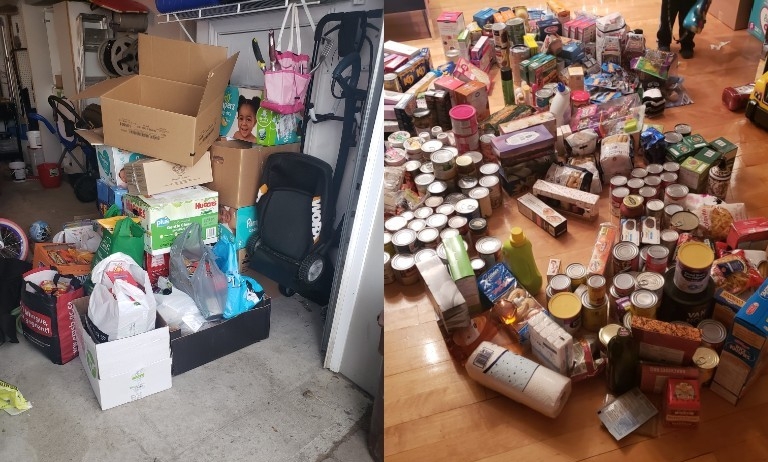 Donations poured in throughout Human Resources' annual Sun Youth holiday food drive.
When Jordana Scarapicchia joined Human Resources' (HR) annual Sun Youth holiday food drive committee this year, she admits her expectations were low because of the ongoing COVID-19 pandemic.
"I worried about how we would be able to gather donations," says Scarapicchia, who is an employment advisor in HR.
"I knew we still had to try. More and more people have turned to Sun Youth this year given the pandemic. We had to come up with ways to fundraise and think outside the box to gather non-perishable food items."
On November 6, Scarapicchia and her committee co-members — Roula Athanasatos, Chantal Gendron, Marie-Ghislaine Jolicoeur, Linh Tran and Madalena Vidal — launched HR's campaign with the hopes of raising 1,200 items for Sun Youth food baskets.
Six weeks later, the committee closed their holiday drive by amassing a remarkable 3,210 items — and $2,055 in donations.
"The community came together to help make this campaign a success. The response was heartwarming," says Roula Athanasatos, department assistant in HR.
How they did it
The committee knew they would have to overcome some logistical issues at the outset of their campaign to make it a success. In past years, Concordians had become familiar with dropping off their items in collection boxes on both the Sir George Williams and Loyola campuses.
But with the majority of employees working remotely throughout the fall term, the committee's members started brainstorming new ways to get people to donate.
They decided to set up various home drop-off locations in and around Montreal, as well as offer pickup services for those who couldn't easily get around the city.
"We had to figure out how to gather the donations safely, while socially distancing and ensuring we had room in our homes to accept, organize and store everything," Scarapicchia explains.
Once contributions began flooding in, another challenge came up. How would they get all the items to Sun Youth?
Enter colleagues from Concordia's Distribution Services, who volunteered to pick up and deliver the donations.
"Coordinating and organizing the pickup and delivery of the collection was a little tricky," says Madalena Vidal, senior pension advisor in HR.
"Thanks to our colleagues in Distribution Services, it was a huge success!"
Barbie dolls, baby formula and that holiday spirit
With the campaign now wrapped up, the food drive committee has many memories to keep them warm and joyous this holiday season.
They only have to look to moments when the young daughters of two Concordians decided to donate their Barbie dolls to Sun Youth in support of the HR campaign. Or the time Marcel Blais, payroll manager in HR, went out of his way to pick up baby formula from a colleague's Facebook friend who wanted to support the cause.
For Linh Tran, assistant to employee and labour relations, the campaign demonstrated that, with determination, anything is possible.
"I felt blessed to have the opportunity to participate in this great cause and to have so much great support from all of Concordia's community, family and friends," she notes.
Chantal Gendron agrees. The administrative assistant in HR has been volunteering on the committee since 2015 and was blown away by this year's experience.
"Even when it seems hopeless, people come through and shine," Gendron says.

Learn more about Concordia's Human Resources.
---