Record Shuffle raises $104,000
Concordia's blockbuster walkathon supports student scholarships and bursaries
Nearly 650 Concordians joined Shuffle 28 — and set a new record!
They collectively raised $104,000 for scholarships and bursaries in Concordia's annual 6.5-kilometre inter-campus walkathon.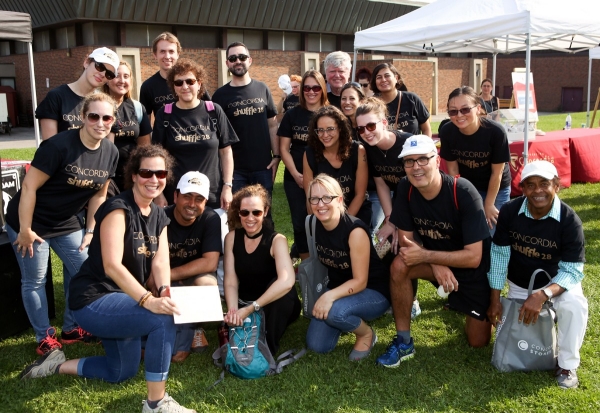 Shufflers enjoy the President's Picnic at the end of the 6.5-km route. | Photo credit: Joe Dresner
Dedicated faculty, staff, students and alumni walked, ran or cycled the route from Sir George Williams to Loyola Campus, under sunny skies.
"Shuffle is about community spirit and giving," said Graham Carr, provost and vice-president of Academic Affairs and Shuffle 28 Advisory Committee co-chair. "All of you Shufflers here today — and those who contribute to Shuffle in any way — help to build a strong Concordia community."
"Thanks to every one of you — you're making a difference to our students," said Concordia President Alan Shepard.
The Shuffle has raised over $1.5 million since 1990. More than 800 students have benefited from Shuffle awards, including Jessica Tucker, BA 16, now a graduate student in English.
"Thank you for the recognition you offer each and every year to students like me. You inspire us to achieve great things because you make us feel like we already have," said Tucker, addressing the crowd at the President's Picnic at Loyola Campus following the Shuffle.
Shuffler of the Year
Concordia's Shuffle advisory committee honoured long-time Shuffler Les Lawton with the Shuffler of the Year award. The beloved former coach of Women's Stingers hockey recently suffered a stroke. Making remarkable progress in his rehabilitation, Lawton trained and walked the Shuffle. Lawton's son Matthew presented the award.
"Congratulations to the Concordia community for raising such an impressive amount!" said Bram Freedman, vice-president, Advancement and External Relations. "Special thanks go to our Shuffle Advisory Committee members and volunteers for helping make this event such a resounding success."
Shuffle 28 marked the launch of Concordia's 2017-18 Community Campaign, our university's annual fundraising campaign in support of teaching, research and student life.
The Shuffle is organized by Advancement and Alumni Relations and a Shuffle advisory committee of Concordia volunteers.
#CUshuffle #CUgiving
---