Fine Arts bestows awards of distinction
Faculty of Fine Arts pays tribute to three individuals for their leading roles in support of arts and culture
The Faculty of Fine Arts paid tribute to three individuals for their leading roles in support of arts and culture at the Fine Arts Awards of Distinction event on June 5.
"All three award recipients share qualities that we value," said Catherine Wild, dean of fine arts. "They are committed to the practice, study and development of contemporary art at the highest level, they personify leadership and originality, and they support Concordia's Faculty of Fine Arts as a leading national centre for cultural creation and debate and thriving incubator for top-notch emerging artists and scholars."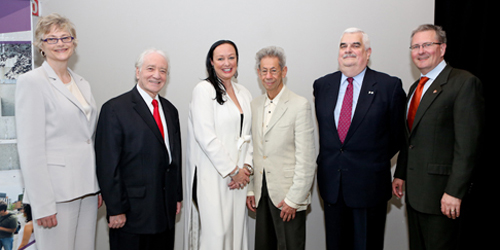 Phoebe Greenberg
Director and Founder of DHC/ART and the PHI Centre
In accepting her award, Greenberg spoke of the power of art in drawing humanity closer together. A visionary committed to presenting some of the most compelling art of our time, Greenberg founded the exhibition space DHC/Art Foundation for Contemporary Art in downtown Montreal in 2007. Offering free admission and flexible hours, DHC/Art's mission is to promote a greater appreciation for, and understanding of, contemporary art to the public at large. Thought-provoking exhibitions by artists of international stature are making an impact beyond provincial boundaries. Greenberg recently opened the PHI Centre, another innovative arts hub bringing together visual and performing artists, their work and their audiences. The Faculty of Fine Arts is collaborating with the PHI Centre on a number of programming ideas featuring the work of faculty, students and alumni to take place in the coming year.
Bruce Mallen
Mel Hoppenheim School of Cinema Advisory Board member
"I am a Concordian for the rest of my life," says Mallen, an entrepreneur, academic leader, advisor and donor with longstanding ties to the university. Mallen is both a graduate of and former dean of Commerce and Administration at one of Concordia's founding institutions, Sir George Williams University, and received an honorary doctorate from Concordia in 2004. He is a member of the university's Mel Hoppenheim School of Cinema Advisory Board and is a strong advocate of interdisciplinary collaboration between the art of cinema and the film industry. He was the founding director of the Florida Atlantic University DeSantis Center for Motion Picture Industry Studies. Now based in Santa Monica, California, where he is the CEO of Krav Maga Worldwide, Mallen continues to pursue his strong interest in film as a Senior Fellow at the Center for Digital Future at the University of Southern California and Chair of the UCLA Anderson School of Management's annual Bruce Mallen Scholars and Practitioners workshop in Motion Picture Industry Studies.
Gabor Szilasi
Professor Emeritus, Department of Studio Arts
A major figure in photography in Canada, Szilasi helped encourage and inspire several generations of artists over the course of his career. Szilasi began teaching photography in 1971, first as a teacher at the Collège du Vieux Montréal, and then as a professor at Concordia from 1980 until his retirement in 1995. "I considered it a mutual exchange, he says. "I taught my students and I learned from them." Heavily influenced by his experiences in his native Budapest and subsequent flight to Canada during the Hungarian revolution in 1957, Szilasi's expansive oeuvre is preoccupied with social documentary. His humanistic chronicle of landscape, cityscape and everyday life earned the Governor General's Award for Visual and Media Arts in 2010 and the Prix Paul-Émile-Borduas in 2009. Szilasi shows no sign of slowing down. He will soon be on his way to Vendôme, France, where a mini-retrospective of his work (L'éloquence du quotidien) will be exhibited from June 22 to September 15, 2013.
The three new award recipients join a unique group of 11 other individuals and organizations who have been granted awards of distinction since their inauguration in 2002 by former dean Christopher Jackson.
Past recipients are: René Blouin, Fondation J. A. De Sève, Leonard Ellen, Ydessa Hendeles, Mel Hoppenheim, Michal Hornstein, Stephen and Gail Jarislowsky, Christine Jones, Avrum Morrow, Noel Spinelli, and Liliane Stewart.
Related links:
---