Up close and personal with Julien BriseBois
"I really love coming to work every day."
Some sports pundits touted Julien BriseBois, EMBA 07, as the Montreal Canadiens' next general manager. In the end, Marc Bergevin took the mantle as chief rainmaker with les Glorieux.
No matter, because the way BriseBois tells it from his office in sunny Florida: "I really love coming to work every day."
Who wouldn't? As assistant general manager of the Tampa Bay Lighting, a scrappy NHL franchise with a Stanley Cup to its credit, BriseBois has been on a stratospheric career trajectory for more than a decade.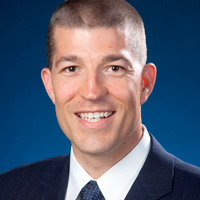 BriseBois returns to Montreal, where he will talk to CTV Montreal's Randy Tieman at Concordia's "Up Close and Personal" Homecoming lecture, on October 11.
The 35-year-old lawyer joined the Habs 11 years ago as its director of legal affairs. BriseBois stepped down as vice-president of hockey operations in 2010 to gain new experience in Tampa Bay.
"From a financial standpoint, the Montreal Canadiens were at the pinnacle of the league when I left," BriseBois says. "Here in Tampa, that's what we are aspiring to become."
It is an ambitious statement and, given BriseBois' pedigree, arguably prophetic. Upon hiring BriseBois in 2010, Steve Yzerman, the Lighting's general manager, called the Greenfield Park, Que., native "one of the best young minds in the game."
BriseBois is a graduate of the Université de Montréal and holds an EMBA from Concordia. While at Montreal's Heenan Blaikie law firm, where BriseBois worked on sports arbitration projects, the Canadiens recruited him to become the team's director of legal affairs in 2001.
What business skills does BriseBois bring to his Lighting post? "I think it's the professional management tools. There's science to hiring people, to putting together a strong business strategy."
BriseBois' stint as general manager of the American Hockey League's Hamilton Bulldogs allowed him to do just that — and road test his Concordia EMBA in 2007.
Since then, BriseBois' education in business and law, and background with NHL salary caps, has given him skills many ex-player hires don't have.
Today, Tampa Bay seems worlds away from his Heenan Blaikie days. "You can't win a Stanley Cup when you're with a law firm," BriseBois says. "I really know how lucky I am to be able to work in this field."
Indeed, the prospect of landing an NHL gig — on or off ice — would set most pulses racing. BriseBois has a prescription for that condition: brilliance. "You need to give us a reason to hire you rather that anyone else."
---