11 cool tools for Concordia faculty and staff
From videoconferencing to virtual classroom tours, explore the IT services available to you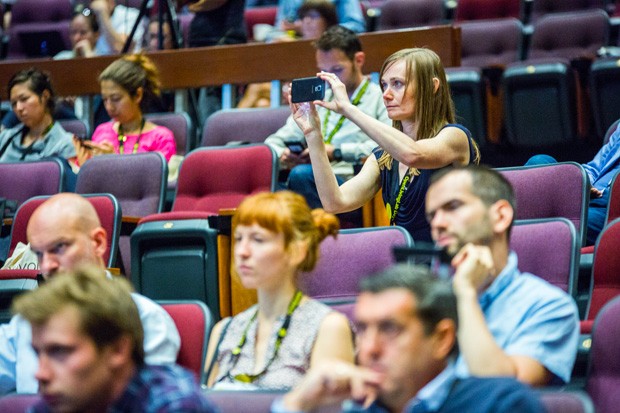 As a Concordia faculty or staff member, technology is at your fingertips. From handy applications to computing resources and email management, IT Services offers a whole catalogue of tools at your disposal.
1. Connect to services with your netname
A netname is required in order to access your Carrefour portal, campus computers, wireless internet, email and other major applications and systems.
Concordia automatically assigns all new staff and faculty a netname and university email address once you start work. Just go to the Activation page and fill out the requested information to get started.
2. Use the eCommerce platform at Concordia
Restocking your supplies just got a little easier with the Concordia Stores eCommerce site. You can order your books online, subscribe to Le Gym and much more.
3. Take a virtual tour of your classroom
Professors can visit different university classrooms and labs online, browse through the list of available rooms, and find pictures, dimensions and a description of the space's available technologies alongside video clips on how to use them.
"It's a great way to know what you're getting and how to make the most of it," says Sebastien Lavoie-Magoon, manager of Audio-visual Services at Instructional and Information Technology Services (IITS).
"Whether you want to get the projector going, the screen down, the DVDs to play or you need to know whether there's a HDMI connection for you laptop, it's all there online."
To take a virtual tour, go to the classroom information and support link in your IT service catalogue, then look under documentation and select either Sir George Williams or Loyola Campus to find your room.
4. Use i>Clicker for quizzes
The i>Clicker Student Response System is an electronic voting method used for collecting responses to multiple choice questions in the classroom.
With it, professors can give presentations using slides, videos and websites and then provide multiple choice questions online. Students can respond to polling questions live from any device and access the session history as a study guide for later.
Professors wishing to borrow an i>Clicker teacher's kit (containing a base and an instructor remote) can submit their request to the Service Desk.
5. Attend a thesis defence by video conference
Concordia's web conferencing service allows up to 100 participants to simultaneously communicate with one another in a virtual meeting room.
These multi-site sessions are well-suited for thesis defences, job interviews, guest speaker presentations, trainings, meetings and more.
6. Free antivirus software
You've got a new computer, and you need to protect your data. Worry not: Faculty and staff can download and install antivirus software by Sophos on their home and self-managed computers free of charge.
Find other important security tips to protect your identity and your data.
7. Chat, video-call, and virtual meetings
As staff and faculty you have access to Microsoft Skype for Business which is a unified messaging system allowing instant messaging (IM), video calls, virtual meetings, and presence (availability) information in one easy-to-use tool. Skype for Business connects people everywhere — on their computer, tablet, or mobile devices, as part of their everyday productivity experience.
8. Download Office 365 ProPlus Suite
As staff and faculty you are eligible to download the Office 365 ProPlus Suite free of charge, and can install it on up to five computers, five tablets and five smartphones.
The suite features the latest version of Microsoft Word, Excel, PowerPoint, Outlook, and OneNote.
To download it, visit the Microsoft online portal and enter your netname@staff.concordia.ca in the user field which will redirect you to a second page where you'll enter your netname and password for authentication.
9. Free Moodle crash courses and other IT training workshops
Whether you're a total beginner or are looking to beef up your skills on a range of relevant applications such as MS Office, Dreamweaver, Moodle, Photoshop or Concordia's Student Information System (SIS), you might want to register for an IT workshop.
Training is delivered through instructor-led sessions, online materials, demos and individual lessons. Workshops last two and a half hours and can be catered to a particular group's schedule as well as customized for specific audiences.
"Numerous workshops will be given throughout the entire term," says Barbara Cree, manager of IITS Training and Support. "You can choose the classes that suits your training needs — we offer basic, intermediate, and advanced levels of workshops."
10. Gain access to computer and media labs
Staff and faculty have access to a wide range of labs with computing resources and electronic and media-related equipment at Concordia.
Open use media labs are available exclusively for students, who can drop in, no booking required.
Faculty and staff can book labs through the online web request form found on the IT Service Catalogue.
Access departmental labs by contacting your department directly.
11. IT Security incidents
Although we hope it never happens, IT security incidents are a fact of everyday life. In the event your computer is stolen or lost, or your personal information is compromised on campus, you can contact the security department by completing an incident report.
Got questions? Get help
Contact the Service Desk for any IT-related issues by email (help@concordia.ca), by phone (514-848-2424, ext. 7613) or by submitting a support request. Of course, you can also stop by an IT Service Centre. Consult each location for operating hours.
Be sure to check out the IT service catalogue for the full list of IT tools and resources.
---