Justin Powlowski (1958-2021): 'A dedicated administrator, true friend and wonderful colleague'
Concordia remembers a pioneering researcher and trusted member of the executive team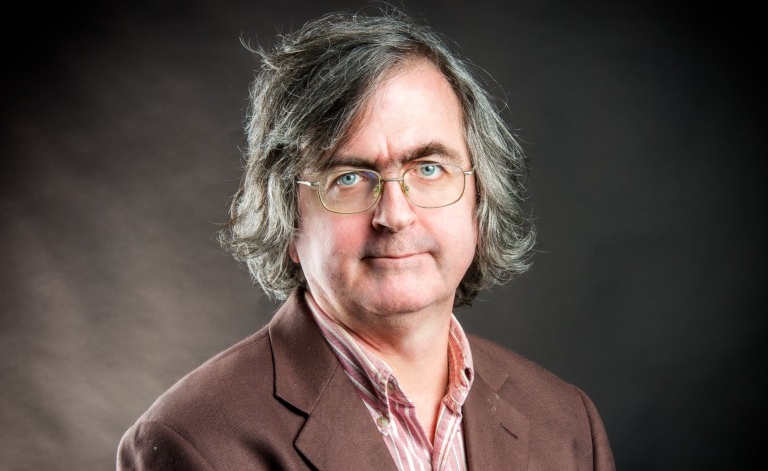 The Concordia community is mourning the death of Justin Powlowski, associate vice-president of research, strategic initiatives and partnerships. Powlowski was a respected researcher, committed professor, accomplished administrator and a beloved colleague.
He passed away on December 19 following an illness unrelated to COVID-19.
"Justin was one of the most humble, under-stated, self-effacing people you could ever meet. Yet he touched so many people and contributed massively to a host of key transformative changes at Concordia," said Graham Carr, Concordia's president and vice-chancellor.
"I first met Justin when we began as associate deans together in 2006 and, after much pleading on my part, was extremely grateful when he later agreed to become associate vice-president of research when I was vice-president of research and graduate studies.
"His brilliant mind and immense capacity for work led to important research contributions to his field and unbelievable, unwavering service to our university. I'll miss his great ideas and his subtle sense of humour. But most of all, I miss him. On behalf of the university he served so generously and so well, I offer my condolences to his family, his friends and countless colleagues who will be reeling at his loss."
Anne Whitelaw, Provost and Vice-President, Academic, also expressed her heartfelt condolences.
"We lost a great Concordian," she said. "Between his engaged teaching, extensive research and dedication to Concordia in several key roles of the upper administration, Justin has been one of our strongest, most reliable colleagues for decades. He is irreplaceable and will be greatly missed."
Key contributions to genomics research
Powlowski earned his PhD from the University of Minnesota and his postdoctorate from the University of Michigan. He joined Concordia as an assistant professor in the Department of Chemistry and Biochemistry in 1990.
During his first decade at the university, Powlowski played a major role in raising the profile of genomics research. He and five other Concordia academics — Paul Joyce, Greg Butler, Clement Lam, Reg Storms and Adrian Tsang — led a genomics journal club and held bi-weekly meetings to organize genomics activities on campus.
The team rallied for internal support, leading to a Multidisciplinary Research Initiative grant and a donation from BioChem Pharma that established a biotechnology and bioinformatics facility in the Henry F. Hall Building.
In 1998, Powlowski co-founded Concordia's renowned Centre for Structural and Functional Genomics, one of just 25 university-recognized research units. He was also co-investigator of a Canada Foundation for Innovation Institutional Award in 1999, which helped establish the genomics facilities on the Loyola campus.
Tsang, who is the current director of the Centre for Functional and Structural Genomics, recalled the "great privilege" of working closely with Powlowski for 30 years. "In his death, Concordia has lost an effective and dedicated administrator. We have lost a true friend and wonderful colleague. Justin will be deeply missed."
Since 2002, Powlowski was a co-investigator on five Genome Canada awards, the Cellulosic Biofuels Network financed by Agriculture and Agri-Food Canada, and numerous NSERC grants with total funding exceeding $80 million.
'His contributions cannot be overstated'
After 16 years as a talented researcher and professor, Powlowski served as associate dean of academic facilities in the Faculty of Arts and Science from 2006 to 2012. He joined the Office of the Vice-President of Research and Graduate Studies as interim associate vice-president of research, strategy and operations, before assuming the role full-time in 2013.
In 2018, Powlowski was appointed associate vice-president of research, strategic initiatives and partnerships.
Powlowski's leadership while interim vice-president contributed to the university's successful Canada Excellence Research Chair application. He also played a key role in the construction and opening of the PERFORM Centre and the Genomics Building, and the launch of 4TH SPACE.
"His keen intelligence was essential to the success of several strategic research initiatives," said Paula Wood-Adams, interim vice-president of research and graduate studies.
"As VP, I could always rely on his thoughtful advice, dedication to our sector, invaluable contributions and wonderful, dry sense of humour. He was able to bring his own experience as a successful researcher into so many of our discussions and decisions.
"It is extremely difficult to think of Justin in the past tense," she added. "But we are the richer for having worked — and laughed — with him. His contributions to research at Concordia simply cannot be overstated, nor can his impact on all of us."
Powlowski leaves behind his wife, Lena Sahlman, a part-time faculty member in the Department of Chemistry and Biochemistry, and his sons, Mats and Pavel.

Learn more about how Concordia provides support in times of need.
---