The 2018 Concordia Centraide Campaign surpasses its goal and raises $161,510
The funds donated by the university community will support 500,000 Montrealers and 350 local agencies and projects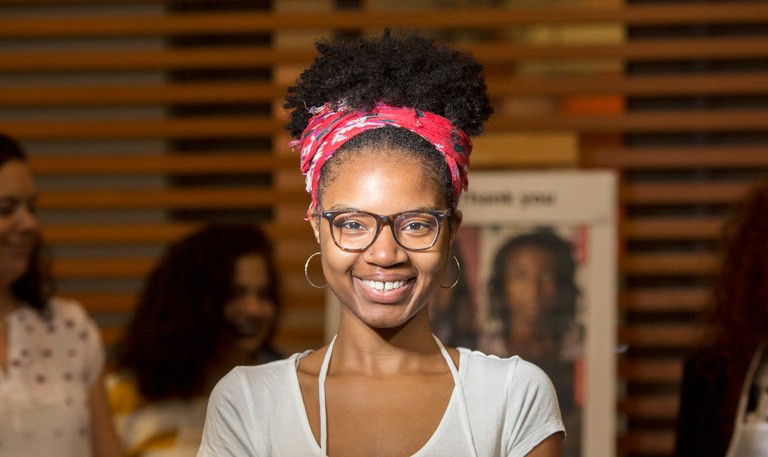 The 2018 Concordia Centraide Campaign officially wrapped up December 10 — with inspiring news. As announced at the Centraide closing event by Nadia Bhuiyan, vice-provost of Partnerships and Experiential Learning and campaign co-chair, the university community came together to raise $161,510, surpassing the goal of $155,000.
"This is a great Concordia moment," added Philippe Beauregard, chief communications officer and the other campaign co-chair.
Alan Shepard welcomed guests at the closing event, held in the atrium of the Engineering, Computer Science and Visual Arts Integrated Building. "I'd especially like to thank Suzanne Kaye, the campaign manager, and campaign co-chairs Philippe Beauregard and Nadia Bhuiyan," Shepard said.
"I'd also like to thank Andrea Renaud, who was campaign manager for many years and who remains very involved."
Beauregard thanked the many individuals for their valuable contributions. "We're grateful for the dozens of volunteers — more than the campaign ever had before — who stepped up to help," he said. "It was a huge effort and showed how much Concordians are committed to Montreal."
Bhuiyan acknowledged the hard work of the dedicated members of the advisory committee, made up of faculty and staff, and a number of associations and individuals across the university (see the list below).
"I'd also like thank all those who worked behind the scenes, and our many volunteers who helped in a variety of ways such as selling raffle tickets or working at the pasta lunches."
The lunches, held November 20 on the Sir George Williams Campus and November 27 on the Loyola Campus, brought in $2,250. The 50/50 raffle netted another $1,700.
The slogan for the 2018 campaign was "Give to Centraide — YUL be glad you did," underlining the value of the work done by the charitable organization for Montrealers.
Suna Ekmekcioglu, assistant director of Centraide of Greater Montreal's annual campaign, also spoke at the event. She emphasized that Centraide supports 350 local agencies and projects.
"I'd also like to say thank you from the 500,000 people Centraide helps annually who couldn't be here — because they're at school, at work, in community kitchens and elsewhere," Ekmekcioglu said. "They're currently realizing their full potential."
Beauregard added that this year's campaign was able to recruit six new leaders — donors who make a personal gift to Centraide of $1,200 to $9,999. These donations are significant because each receives a matching gift from a local foundation.
The event ended with the draw of seven raffle prizes, including a $500 gift certificate from WestJet, won by Michael Rinaldi, campus recreation assistant at Recreation and Athletics; a $350 gift certificate from Hudson's Bay, won by Laura Landry, student tribunals officer; and a one-night stay with a continental breakfast at l'Oasis de l'île Auberge Santé et Spa in Saint-Eustache, Que., valued at $290, won by volunteer Sandy Urquhart.
The lucky winner of the 50/50 draw, worth $1,700, was Mary Pigas, service assistant at Enrolment Services.
The co-chairs recognize the valued contributions of the following groups and individuals, who helped the 2018 Concordia Centraide Campaign surpass its goal:
The advisory committee, extended this year to include representatives from the four faculties, the Library and Continuing Education
Concordia University Part-time Faculty Association, Concordia University Faculty Association and Association of Concordia University Management and Administrative Employees, for donations for the weekly prize draws and raffle ticket prizes
Hospitality Services, which re-confirmed its perennial campaign contribution
Human Resources, Season's Catering, Distribution, Custodial Services and IITS
Alumni Relations, for their key outreach communications
University Communications Services, for the various campaign communications
Volunteers, who sold raffle tickets, helped with Concordia events and organized their own local events
And the Centraide support team: Caroline Vachon, Anne-Marie Lavoie and Marisa Feo.

Visit the Concordia Centraide page to learn more about the campaign and the impact of your donation, as well as to see infographics about the services provided by Centraide-funded agencies in Greater Montreal.
---