Anne Wade: Quebec's top research professional for 2017
The educational innovator landed a $2,500 award from the FRQSC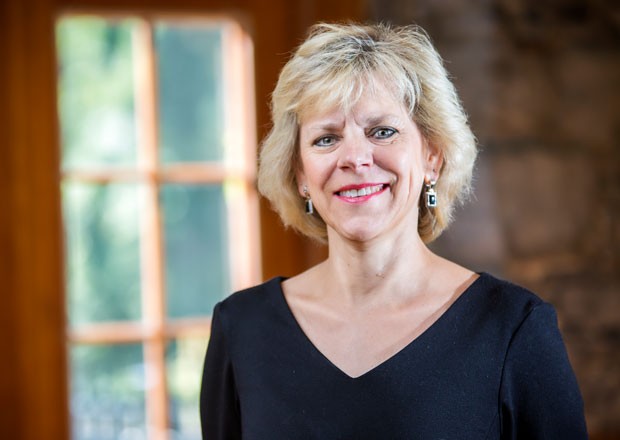 Anne Wade: "I've had the chance to collaborate with an incredibly dedicated and competent team."

Anne Wade, long-time manager of Concordia's Centre for the Study of Learning and Performance (CSLP), nabbed the top research professional excellence award from the Fonds de recherche du Québec – Sociéte et culture (FRQSC) in June.
The $2,500 prize from the provincial funding body was given to Wade in recognition of her contributions to research promotion, knowledge mobilization and training for new generations of researchers.
Wade credits her accomplishments to being surrounded by strong researchers, staff and students who are making a profound difference in the development of foundational competencies in children.
"The Prix d'excellence des professionnels de recherche is a very nice recognition of my efforts over the years, but how fortunate am I?" she says.
"I've had the chance to collaborate with an incredibly dedicated and competent team of professionals and support staff — who don't get the recognition they deserve — beside world-renowned researchers."
Wade gives a specific nod to her mentor, Philip Abrami, the founder and director of the CSLP. "His leadership, passion and determination have positively impacted thousands of children worldwide."

'Truly impressive contributions'
The CSLP is one of Concordia's 22 Senate-recognized research centres, and a FRQSC research centre of excellence. It's known for its critical mass of researchers conducting novel explorations in learning and performance, from language, literacy and numeracy to the development of education technologies and tools.
Wade joined the CSLP on a full-time basis in 1994. Prior to that, she worked there part-time as an information specialist, when it was still known as the Centre for the Study of Classroom Processes. She has also served as a part-time education lecturer in the Faculty of Arts and Science since 1996.
A recommendation letter co-penned by Concordia's president Alan Shepard, interim vice-president of Research and Graduate Studies Justin Powlowski and Abrami, describes Wade as a "a wonderful colleague who leads by example in her research, teaching, training and service," and as a research professional with "many, and truly impressive, contributions and accomplishments."
The letter was signed by more than 25 academics, research personnel and education practitioners. They credited Wade with being integral to the success, growth and extraordinary impact of the CSLP and a key contributor to its many accomplishments.
This isn't the first time she has been recognized for her work. In 2008, Wade received the Excellence in Librarianship Award from the American Psychological Association, and last year she received the Anne Galler Award for Outstanding Library Service from the Quebec Library Association.

---