From Old Montreal to Kahnawake: a 34-km pilgrimage to combat ignorance
A group of Theological Studies students at Concordia bridge cultural — and physical — divides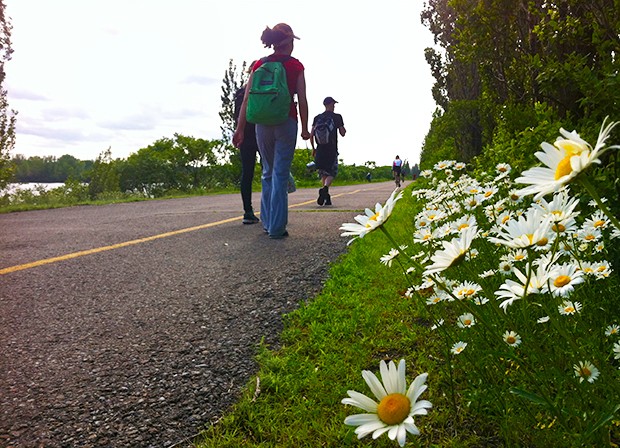 Photos by Matthew Anderson

Last weekend Matthew Anderson, an assistant professor in Concordia's Department of Theological Studies and the Loyola College for Diversity and Sustainability, and Sara Terreault, a lecturer in the Department of Theological Studies, led a group of students on a walking pilgrimage from Old Montreal to the Kahnawake Mohawk Territory.
From Saturday through Monday, they toured churches and First Nations institutions, learning about the people and the cultures they represent. Anderson compiled this account.
Plotting a 34-kilometre walking route between Old Montreal and the Kahnawake Mohawk Territory was difficult. But the hardest part turned out to be the last few kilometres.
Sara Terreault, a lecturer in Theological Studies, and I were temporarily stymied at city hall in Sainte-Catherine, a city near Kahnawake on Montreal's South Shore.
"Oh, no, you can't walk to Kahnawake from here unless the police stop traffic and you use the highway," a clerk said. "I've lived here for 30 years, and I can tell you that it's just not possible."
Only a couple of minutes later, we discovered a service road footpath connecting the communities along the river. The problem is clearly not impassible terrain, but something else. Maps of the town end at the border and show a blank space to the west, where Kahnawake lies. When there is a blockade or a political crisis, this benign ignorance on the part of many non-Indigenous Montrealers can turn into outright suspicion or hostility, as clearly happened during the so-called Oka Crisis of 1990.
What's the solution to such a conundrum? Part of it may begin with simply putting one foot in front of the other.
Students move between two destinations — and two cultural realities.
In a study I'm presenting in July at the Sacred Journeys conference at Mansfield College, Oxford, I propose that the dynamics of a trek offer a unique way to bridge cultural differences. Our research shows that walking combats ignorance of the cultural "other" not only in the shared experience of the journey, but also by allowing us to feel in our own bodies the distance from — and proximity to — these supposedly foreign places.
This is an experience that travelling by motor vehicle just doesn't offer.

Taking steps to combat ignorance
This summer, Terreault is teaching a course on pilgrimages in the Department of Theological Studies. Along with me, she organized the 34-kilometre walk from Old Montreal and Kahnawake, which we undertook this past weekend.
To test how walking pilgrimages change the cultural suppositions of those who undertake them, she required her students to critically engage with pilgrimage theories during their trek between the historic destinations.
Participants tour Old Montreal's Notre-Dame-de-Bon-Secours Chapel, once a popular site for Christian pilgrims.

The walk began on Saturday morning, with a tour of Old Montreal's iconic 17th-century Notre-Dame-de-Bon-Secours Chapel, a structure built at the behest of St. Marguerite Bourgeoys that served as a pilgrimage site for the first Christian inhabitants of what was then called Ville-Marie.
From there, we walked the 23 or so kilometres to Sainte-Catherine, where we stayed in the basement of Église Sainte-Catherine d'Alexandrie. Early the next morning, we began the roughly 10-kilometre trek to Kahnawake.
While there, we visited the shrine of Kateri Tekakwitha, who became the first Indigenous North American saint with her canonization in 2012. We learned more about Tekakwitha from Orenda Boucher (BA 09, MA 13), who is working on a PhD thesis on Mohawk spiritual expressions.
Later, we toured the Kahnawake Cultural Centre with Tom Deer, its cultural liaison officer, before we ended our time in the territory with a visit to the Kahnawake Longhouse, a place for traditional religious expression. We also had the privilege of spending some time with Kenneth Deer, a Kahnawake journalist and educator who is involved with the United Nations Permanent Forum on Indigenous Issues.
Our pilgrimage concluded on Monday with our walk back to Montreal. Terreault was moved by the entire weekend.
"It's humbling as well as instructive to see how warmly we were welcomed throughout our journey," she said. "Communitas is a technical term used in pilgrimage studies that refers to the spontaneous emergence of fellow-feeling among people journeying together, regardless of social or other differences. There was certainly a sense of that about our entire trip."
Ultimately, the voyage we undertook was not so much to a destination as between two cultural self-understandings and the physical spaces that exemplify them. It's important to note that the walk was part of Concordia's ongoing mandate of public outreach.
On our journey, we crossed densely urban, suburban and industrial zones, as well as parks and recreational areas, rediscovering parts of what was once an important historical Montreal trail. But as much as we were retracing the past, our eyes were definitely on this route's future. Our political leaders, including those of the First Nations communities, are asking us to learn from each other.
Walking is a singularly powerful way to begin to do exactly that.

---