From fearless public speaking to light shows at the Super Bowl
Two inspired part-time instructors reflect on life inside — and outside — Concordia's classrooms
Liz Valdez: "I learn with every class"
Liz Valdez maintains that even those of us who don't harbour dreams of stage and screen stardom can benefit from acting classes.
"It's about communicating. It's not therapy, but it's therapeutic," she says. "It's a way to connect with yourself, and also with another human being, because that's what actors are doing constantly."
Valdez is a part-time faculty member in the Department of Theatre and a Concordia alumna (BFA, 95). In 2002, associate professor Gene Gibbons and Valdez's mentor Bryan Doubt — another part-time faculty member — invited her back to help develop a program of acting classes for non-theatre students. Valdez stayed on, and teaches a range of courses for the department.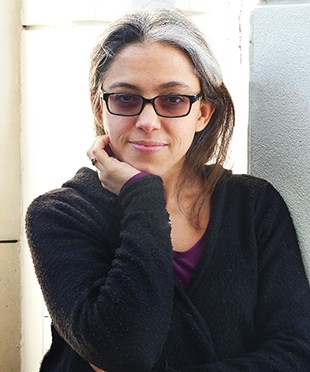 Liz Valdez: "Students steer their education, and I'm the boat. I hold them in." | Photo by Concordia University
A veteran stage director with more than 40 productions on her resumé, Valdez says her teaching practice is as important to her as her work outside the university.
"I learn with every class, as I do with every theatre project that I'm involved with. Whether you have students who really grasp the work and love it, or students who resist the work and you know there's something deeper in there you have to access, it teaches me something about myself every day."
While Valdez sees directing as her creative outlet — a chance to grapple with other people's stories and bring them to life on stage — teaching allows her a chance to move into a supporting role for her students, as they work on their own dramatic projects and roles.
"In teaching, I feel like the students are steering their education, and I'm the boat. I hold them in. I don't let them fall overboard. I don't let them get hurt, but I let them struggle and figure it out. When I'm directing, I'm steering the boat."
Recently, Valdez and her business partner Lisa Kagan launched Shift, a company that provides corporate clients with theatre and performance training in order to improve their communication, presentation and other soft skills. The idea grew, in part, out of her work with non-theatre students at Concordia.
"I was seeing all of these business students, communications students and English students coming into our Introduction to Acting class and saying, 'This has changed my whole perspective.' Their presentations were getting better, and their connections with people were getting better."
As her business grows, Valdez says she will continue to direct and teach part-time at the university, challenging students to step outside of their comfort zones.
"People are very afraid of conflict, but drama is all about conflict. It's all about tension. When non-theatre students, in particular, realize that conflict is actually necessary in drama, it becomes a positive experience."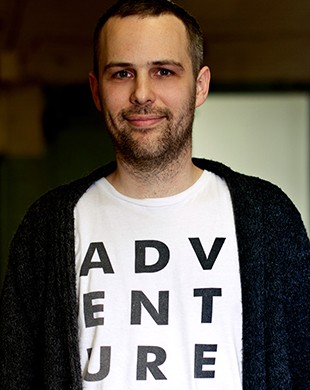 Vincent Leclerc: "School is a good place to test crazy ideas." Photo courtesy of Leclerc
Vincent Leclerc: "I like being able to experiment on a much deeper level"
Lately Vincent Leclerc, BSc 03, a part-time faculty member in the Department of Design and Computation Arts, hasn't been able to teach.
PixMob — the multimedia company he co-founded in 2006 with David Parent — took off this winter. Remember the moment at the Super Bowl halftime show when the audience turned into a giant 80,000-pixel screen? That was courtesy of PixMob. So was the immersive light show at the opening ceremony of the Olympic Games in Sochi.
Still, as soon as everything settles down, Leclerc is determined to return to Concordia. "What I like about teaching is really being able to experiment on a much deeper level," he says. "It's a good place to test crazy ideas!"
Four years ago, Leclerc was having a chat with a friend, Cirque du Soleil creative director Michel Laprise, when he suggested the crazy idea of including the audience in an event by way of electronics embedded in their clothing.
"I was telling him we could turn a crowd into a big light canvas, and he caught onto that. A few months later, he called me back and said, 'Okay, I have a project for you: the Microsoft Kinect Launch in L.A., and we have three months to do it.'"
Leclerc's team and staff from Cirque du Soleil fabricated 3,000 white ponchos, which they distributed to guests.
"They had no idea that we had embedded them with electronics. Then towards the end of the show, we started lighting everyone and making actual video images in the crowd."
The rest, as they say, is history.
"A year later we did Arcade Fire at Coachella, the big music festival. And then we started doing all sorts of events and projects," Leclerc says. Over the past two years, we've done over 150 shows in 15 countries on four continents."

For the Super Bowl show, the company distributed 80,000 toques equipped with interactive LED lights to spectators. The end result was the world's largest human video screen.
Leclerc completed a double major at Concordia in Computer Science and Computation Arts in 2003. He credits his studies with allowing him to bridge the gap between his creative and technical interests. "Once you have all the skills to do random technical jobs and you can apply them to creative concepts, it becomes very interesting."
Leclerc obtained a Master of Science in Media Technologies at the Massachusetts Institute of Technology (MIT) in 2006. Instead of working towards a PhD, he decided to return to Montreal to start his own studio and teach a class called Tangible Media and Physical Computing at Concordia.
Alongside Joanna Berzowska, chair of the Department of Design and Computation Arts, Leclerc experimented with new ways to embed electronics into garments "way before it was a hot topic." The concept has been around since the 1960s, he says, but it's only recently that technological advances turned the theories into practise.
Meanwhile, potential clients are clamouring for PixMob, which now employs 40 people — many of whom are Leclerc's former Concordia students. He estimates the company gets between 10 or 20 requests a day.
"Everybody asks us for the same thing. They want people to remember; they want people to want to brag about the fact that they experienced something," he says. "There's a lot of opportunity there."


Read about three other passionate part-time faculty members at Concordia.
---