Make your fitness resolution stick
Tips from the PERFORM Centre on how to get and stay fit this year
This article was originally published January 9, 2013.
So you've made a decision to get fit this year. You're not alone. Getting in shape is a popular new year's resolution and if you take the right steps, your activities can have a positive impact on almost every aspect of your life.

However, sticking with your decision can be difficult. Most fitness facilities experience an influx of well-meaning new members in January and February only to see them leave by March. Despite the best intentions, getting in shape can be a significant challenge, especially if you are unprepared or lack proper knowledge and support.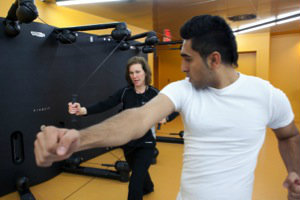 Prepare for success
The key to getting your resolution off on the right foot is preparation and planning, says Christina Weiss, a certified exercise physiologist at the PERFORM Centre. "Start by thinking about what you like to do. An extrovert tends to get extra motivation from group training classes and team sports. Introverts may want to bring an MP3 player to the gym or take on activities they can do alone such as skiing and jogging," she says.

It's important to know and repeatedly remind yourself of why you've decided to get into shape. For some people, it may be to gain more energy in daily life, while others are committed to a specific goal, such as running a 10-kilometre race.

Equally important is choosing exercises that can be integrated into your schedule. For busy parents, going to the gym between three and five times a week may not be realistic. Instead, people in this situation should consider family activities that involve physical exertion or exercises that can be done after the children are in bed. Choosing activities that are close to home and work will also help you fit exercise into your daily life.

Shop around. "Look online at potential community league sports and visit fitness facilities," says Weiss. "Finding a space that you're comfortable in is key. This is also important for budgetary reasons. Is the activity you want to take part in affordable? If not, you're setting yourself up for failure because it will cause financial stress."

Mindfully monitoring
Monitor your exercise habits and diet. "From the very beginning, it is very important to write down your daily physical activities as well as what you're eating," says Weiss. "This will help monitor your progress and allow you to make adjustments to your exercise routine and meal planning."

The first few months of a new exercise and nutrition regimen is a fragile time when relapse is common. A journal or some kind of monitoring tool can give people a sense of control over their choices.

By analyzing personal behaviour, you can identify patterns and better tackle potiential roadblocks that can lead people to quit. "Maybe you're not getting to your fitness class on a regular basis," says Weiss. "Monitoring will help you identify why this is the case and help you find a solution. Mindfully making choices will lead to lasting change."

Several online tools and apps exist to help people monitor and track their exercise and eating habits:
• eaTracker
• WebMD


Looking for more specific tips? Start the new year strong with this 5-step plan: "Get fit for 2014."
Related links:
• PERFORM Centre Healthy Weight part 3
• PERFORM Centre
• "Managing weight for long-term health" — NOW, March 6, 2012
---