Sex-work research garners alumna doctoral award
Anna-Louise Crago receives prestigious 2013 Trudeau Foundation Scholarship
Research into violence against sex workers will gain added scope, thanks to the support a Concordia alumna has received from the Pierre Elliott Trudeau Foundation.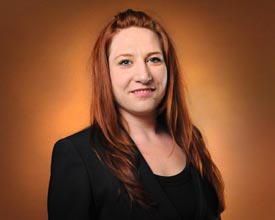 Anna-Louise Crago, who earned a BFA in 2003 and MA in 2010 from Concordia, has obtained a Trudeau Scholarship — the most prestigious doctoral award of its kind in Canada — to pursue research on the experience of sex workers during armed conflict in the Democratic Republic of Congo.

Crago is currently pursuing a PhD in anthropology at the University of Toronto and has spent more than a decade as a human rights activist and researcher.

Viviane Namaste, Concordia University Research Chair in HIV/AIDS and Sexual Health at the Simone de Beauvoir Institute, worked with Crago while she was a student of the School of Graduate Studies' Individualized Program. "Anna is really grounded. She knows the issues at hand and understands them. It's one of her great strengths."

"It is inquisitively difficult to look at human rights and find solutions like Anna does," continues Namaste. "Her work with sex workers is amazing and she deserves this scholarship."
She worked for many years with Stella — a Montreal centre that provides support and information to sex workers to help them live in safety and with dignity — most recently as the coordinator of services and the legal clinic and medical clinic.

Human Rights Watch and the Canadian HIV/AIDS Legal Network awarded Crago and her team the AIDS Action Award in 2006. She has also worked with human rights organizations, authored articles and lectured on related topics.

The Trudeau Foundation supports doctoral students from Canada and abroad whose innovative research aims to solve issues of importance to Canadians. This year's 14 Trudeau scholars will receive a $60,000 grant per year for three years and join an interdisciplinary and intergenerational network.
"Concordia provided me with the unforgettable mentorship and support of tremendous engaged scholars such as my supervisor Viviane Namaste, as well as Peter Stoett, Kimberley Manning, Fran Shaver and the late, but unforgettable, Lillian Robinson. I will never forget Lillian calling me at 1 in the morning to announce to me very excitedly that I had gotten into the master's program!," says Crago.

"I am deeply indebted to the Simone de Beauvoir Institute and its commitment to brilliant and brave teaching, scholarship and intervention in public debate. The Simone de Beauvoir Institute, and in particular the work of Viviane Namaste, are a lasting source of inspiration, excitement and encouragement as I pursue further studies."

Related links:
• Pierre Elliott Trudeau Foundation
• Anna-Louise Crago's profile on the Trudeau site
• Concordia's Faculty of Fine Arts
• Concordia's Faculty of Arts and Science
• Concordia's School of Graduate Studies' Individualized Program

---