Newest members inducted into Provost's Circle of Distinction
Awards recognize faculty members and librarians who have received external honours
The Provost's Circle of Distinction honours faculty members and librarians who have received recognition from external bodies such as the Order of Canada and Order of Quebec, or who have been appointed fellows of professional bodies, including the 3M Teaching Fellowship.

Members are chosen by Faculty deans, department chairs, and previously named members of the Circle. This year, six individuals were selected to join the Provost's Circle of Distinction.

The presentations took place on May 30 during the annual Celebration of Excellence event. In his remarks, Vice-Provost, Teaching and Learning, Ollivier Dyens offered his congratulations and praised the recipients for their outstanding contributions in their respective fields.

Daniel Cross
Mel Hoppenheim School of Cinema, Faculty of Fine Arts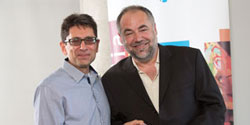 Chair of the Mel Hoppenheim School of Cinema, Cross is the co-founder of EYESTEELFILM, a documentary film and interactive media company. His own career as a filmmaker has focused on social issues including homelessness in Canada and migrant labour in China.

In 2005 Cross completed the films Inuuvunga: I am Inuk, I am alive for the National Film Board and Chairman George for the BBC and CTV.

In 2012, Cross produced the documentary Last Train Home, which earned two Emmy Awards, for Best Feature Documentary and Outstanding Business and Economic Reporting, from the Academy of Television Arts and Sciences in the U.S. The film also earned a Genie Award and a Prix Jutra.

Adam Krzyzak
Department of Computer Science and Software Engineering, Faculty of Engineering and Computer Science

Krzyzak was named a Fellow of the Institute of Electrical and Electronics Engineers (IEEE) in 2011, a title bestowed upon individuals who have made outstanding contributions to the electrical and information technologies and sciences.

Throughout his research career, Krzyzak has obtained extensive funding, and currently holds a Discovery Grant from the Natural Science and Engineering Research Council of Canada (NSERC), worth $43,000 per year. He has published more than 200 technical papers.

Jordan LeBel
Luc Beauregard Centre of Excellence in Communications Research, John Molson School of Business

LeBel, a marketing professor and director of the Luc Beauregard Centre of Excellence in Communications Research, was selected as a member of the Council of the 3M National Teaching Fellows this year. The 3M Fellowship recognizes exceptional contributions to teaching and learning at Canadian universities. LeBel is the fifth Concordia professor to be named a 3M Fellow.

A graduate of Cornell and McGill universities, LeBel came to Concordia in 2000. His innovative and energetic approach to teaching and his ability to bring real-life situations into the classroom are some of the elements that earned him his fellowship.

Ira Robinson
Department of Religion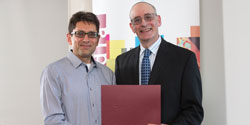 Over his long academic career, Robinson has produced texts that have become standard reference works for scholars and students of Canadian Jewish Studies. Robinson has also received multiple awards and fellowships from external granting agencies. This summer, he will take up a fellowship at the Schusterman Center for Israel Studies at Brandeis University.

Recently the Association of Canadian Jewish Studies named Robinson the 2013 recipient of the Louis Rosenberg Canadian Jewish Studies Distinguished Service Award.

Lorna Roth
Department of Communication Studies

Roth has been teaching courses at Concordia University on a part-time and full-time basis since 1979. A pioneer in the subject of First Nations media development, she participated in a range of projects which led to the creation of the Aboriginal Peoples Television Network (APTN).

She is the author of numerous journal articles and books on a range of subjects involving First Peoples communications development, the Oka Crisis, multiculturalism, multiracialism, race (skin colour), technologies and design.

Recently, Roth has been contributed her expertise to the Montreal Life Stories project run out of Concordia's Centre for Oral History and Digital Storytelling,

Roth is currently working on an e-manuscript called Colour Balance: Race, Technologies, and "Intelligent Design," which explores the ways in which skin colour is imagined, embedded, and colour-adjusted over time.

In recognition of Roth's work as a groundbreaking educator, she was awarded the YWCA's Woman of Distinction Award in the education category.

Dale Stack
Department of Psychology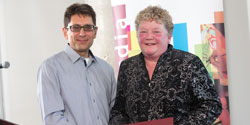 Stack's research focuses on the development of infants and children at risk for developmental problems and psychopathology, and on infant development.

Stack joined Concordia's Department of Psychology in 1990 and was named a full professor in 2007. Her research has benefited from more than $8 million in funding from major Canadian and Quebec granting agencies, including the Fonds québécois de la recherche sur la société et la culture, the Social Sciences and Humanities Research Council of Canada, and the Canadian Institutes of Health Research.

In 2012, Stack was named a Fellow of the Canadian Psychological Association for her "distinguished contribution to the advancement of the discipline of psychology." The same year she received the Dean's Award for Distinguished Scholarship, which recognizes outstanding researchers in Concordia's Faculty of Arts and Science.
Read about other award winners from the May 30 Celebration of Excellence (NOW, June 3, 2013).
---