Academic leaders honoured for exceptional administration
Lynn Hughes, George Kanaan and Lata Narayanan recognized for accomplishments and dedication to Concordia's mission
The Concordia Academic Leadership Awards, created in 2012, recognize individuals who have shown exceptional leadership abilities through the realization of significant administrative accomplishments at Concordia.

"Oftentimes we refer to these people as working in the shadows, as being devoted to our mission, and rarely getting the recognition they truly deserve," said Dominic Peltier-Rivest, director of the Centre for Academic Leadership, before presenting awards to George Kanaan and Lata Narayanan. The third recipient, Lynn Hughes, was unable to attend the May 30 ceremony.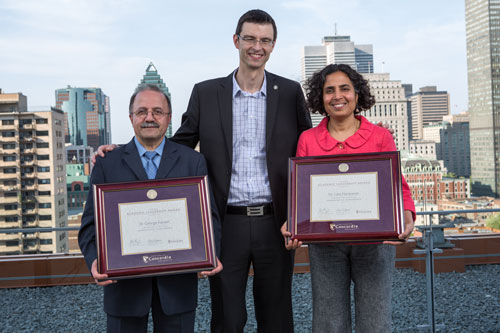 George Kanaan
Associate Dean, Undergraduate Programs, John Molson School of Business (JMSB)

George Kanaan has served in his current role as associate dean, Undergraduate Programs, with the John Molson School of Business (JMSB) for the past 12 years. Before then, he chaired the Department of Accountancy for four years.

His portfolio includes supporting more than 7,000 JMSB undergraduate students and ensuring that academic policies and procedures are designed and implemented in the best interests of the school and its students. During his tenure, JMSB's undergraduate programs have grown tremendously, both in numbers and in quality.

"Dr. Kanaan is well known for his strong, balanced leadership style, and kind and helpful demeanor," said Peltier-Rivest. "He regularly goes above and beyond the call of duty by accepting new responsibilities while already juggling a substantial portfolio."

He led the preparations for the rigourous and comprehensive review process required for accreditation from the Association to Advance Collegiate Schools of Business (AACSB). He also documented the critical path that tracks the required processes for the years to come.

"Through his vision and leadership, Dr. Kanaan has created an academic environment where excellence flourishes," Peltier-Rivest said. "He has remained steadfastly committed and has worked diligently towards achieving Concordia's mission."

Lynn Hughes
Associate Professor, Department of Studio Arts, Faculty of Fine Arts

From 2008 to 2011, Lynn Hughes was associate dean, Research and International Relations, for the Faculty of Fine Arts. Previously, she served as associate dean, Academic Programs, for three years. She also served as acting dean for six months before that.

"Professor Hughes has demonstrated her exceptional leadership in several capacities, but she distinguished herself in the role of associate dean, Research, by guiding the Faculty toward increased research capacity and a fuller articulation of fine arts to the research mission of Concordia," said Peltier-Rivest.

Hughes was also instrumental in familiarizing the Concordia community with the term "research-creation," which seeks to embrace traditional practices of art-making with scholarship, providing a new institutional platform for making knowledge through art.

"Professor Hughes has shown herself to be a builder of research infrastructure, a founder of research initiatives, as well as a research leader in her own right," Peltier-Rivest said. "Her ability to rally support and commitment from colleagues, staff and students is another testament to her exceptional leadership skills."

Lata Narayanan
Professor, Department of Computer Science and Software Engineering, Faculty of Engineering and Computer Science

From 2009 to 2012, Lata Narayanan was associate dean, Academic Programs, for the Faculty of Engineering and Computer Science. She also served as associate chair and undergraduate program director before then. She is currently a professor in the Department of Computer Science and Software Engineering.

As associate dean, Narayanan led the curriculum development of the Faculty. "She was able to reach consensus with various committees on often controversial and difficult program changes" said Peltier-Rivest. "This was done with grace and leadership qualities that are admirable."

Her most significant accomplishment was the work she did for the last Canadian Engineering Accreditation Board (CEAB) accreditation exercise. Working closely with the departments and the dean's office over a 12-month period, Narayanan assembled and led a a team that succeeded at getting seven undergraduate engineering programs evaluated.

As of June 2012, Concordia is one of very few universities across Canada to be awarded a full six-year approval for all of its engineering programs, which is the most any university can obtain.

"Dr. Narayanan has provided outstanding academic leadership to this university with respect to controversial curriculum changes, the assessment of learning attributes and the successful accreditation of our engineering and computer science programs. She is truly deserving of the prestigious institutional Concordia Academic Leadership Award," said Peltier-Rivest.
Read about other award winners from the May 30 Celebration of Excellence (NOW, June 3, 2013).

---