Accolades for the week of May 27
Celebrating achievements by Concordians
Vice-President, Teaching and Learning, Ollivier Dyens recently appeared on a series called Survie on TFO (a French-language TV station based in Ontario) discussing the survival of the human race in a post-apocalyptic world. Watch the segment on Vimeo.

---

Creative Arts Therapies Assistant Professor Guylaine Vaillancourt was honoured with the Peer Recognition Award at the 39th annual conference of the Canadian Association for Music Therapy held in Saskatoon from May 9 to 11. This award recognizes innovation to advance and inspire the music therapy profession in Canada.

---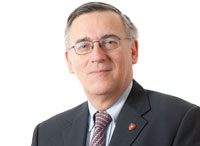 Ted Stathopoulos, from the Department of Building, Civil and Environmental Engineering, was made a Fellow of the Structural Engineering Institute (SEI) at the American Society of Civil Engineers (ASCE) Structures Congress in Pittsburgh at the beginning of May.
---

Sandra Betton, a professor in the Department of Finance since 1994, has been appointed director of the MBA program. As of June, Betton will have oversight of the MBA program as well as the Graduate Diploma and Certificate programs in Business Administration. "Sandra's knowledge of our programs and her insight into their development will make a strong contribution to their continued success," said JMSB Dean Steve Harvey.
---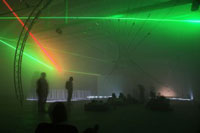 Christopher Salter won an honourable mention in the Hybrid Arts award category at the 2013 Prix Ars Electronica for his piece, N_Polytope: Behaviors in Light and Sound After Iannis Xenakis. The project was one of 13 winning entries out of more than 400 submitted projects.

Created by Salter, Design and Computation Arts associate professor and director of the Hexagram-Concordia Centre for Research-Creation in Media Arts and Technologies, along with Sofian Audry, Marije Baalman, Adam Basanta, Elio Bidinost and Thomas Spier, N_Polytope is a spectacular light and sound performance-installation combining lighting, lasers, sound, sensing and machine learning software.

N_Polytope will tour Germany, Spain and Montreal in 2014.
---

Graduating PhD student Mohammad Najafi Ivaki won the Carl Herz Prize for 2013-14. This marks the first time that a Concordia student has won this international award, which "recognizes a research contribution to mathematics or statistics made by a doctoral student." The prize is worth $4,000 and includes a travel grant of $1,000 for the recipient to present research at a scientific conference.
---

Congratulations to Vicki Bourke, Agnes Katsouros, Daisy Niang and Same Robin, winners of the Best Undergraduate Student Family Business Paper Award. The students submitted an outstanding paper on the draperies business Verti Store and were recognized at the Fuller Landau Family Business Awards luncheon at Concordia's JMSB on May 13.

The paper formed part of their coursework in the Entrepreneurial Family Business course. The judges, Ronald Abraira, lecturer in the JMSB; Young-Chul Jeong, assistant professor in the JMSB; and Mohamed Meskaoui, winner of the 2011 Fuller Landau Best Student Paper Award, praised the students for their application of theories, in-depth analysis, reasoning processes and writing quality.
---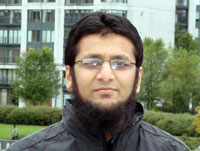 Noman Mohammed, who recently obtained a PhD from the Concordia Institute for Information Systems Engineering, has been ranked first in his category in Canada for the most recent competition for post-doctoral fellowship support from the Natural Sciences and Engineering Research Council of Canada. Mohammed's research responds to the need to share information with public organizations, such as governmental agencies, hospitals and financial companies, while still ensuring the privacy of individual clients is kept safe.
---

PhD student Scott Bucking, co-supervised by Radu Zmeureanu and Andreas Athienitis in the Faculty of Engineering and Computer Science, won the best presentation award at the Photovoltaic Networks National Scientific Conference in Hamilton, Ont., held May 8 to 10.

Bucking's presentation was about how particular economic incentives influence the design of buildings, in particular, buildings with passive solar systems and photovoltaic systems. Bucking is conducting his research at the Centre for Zero Energy Building Studies in the Department for Building, Civil and Environmental Engineering.

---