Concordia to host 2014 Acfas congress
Researchers to explore La Recherche : zones de convergence et de créativité
Concordia University is reinforcing its partnership with the Association francophone pour le savoir – Acfas, by hosting the major annual gathering for researchers and scientists from all disciplines. The 2014 Acfas Congress will also be an occasion to celebrate Concordia's 40th anniversary.

This year, several Concordia University researchers (professors, lecturers and graduate students) will once again take part in this high point of francophone university life. Nearly 6,000 researchers, including 500 international participants from some 40 countries, will take part in the 81st congress to be held at the Université Laval from May 6 to 10. They will present and share their research findings and address such topics as public diplomacy and the culture of the future, feminist movements, Aboriginal governance, groundwater, innovative microsystems, nanoparticles and striking a research-activism balance, to mention but a few.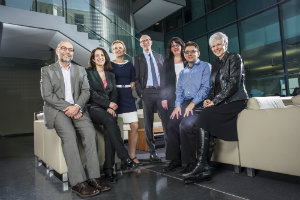 At Concordia in 2014, La recherche : zones de convergence et de créativité will be the theme of the 82nd Acfas congress. A number of elements must converge to inspire innovation and creativity, be it the talent and skills of researchers, existing institutional frameworks, the social environment or the availability of financial resources. Convergence occurs when research is the focus in an environment that facilitates interactions between researchers from various disciplines, fostering the emergence of new ideas.

"We are very pleased to welcome the largest multidisciplinary gathering of researchers in the Francophonie.
As an institution which is seeking to redefine the university of the 21st century, Concordia is eager to facilitate interactions and stimulate the birth of new ideas", says Concordia University President Alan Shepard. "The convergence of disciplines continues to be a necessity for science and for technological and social advances."

"Acfas is extremely pleased to collaborate with such a creative institution as Concordia University for its 82nd congress, in a context in which the university must continually redefine its role within a changing society," says Louise Dandurand, president of Acfas. "In this sense, now, more than ever, convergence between the research community and the university network is necessary if they are to fulfil their desire to improve quality of life in our society, beyond any economic or social interests."

About Acfas: ?The mission of the Association francophone pour le savoir – Acfas, which was created in 1923, is to promote scientific endeavours, stimulate research and facilitate the dissemination of knowledge. The association, based in Québec, brings together some 6,000 researchers from all knowledge sectors.

About Concordia:? Established in 1974, Concordia University is recognized as an innovative teaching and research institution. The Concordia community approaches societal issues from a broad perspective and encourages students to become active, critical and concerned citizens. Based in Montreal, Concordia counts 46,000 individuals from more than 150 countries as part of its student body.

Related links:
• 81e Congrès de l'Acfas - Savoirs sans frontières
• Themes addressed by Concordia University researchers
• Concordia University

---