Concordia wrestlers shine at nationals
Tremblay and Steen win high honours in wrestling championships in London, Ont.
March 6, 2013
|
Source: Recreation and Athletics
Concordia wrestlers David Tremblay and Jordan Steen won two of the highest honours at the Canadian Interuniversity Sport wrestling national championships in London, Ont. on Saturday.

At a celebration dinner following the competition, Concordia wrestler David Tremblay was named the outstanding male wrestler at the national championship, while Jordan Steen was named the Rookie of the Year.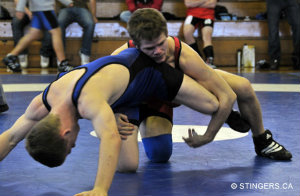 Tremblay, competing at 61 kilos, won his fifth straight gold medal. His name goes into the CIS record books as the third male wrestler to reach this prestigious milestone. He is the first Concordia athlete to win five gold medals in five years of eligibility.

The Stoney Point, Ont., native was undefeated in the preliminary rounds and then beat Dylan Williams from the University of Alberta in the gold medal match. Tremblay won 7-0, 9-2.

Steen of Windsor, Ont., made a strong impression in his first trip to the nationals. Wrestling at 90 kilos, he rolled through the preliminaries without a loss and then defeated Landon Squires of the University of Saskatchewan by scores of 4-2 and 7-0 to win the gold medal.

Tremblay's and Steen's strong performances helped Concordia finish fourth in the men's competition with 41 points. The University of Alberta won the men's title with 52 points.

Also contributing to a strong men's team performance were: James Mancini, bronze medal (65 kg); Scott Schiller, fourth place (68 kg); Trevor Banks, fifth place, (54 kg); Noel Tremblay, sixth place (57 kg); Chris Kinsella, seventh place (76 kg) and Gurveer Talhan (72 kg) who was awarded eighth place after suffering an injury.

Linda Morais was the lone Concordia entry in the women's competition and she was exceptional. The Tecumseh, Ont., native won a gold medal in the 63-kilo competition. She was undefeated in the opening rounds and then defeated Marlen Figueroa from the University of Alberta by scores of 0-1, 2-0, 4-0. Her efforts gave Concordia 10 points and a 10th-place finish in the women's rankings.

Both Tremblay and Morais were named the PJ's Pub Concordia Stingers athletes of the week for the period ending March 3.

Related links:
• Stingers.ca
• Recreation and Athletics
---