The right stuff
Professor Raye Kass draws up selection criteria for first manned mission to Mars
The founders of the Mars One Project, Bas Lansdorp and Arno Wielders, want to establish a human settlement on the planet Mars. Using private funding and the revenues generated by a "global media event" they hope to begin sending astronauts on a one-way trip to the Red Planet by 2023.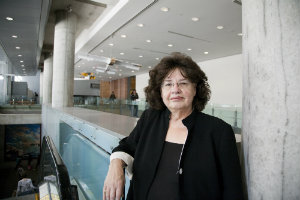 One prominent member of the Mars One advisory team tasked with drafting the astronaut selection criteria is Professor Raye Kass from Concordia's Department of Applied Human Science. Kass is an expert in the dynamics of group behaviour during space flight, and her involvement in space simulation studies spans two decades.

Kass admits she wasn't sure at first whether she wanted to contribute to the Mars One project, since the technology doesn't exist to bring the astronauts back home to Earth. "I kept thinking this is kind of a crazy project. But it's also a very creative one," she says. In the end, Kass convinced herself that the project is a worthy endeavour. "That's how we push the envelope. That's how we make the impossible possible."

Kass approached graduate students and professors in her department and asked them to come up with three qualities that would make an ideal candidate. "There was a flood of responses," she says. "I took all the data, looked for patterns, and came up with five characteristics: resiliency, adaptability, curiosity, the ability to trust, and a mix of creativity and resourcefulness." The five traits are now posted on the Mars One website.
Kass hastens to add, though, that the candidates must also demonstrate emotional and psychological stability, coupled with an extremely strong sense of purpose. In effect, the would-be astronauts must be equipped to accept that they will be living on Mars for the rest of their lives.

"The Mars One voyage is more than just a mission, but a journey to the unknown," writes Kass in an article she co-authored with fellow Mars One advisor Norbert Kraft for the Huffington Post, titled The Uncharted Territories of Mars: Is Science Enough? "The mission of this crew will not end once the journey is over: rather it begins when they have landed. And while they can train as best they can before they take off, the journey itself is the true training ground."

Kass first began studying manned space flight when she and her brother designed the CAPSULS spaceflight simulation for the Canadian Space Agency in 1994, the first to use real astronauts. "It became obvious that astronauts really needed someone to help them take a look at team building and how they could work together," she says.

The success of the experiment led to the Kass duo being selected to design a much larger simulation for the Russian Institute for the Study of Biomedical Problems, known as SFINCSS-99 (Simulation of Flight of International Crew on Space Station).
"It was very powerful, it was very controversial, and there was much written up about it," Kass recalls. James Kass was already well known for his multidisciplinary scientific work supporting manned space flight, but the simulations brought his sister's psychological expertise to the attention of the space exploration community. She went on to work with NASA, and eventually attracted the attention of the Mars One team.

Kass says it's difficult to know who, and how many, suitable candidates will volunteer for the Mars One mission. "What most people can't get around is the fact that they'll be going with the thought, 'I might not be able to come back,' " she says.

In spite of this, the professor is fairly certain the mission to the Red Planet is going to continue to gain momentum, and eventually become a reality. Mars One's global team of experts and advisors has already completed a feasibility study, and recently the mission secured its first investments. The funds, an undisclosed amount, will be used to finance conceptual design studies and the launch of the Global Astronaut Selection Program.

"People have shown an enormous amount of interest," she says. "Just as when, years ago, Kennedy said we've got to be the first persons to land on the moon."

Related links:
• Mars One Project
• The Qualifications to Apply
• "The Uncharted Territories of Mars: Is Science Enough" — The Huffington Post, July 03, 2012
• Department of Applied Human Sciences
---