Frazzled? Learn how to move forward
Multi-faith Chaplaincy offers a weekly program that can help calm your mind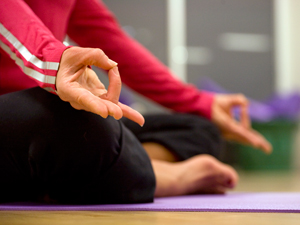 Being pulled in many directions at once to fulfill study requirements, jobs, family life and everything in between, it's no wonder that many of us often feel overwhelmed and stretched to the limit.

One program on campus, Learning to be Still, provides an opportunity for the Concordia community to calm both mind and spirit by using simple tools and strategies.

"From the moment we get up, we have tasks to do. We move from school to work, or we have to look after kids.
We're not having any moments of stillness where we can even breathe," says Rev. Ellie Hummel, the chaplain and coordinator of Concordia Multi-faith Chaplaincy.

Hummel launched the program last year after noticing how frazzled students seemed, and hearing from many that they wanted to lead a more spiritual life, either by learning about meditation or other non-traditional spiritual practices.

"Plus, part of my own spiritual practice is about awareness, in lifestyle and in attitude, that allows me to transition from one task to the next interaction in a way that gives me a moment to just centre myself, so those things combined gave me the idea of doing this program," says Hummel.

"The idea is to give people a place where they can come to breathe, to centre themselves, to connect with others who are on that same journey. Also, for me to give them some tools and techniques that they can take with them, such as basic visualization."

The weekly drop-in workshop, held Wednesdays from 12 to 1 p.m., starts January 16 in Annex Z, the Chaplaincy offices at 2090 Mackay St. No registration is required.

The sessions attract small groups of four or six people, says Hummel, who arranges meditation mats and comfy pillows in a circle. "Each workshop begins with introductions and opportunities to connect with others and ourselves, followed by the introduction of a simple practice, such as a visualization exercise or exploing our senses, and ends with 10 minutes of silence," she says.

"Some people meditate, others are just being in that silence," says Hummel.
"People really value this sacred space, and the fact that they can be themselves."

Following a workshop about spirituality and balance that Hummel conducted in December at Loyola, she was asked to establish a program on that campus. "So I am starting something there on Thursdays, from noon to 1 p.m. starting January 17 in the Loyola Chapel," she said. "It's called Time to be."

Hummel's quick tips to chill out:
• Be aware, be present and do an inventory of your feelings. "A lot of spiritual traditions use a similar model of just breathing: take three deep breaths, have the air fill your body and then exhale. It sounds so simple, but it's a very powerful tool. Do this before an exam or before meeting with a prof," says Hummel.
• Try a mantra, such as "I need peace" or "I'm exhaling my stress."
• Find your own spiritual path. "There isn't one recipe that fits all. Explore and figure out what works for you."

Related links:
• Multi-faith Chaplaincy
• Chaplaincy on Facebook

---