Entretiens Jacques Cartier celebrates 25 years
Concordia delegation returns from another successful edition of ambitious conference
This year marked the 25th anniversary of Les Entretiens du Centre Jacques Cartier, a major conference that brings together researchers and industry leaders to discuss a broad range of economic, political, scientific, social and cultural subjects.

The event is held once a year, either in Montreal or in Lyon, France. This year's edition was held in Lyon, and a delegation of professors and graduate students from Concordia was among the participants.

It was a first for Mathematics Professor Jose Garrido, who along with several of his colleagues from other universities in Quebec and France, submitted a bid to organize one of the 27 symposiums.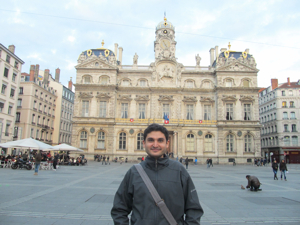 Their contribution, titled "The Application of Mathematics in Risk Management," featured experts in finance, climatology, biotechnology and other areas where mathematics are applied to mitigate risk. "The organizers like to have a large variety of topics that intermingle, to create some kind of synergy, and an interdisciplinary approach to knowledge," Garrido explains.

The highlight of the symposium for Garrido was a presentation by Nicolas Brisebarre from the École Normale Supérieure de Lyon titled "Certified Valuations of Functions on a Machine."

"We think that when we use the calculator and we calculate the square root of something, it's always perfect. Well, he had news for us," Garrido says, explaining that Brisebarre showed how errors build up in computers through different approximations that are used.

"Every error can be very, very small but when you turn it over many, many times, in sophisticated processes like the ones these people use in evaluating risks, it can build up and give completely wrong answers that have no sense at all with the original value."

Brisebarre's research was an eye-opener for Garrido, as he had never come across anything like it in his own work. "I think that's the purpose of these Entretiens, is that you speak to people that you wouldn't normally meet."

Among the people Garrido spoke to at the conference was former Canadian prime minister Joe Clark, who was attending because his wife, Maureen McTeer, was serving as a scientific advisor for a symposium titled "The End of Life and Death in the 21st Century."

Former governor general Michaëlle Jean was also at the conference, where she received an honorary doctorate from the École Normale Supérieure de Lyon. She spoke at the Entretien's inaugural session.

Garrido brought along two PhD students in Mathematics, Oscar Quijano and Polynice Oyono, who were given a chance to present their research during a poster session.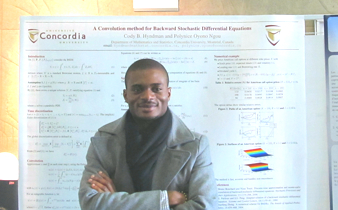 Quijano, who presented his master's thesis research into car insurance estimations, said that for him, the highlight of the conference was a roundtable discussion on the 2008 financial crisis, which capped off the risk management symposium. The panel featured two financial experts: Bruno Dupire from Bloomberg, and André Lewis from the Caisse de dépot et placement du Québec, and four academics.

"This was very interesting because many of them had completely different points of view," Quijano says. "Their comments about how some people see problems in certain things, and for others, something like that isn't a problem; I liked it a lot because of … how they argued about this."

Two other professors from Concordia, Brigitte Jaumard and John Harnad, also acted as scientific coordinators at the 25th edition of the Entretiens Jacques Cartier. Jaumard's symposium, titled "Towards Ecological Information Technology and Effective Energy Consumption," was a follow-up on one she helped organize at last year's edition of Les Entretiens, held in Montreal. Harnad's symposium, titled "Adventures in Mathematical Physics," looked at the complementary work being done by researchers in both physics and mathematics.

Related link:
• Les Entretiens Jacques Cartier 2012
---