Blazing new trail for research in strategic communications
Business community raises $605,000 for Luc Beauregard Centre of Excellence in Communications Research
Six months after launching a campaign to raise $500,000 for a new research hub in strategic communications at the John Molson School of Business, leaders from the business community have deftly surpassed their target.

"To date, we have raised $605,000," Jean-Pierre Vasseur, president of RES PUBLICA Consulting Group, told benefactors on October 15 at a donor recognition event for the Luc Beauregard Centre of Excellence in Communications Research at Concordia.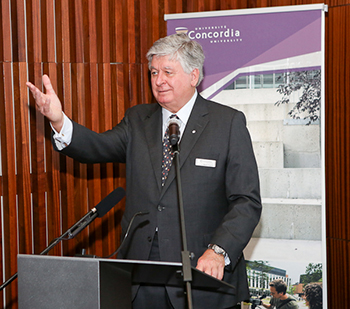 The centre, whose mandate is to unite marketing and communications scholars with business leaders, was launched last April with a view to blazing a unique trail in Canadian higher education.

NATIONAL Public Relations, which is owned by RES PUBLICA, in collaboration with Concordia's Advancement and Alumni Relations, led the fundraising campaign that brought together more than a dozen corporate and private sponsors.

The centre pays homage to Luc Beauregard, a pioneer in the field of strategic communications and a tireless volunteer.

"Rest assured, I am touched and I feel very humbled to deserve such honours," RES PUBLICA founding chairman Luc Beauregard told guests.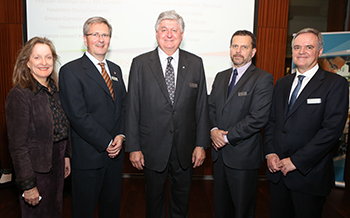 Concordia President Alan Shepard said the centre will play a key role in propelling the university's rising research profile.

"This is an important step forward for Concordia University," he said.

Notable partners who helped fund the centre include: ArcelorMittal Mines Canada, National Bank of Canada, Francesco Bellini, First Lion Holdings Inc./BFL Canada, Fondation Daniel Lamarre, Groupe Germain Hospitalité, Heenan Blaikie, RES PUBLICA Consulting Group Inc., McDonald's Restaurants of Canada Ltd., Pfizer Canada, Power Corporation of Canada, Carolyn and Richard J. Renaud, Sojecci II ltée, Stikeman Elliott, Teck Resources Ltd. and TMX Group.


$605,000 and counting for communications research centre
Benefactors and key Concordia supporters of the Luc Beauregard Centre of Excellence in Communications Research celebrated a fundraising milestone at the John Molson School of Business on October 15. Scott McCulloch, of NOW news and events, attended the celebration and recorded a podcast featuring Marie Claire Morin, Concordia vice-president, Advancement and Alumni Relations, Concordia president Alan Shepard, Luc Beauregard, RES PUBLICA Consulting Group founding chairman, and others:
Related links:
• "New light on strategic communications" — NOW, April 20, 2012
• John Molson School of Business
• Concordia University
• RES PUBLICA Consulting Group
• NATIONAL Public Relations

---