Ottawa pledges its will to intervene
Ceremony followed by expert panel discussion on current crises
The Concordia-based Montreal Institute for Genocide and Human Rights Studies (MIGS) took its mission to raise awareness of Canada's role in preventing mass atrocities to Ottawa this week.
During a formal ceremony, City Councillor Mark Taylor, on behalf of Mayor Jim Watson, designated September 24 Will to Intervene Day in Ottawa, making it the fourth Canadian city to do so. "Only when people have the courage to speak out for the human rights of others and apply strong pressures to governments that do not protect their citizens' rights will we prevent mass atrocities and genocide," Taylor said during his address to a packed room at the University of Ottawa.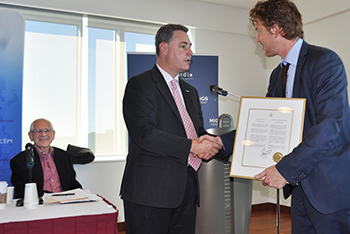 "The citizens of Ottawa are proud to stand up and be counted as staunch supporters of peace, of human rights, and of the protection of life," he added.

Getting Ottawa and other Canadian cities to designate Will to Intervene Day is a municipal outreach initiative by the Will to Intervene Project (W2I). The project was developed at MIGS by its director, Frank Chalk, and Sen. and LtGen Roméo Dallaire (ret). It is committed to advancing public policy for the prevention of mass atrocity crimes. In 2009, W2I released an extensive report detailing how both the American and Canadian governments could show leadership and take action to prevent mass atrocities.
Following his brief address, Taylor read the city's formal proclamation of Will to Intervene Day and presented it to Kyle Matthews, the Senior Deputy Director of W2I at MIGS. "We are honoured to have the City of Ottawa recognize the important contribution that Concordia (through MIGS) is making to advance the protection of human rights through research and public education initiatives," Matthews said.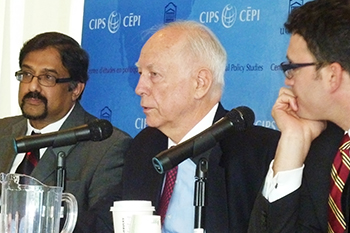 The ceremony was followed by a panel discussion, hosted by the CBC's Evan Solomon. The panel included former Canadian ambassador to the United Nations Paul Heinbecker, University of Ottawa Professor of Law Errol Mendes, and former Member of Parliament David Kilgour.

Sen. Dallaire, Distinguished Senior Fellow at MIGS, was invited to sit on the panel, but was unable to attend due to the passing of his mother, former Concordia employee Catherine Dallaire. (Read the obituary.)

The 45-minute discussion focused mainly on the current crisis in Syria, and how the Canadian-led doctrine known as the Responsibility to Protect (R2P) should be invoked. The panellists detailed how foreign intervention to prevent further atrocities in Syria has not happened so far because they believe it could lead to an even worse situation.
Mendes underlined the notion of proportionality, which is at the heart of R2P. "Part of that critical aspect of proportionality is, you do not make the situation worse by intervening than if you did not intervene," he said. "There is a possibility that you could have a regional, and possibly even an international, meltdown if the wrong type of intervention happened with Syria."

Heinbecker detailed how the situation is a lot more complicated in Syria than it was in Libya, where the R2P doctrine led to a military intervention that helped overthrow a decades-long dictatorship.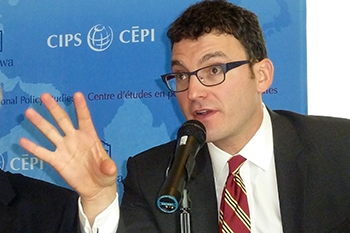 "When you compare Libya and Syria, you can find a lot of reasons for not doing anything," Heinbecker said. "The reasons for doing it are 30,000 people dead. And by next week, or in two weeks, there will probably be 35,000 dead, and that's going to keep on happening until the world gets fed up with it, or until the fight ends. And I don't think we can see an end to this fight."

The discussion was followed by a question period. Two former ambassadors, and the President and CEO of the United Nations Association in Canada, Kathryn White, lined up at the microphone to address the panellists, along with several graduate students from the University of Ottawa.

"One of the things that impressed me the most was the amount of international experience in the room, not just on the panel but in the audience," Chalk said. "W2I was embraced by the broad spectrum of Ottawa's diplomats, members of parliament, students, and professors."

The Ottawa event received support from the All-Party Parliamentary Group for the Prevention of Genocide and Other Crimes Against Humanity (chaired by Dallaire), and the University of Ottawa's Centre for International Policy Studies.

Related links:
• Montreal Institute for Genocide and Human Rights Studies
• Will to Intervene Project
• Centre for International Policy Studies: University of Ottawa
• The All-Party Parliamentary Group for the Prevention of Genocide and Other Crimes Against Humanity
• Responsibility to Protect
---