Concordian cycles to bronze at London Paralympic Games
Alumna Marie-Claude Molnar places third in individual 16-km road race
"If at first you don't succeed...": That saying could be the mantra for Marie-Claude Molnar, a member of the Canadian Para-Cycling Team.

The former Concordia student and cyclist narrowly missed the podium on her first try at the 2012 London Paralympic Games, where she finished fourth in the women's individual pursuit on August 30.

Undeterred, Molnar picked up the pace one week later and sped to a third-place finish — and a coveted bronze medal — in the individual 16-km road race on September 6. The medal was the Canadian Para-Cycling Team's first at the games.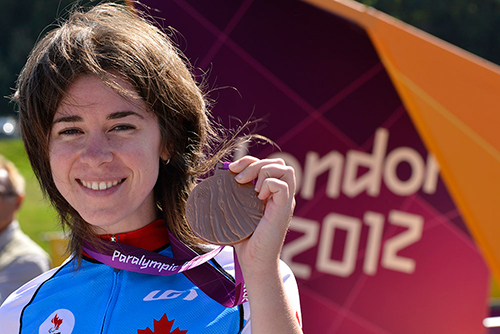 A native of Lemoyne, Que., Molnar studied at Loyola International College from 2006 to 2009. (The Concordia institution recently changed its name to the Loyola College of Diversity and Sustainability.) During her studies, Molnar was also the first president of the college's student association.

Rosemarie Schade, principal of the Loyola College of Diversity and Sustainability, says Molnar showed the same type of dedication to her school as she did her athletics pursuits. "She was wonderful — generous with her time, hardworking, always upbeat," she recalls. "She has also stayed in touch with the college."

Molnar has been cycling since she was three years old. In 2005, she was struck by a car moving at 110 km/hr that left her with a brain injury. A former hockey player, Molnar says that her greatest challenge has been cycling itself: "Cycling is a complex sport compared to what people may think; it involves a lot of strategy, tactics, handling skills and specific knowledge."

Contacted in London after her bronze win, Molnar praised her former professor. "Rosemarie Schade was such an inspiration during my years at Concordia," she says.

Although winning a bronze medal is the culmination of hard work and sacrifices Molnar is quick to share her accolade: "[Winning] is a result of teamwork. I have a coach, Eric Van Den Eynde, who has been following my training every week, and we are lucky to have a support staff. Without their tremendous work, I would not be where I am now."

Molnar's next competition includes track nationals in Dieppe, N.B. "I will do my best to grab both national titles (3,000 metres and 500 metres)."

"I also hope to run a cross-country ski school this winter and continue my education as a cycling coach," she continues. "My goal is to inspire teens to lead a healthy and active lifestyle through cycling."

Related links:
• Canadian athletes at Paralympic Games
• Loyola College for Diversity and Sustainability
• "Reflecting on 10 years of diversity" — NOW, September 11, 2012




---