Concordia community mourns Rita Shane
First woman to graduate from Sir George Williams University
As the first woman to graduate from one of Concordia's founding institutions — Sir George Williams University — Rita Shane, BA 37, was a pioneer in higher education.
To everyone she met, Shane was a force of nature and the picture of elegance never seen without her signature hats. She died, at 95 years old, on July 6 at St. Mary's Hospital in Montreal.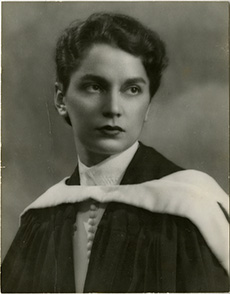 "She was one-of-a-kind and no one will ever replace her," says Michael Katz, Shane`s only son. "My mother exuded confidence."

Shane took great pride in being among the first 11 graduates of Sir George Williams — as well as the sole woman.

"She was from a group that called itself the guinea pigs," says Nancy Marrelli, Concordia archivist emerita, who befriended Shane four decades ago. "Going to Sir George Williams changed her life."

"Sir George Williams was a gateway for my mother to become educated and attain social mobility at a time when other doors were closed to her," says Katz. "That's why she remained so grateful to her alma mater."

After completing her studies at Sir George Williams, Shane pursued a medical degree at McGill University. Only nine per cent of her 1942 McGill graduating class were women.

In 1946, Shane married the late Arnold Katz, who was also a doctor, and insisted on keeping her maiden name.

"She promoted feminist values — not a common way of thinking for a woman of her time," says Marrelli. "She strongly believed that women should take their place in the world."
Shane worked at the Montreal Children's Hospital for 17 years. After a hiatus following the birth of her son, she became medical director of a rehabilitation centre for addictions.
As she advanced her career, Shane never forgot her roots. She remained dedicated to her alma mater as part of the Association of Alumni of Sir George Williams University and attended countless Concordia events over the years.

In 1992, her efforts and considerable impact on society were recognized by the Concordia University Alumni Association with the Humberto Santos Award of Merit.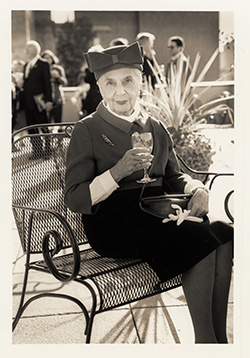 Shane inspired many Concordians. One was Sandra-Lynn Spina, who before her 2010 retirement notably served as director of communications in Advancement and Alumni Relations.

"I had the privilege of meeting Rita Shane several times during my 33-year career at the university," recalls Spina. "What an amazing woman — she was bright, articulate, funny, caring, dedicated and truly inspiring!"

"Rita was a real character who made people around her feel good," concurs Marrelli. "She was memorable woman — one of those people who could light up a room. She was indomitable."

"My mother always encouraged everyone to reach for the stars," says Katz, a California-based instructional designer and a graduate of Dartmouth College and the University of California.

Before macular degeneration affected her vision, Shane had been an avid reader of The New Yorker for over 50 years. She would later read the magazine in extra-large print. "She loved catching up on Montreal news from local media, as well as listening to classical music from the radio," Katz recalls.

Shane also championed her second university. In 1998, she received the E.P. Taylor award for outstanding service to the McGill Alma Mater Fund. "She was on a first-name basis with a succession of McGill principals," says Katz.

It was Shane's mother, who owned and operated a dress shop in Notre-Dame-de-Grâce until her 90s, who encouraged her children to attend university. "Because she operated a business, she managed to put her kids through school shortly after the Great Depression," says Katz.

Shane was the last surviving member of the first graduation class of Sir George Williams.

"She was, quite simply, in a class of her own," says Dominique McCaughey, Concordia's associate vice-president of Advancement and Alumni Relations. "Yet our university and our community have gained a legacy from Dr. Shane that will forever be remembered."

Related links:
• Concordia University Archives
• Sir George Williams University
• Concordia Advancement and Alumni Relations

---