Award recognizes academic leadership of four Concordians
Concordia's Centre for Academic Leadership develops new award to recognize faculty members who have demonstrated exceptional leadership
Michael Kenneally, Robert D. Kilgour, William E. Lynch and Danielle Morin are the recipients of a new award, created by Concordia's Centre for Academic Leadership, to recognize outstanding leadership contributions at the university.

At a recent ceremony, they were each presented with the newly created Concordia Academic Leadership Award by Provost and Vice-President, Academic Affairs, David Graham. The award is open to all academic leaders who have demonstrated exceptional leadership and dedication to Concordia's mission.

"These deserving individuals have worked tirelessly to demonstrate the combination of courage to challenge the status quo, energy, drive, passion, dedication and commitment that is often deployed 'behind the scenes' to make Concordia an ever-better university," said Graham.

The recipients were nominated by their colleagues on the basis of their accomplishments in academic leadership. The nominations were adjudicated by the advisory committee of the Centre for Academic Leadership, and the recommended candidates were reviewed and approved by a group consisting of the provost and vice-president, academic affairs, the four Faculty deans, the university librarian, and the vice-president, research and graduate studies.

The awards were presented on June 5 during the Concordia Celebration of Excellence — Concordia Research, Academic Distinction and Leadership Awards event. The evening also honoured faculty members who received University Research Awards and the 2012 Petro-Canada Young Innovators Award, and included the induction of eight Concordians into the Provost's Circle of Distinction.

Dominic Peltier-Rivest, Executive Director of the Centre for Academic Leadership, explains "At the Ceremony, when I saw the four recipients accept this institutional leadership award, I was not only proud of all their achievements but I also realized that the centre had succeeded at filling a void by creating university awards that give proper recognition to our colleagues who often sacrifice their own research agendas for the benefits of others."

The Centre for Academic Leadership was launched in August 2011 with the mission to promote "ethical academic leadership through the provision of support, training and applied research knowledge in relevant fields of expertise, including responsible management, fiscal responsibility and faculty career development, to current and potential university leaders such as program directors, department chairs, associate deans, associate university librarians and supervisory librarians."

Concordia Academic Leadership Awards – 2012 Recipients

Michael Kenneally
Faculty of Arts and Science

Michael Kenneally has been principal of the School of Canadian Irish Studies since 2010 and the school's interim principal from 2009 to 2010. He was director of the Centre for Canadian Irish Studies from 2000 to 2009, and coordinator of Irish studies from 1991 to 2000.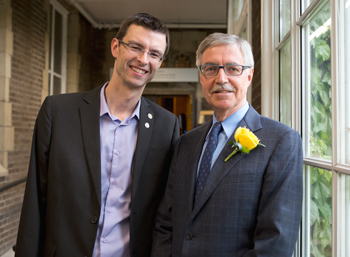 "Almost singlehandedly, on the inside, working with the support and the encouragement of colleagues within Concordia, but leading and spearheading the effort, Michael has created the discipline of Canadian Irish studies at Concordia," said David Graham. "He has been successful at putting Concordia on the map, not just nationally but internationally, as a flagship university in everything having to do with Irish studies."

Among his many other accomplishments, Kenneally's nomination stated that he has "forged links between Concordia and the outside multicultural world of Montreal, Quebec and Canada; built fruitful partnerships with academic leaders and research institutions in Europe; and brokered and delivered high-level fiscal support from private donors, international business leaders and the Quebec, Canadian and Irish governments."

"I am very gratified to receive this award for my work in developing Canadian Irish Studies as an academic discipline at Concordia because the student response has been so enthusiastic (approximately 850 students last year in 19 courses)," said Kenneally on accepting the award. "I am particularly pleased that the creation of the School of Canadian Irish Studies has resulted from the ongoing cooperation between professors and administrators, the Montreal Irish community, and governments in Canada and Ireland."

Robert D. Kilgour
Faculty of Arts and Science

Robert D. Kilgour has been chair of the Department of Exercise Science since 2003 and from 1996 to 1999. He has been a member of the PERFORM Steering Committee since 2011. He was also vice-dean, student affairs, from 2001 to 2003; vice-dean, curriculum and appraisals, from 2000 to 2001; and director of the exercise science co-op program from 1986 to 1988.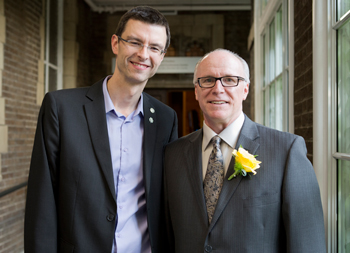 "There is no doubt that Bob amply fulfills the requirements of the category of people who have held an extraordinary variety of leadership positions at Concordia," said Graham.

Kilgour was instrumental in the creation of the PERFORM Centre (Prevention, Evaluation, Rehabilitation, FORMation), which opened its doors in 2011. According to his nomination, Kilgour "was the genesis of the idea that a centre at Concordia could provide a service to the community in the area of health, disease prevention and rehabilitation and also act as an incubator for undergraduate and graduate students to learn applied skills, while generating an important amount of data to answer crucial health research questions."

As the chair of the Department of Exercise Science, he has contributing to increasing student enrolments in all departmental programs; and created the clinical exercise physiology option, the new undergraduate honours in exercise science program, a four-year athletic therapy program, and the department's first graduate program, the MSc in Exercise Science.

"To be among the inaugural recipients of this award will forever be most memorable to me," said Kilgour. "Furthermore, to be recognized by my peers and by those who I admire and respect further reconfirms and validates the time and effort that I have put into developing my personal leadership experiences."

William E. Lynch
Faculty of Engineering and Computer Science

William Lynch has been chair of the Department of Electrical and Computer Engineering since 2009. He was associate dean, student academic services, in 2009; associate dean, undergraduate programs and student academic services, from 2003 to 2008; and associate chair from 2001 to 2003.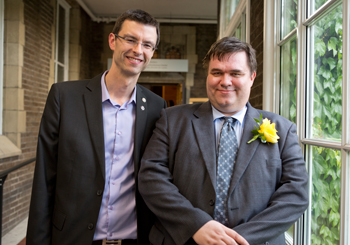 "It's hard for me to imagine or recall any Concordia colleague whose dedication to teaching and to teaching support and to students is more exemplary than that of Bill Lynch," said Graham.

Lynch's achievements as department chair include, among others, major undergraduate curriculum changes, setting up the Departmental Industrial Advisory Board, and raising close to $700,000 for teaching lab equipment.

As associate dean, he introduced the engineering writing test to replace the university writing test for the Faculty of Engineering and Computer Science (ENCS) in 2005, a test more suitable for engineering students.

He also led ENCS in its effort to promote academic integrity by educating students on proper referencing in written work in order to reduce plagiarism, introducing standard ENCS-approved calculators to be used during exams, and working with the university exams office to introduce assigned seating in examinations.

"I am very honoured and gratified to be named for this award," Lynch says. "The award is a reflection of the high quality of the Department of Electrical and Computer Engineering (ECE) where I am chair, and the Faculty of Engineering and Computer Science where I was associate dean. Our ECE department is among the strongest in Canada, as is the ENCS Faculty. With strong units like these, good things happen and it a pleasure to be involved with them."


Danielle Morin
John Molson School of Business

Danielle Morin was associate dean of graduate, research and program evaluation from 2001 to 2004 and associate dean, academic and student affairs, undergraduate programs from 1995 to 2001. She was also vice-provost, academic programs from 2004 to 2008.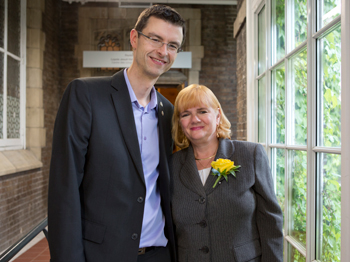 Morin has been recognized for her teaching and curriculum development with the 2005 YWCA Women of Excellence Award in the education category, and the 2004 Concordia Alumni Recognition Award for teaching excellence.

As associate dean, undergraduate programs, Morin revised the undergraduate business curriculum, which led to an increase in admission standards and enrolment. She also developed Faire le grand saut, an intensive two-week program for francophone students beginning business studies in English.

According to her nomination, Morin also "took a leading role in raising awareness among students and faculty members about the devastating effects of plagiarism and academic misconduct on students' learning development as future contributors to the well-being of society."


"Danielle was someone who always impressed me by her emphasis on procedural justice, the importance of fairness, transparency, equity, and just treatment for students and colleagues," says Graham.

On receiving the Concordia Leadership Award, Morin said, "I am thankful to Concordia who has given me so many opportunities to further develop my leadership skills. Concordia is an institution that values and promotes innovation and pursuit of excellence."

Related links:
• "Researchers recognized for excellence" — NOW, June 6, 2012
• "Centre for Academic Leadership supports current and future academic leaders" — NOW, May 29, 2012
• Centre for Academic Leadership site
• Michael Kenneally
• Robert Kilgour
• William Lynch
• Danielle Morin

---