Students present recommendations to CN executives
Carmen Kuczewski's Live Case Simulation approach provides students with a real-world consulting experience
Students who expect Carmen Kuczewski's Integrative Management Accounting Cases course to be a run-of-the-mill accounting class are bound to be surprised by what awaits them.

According to the course description (ACCO 435), the class offers students, pursuing the Certified Management Accountant (CMA) designation, the opportunity to "analyze business cases using the methodology required for the CMA Case Examination."

But this doesn't come close to telling the whole story.
Kuczewski, a part-time accountancy instructor at the John Molson School of Business (JMSB), has spent years developing what she calls the Live Case Simulation approach, which offers students a chance to delve deeply into real-world issues and to interact with some of the city's top executives. "It really is a one-of-kind [class] for the students," she says.

Though Kuczewski has been using hypothetical business cases in her classes for years, she felt that a drawback was that any feedback that students received on their proposed solutions or recommendations was bound to be hypothetical as well.

In 2009, Kuczewski invited managers from Lululemon Athletica to speak to her class and to present a real business case. Students then had the opportunity to provide recommendations directly to the company. "This approach to case-based learning," says Kuczewski, "exposes students to today's issues, rather than to issues of the past, as is the case in a typical business case class."

The course has evolved over the years and Kuczewski involves JMSB alumni in the process. They play a mentoring role, preparing students for the day when executives from the selected company come to present their case.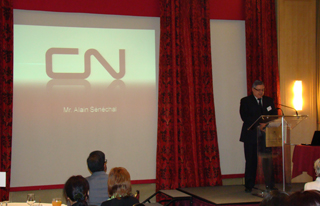 The firm makes its presentation to the entire class before the students are divided into consulting teams. "Students spend seven weeks under pressure to find solutions," says Kuczewski. "They know they will have to be accountable to some very senior executives."

Teams present their recommendations to a panel of judges, which includes board members of the chosen company, at the culminating event of the course: Business Leadership Board Night.

The most recent firm selected by Kuczewski was Canadian National Railway (CN) and the business case focused on four issues: strategy, operations, employee retention and leasing regulations. Alain Sénéchal, assistant comptroller at CN and a member of the board, was very pleased with the experience and amazed by the professionalism of the student-consultants.

"It was fantastic," he said. "I was initially worried about the time commitment; it can take quite a while to develop a case properly, but when professor Kuczewski explained the design of her class to us, I became convinced that it would be a worthwhile endeavour."

"The initiative is very much in line with what we are trying to accomplish at CN," says Sénéchal. "We hire a lot of accountants and encourage them to pursue the CMA designation, so this was also seen as a valuable recruiting opportunity for us.

"The process was very smooth and I was impressed by the rigour of the students' analyses. Many of the recommendations made by the students helped confirm that we are applying our human resources strategy appropriately. It was wonderful to see the enthusiasm of the participants and to hear such a diversity of opinions."

Kuczewski was recently invited to discuss the development of the Live Case Simulation approach at the 2012 Canadian Academic Accounting Association Annual Conference, held this June in Charlottetown, PEI. "The reaction from my peers has been so positive," she says. Later this summer, she will be delivering a similar presentation to the American Accounting Association at their annual meeting in Washington, DC.

Related links:
• John Molson School of Business
• Department of Accountancy
---