Leg up for athletic therapy
Concordia program gains recognition from the Quebec government
It's official: past, present, and future graduates of Concordia's athletic therapy program are now part of a discipline that has been recognized by the Quebec government. The decree, which came into effect on May 6, means that athletic therapy benefits from an official, provincially regulated and protected status.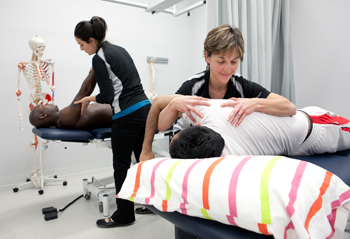 For therapists and clients alike, it's great news. According to Richard DeMont, associate professor in Concordia's Department of Exercise Science and member of the Centre for Research in Human Development, this official governmental recognition represents a huge boost for the discipline.

"Since the inception of our athletic therapy program here at Concordia, our students have been trained as health care professionals. Now the province is truly treating them as such."

The recent signing of this governmental decree provides recognition of the profession of athletic therapy that will improve the musculoskeletal health care options for the average Quebecer to a level consistent with professional athletes and Olympians.

"For years, certified athletic therapists have been assessing and treating the aches and pains of gifted athletes, and this recognition from the College des médecins du Québec helps to provide acceptance of athletic therapy for the recreational athlete, the weekend warrior, and even those just starting to live an active life," explains DeMont.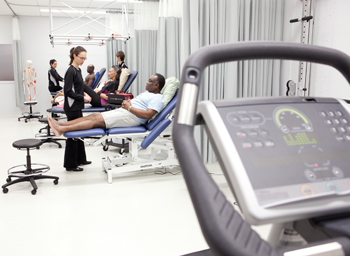 Certified athletic therapists have passed accredited university programs and rigorous certification exams, which maintain the quality of professionals and ensure the safety of the public. Concordia University is one program that has been accredited for over 10 years and has an excellent graduate success on the certification exam.

Concordia's program is one of only seven in the country that is accredited by the Canadian Athletic Therapists Association (CATA), and is the only accredited program in Quebec. Students who complete the program are eligible to take the national certification exam to become certified athletic therapists, meaning they are health-care practitioners devoted to the prevention and treatment of emergency, acute and chronic musculoskeletal conditions and injuries.

This recognition comes at a particularly exciting time for Concordia, having just opened a brand new athletic therapy clinic within the PERFORM Centre. Staffed by athletic therapy internship students and supervised by certified athletic therapists, the clinic is a fully functional treatment centre with state-of-the-art equipment and modalities, in addition to a functional assessment suite and Swim-Ex unit for aqua therapy.

Career opportunities abound for students who have received their degree in athletic therapy from Concordia University and who have obtained certification from the CATA. Just ask graduates of the program who are now working everywhere from Cirque du Soleil to the Montreal Canadiens!

Related links:
• Concordia's Department of Exercise Science
• PERFORM Centre
• Richard DeMont
---