Engineering student flies high
Concordia undergrad Zsean Qureshi wins national paper plane contest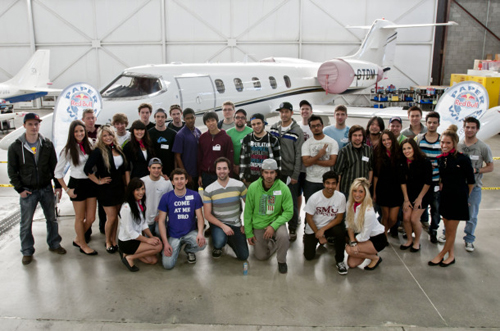 Concordia engineering students have a reputation for flying high when it comes to academics. Thanks to the Red Bull Paper Wings contest, that reputation will soon soar onto the international stage because of the paper plane engineering skills of Zsean Qureshi.
On April 2, the undergraduate student headed to Mississauga's MX Aerospace Centre, where he competed against 25 of the country's top paper plane engineers. At stake was the chance to represent Canada in the Red Bull Paper Wings World Championship taking place at Hangar-7 in Salzburg, Austria on May 4 to 5.
Students from 10 universities across Canada aimed for top marks in distance, airtime and aerobatics. Qureshi earned first place in the distance category: his paper plane flew an impressive 37.4 metres. "Now that I'm headed to the international championships, I'll need to find a higher ceiling to practice!" remarked the 24-year-old.
Related links:
• Toronto Star: Students compete for paper plane supremacy
• Red Bull Paper Wings National Final
• Faculty of Engineering and Computer Science

---