iSCORE hits all the right notes
Concordia helps to develop highly praised music education software
Canada's Royal Conservatory of Music recently hosted the launch of a new software package called iSCORE, developed by a multidisciplinary team from Concordia and Queen's universities, and the Royal Conservatory to facilitate the process of learning music.
The Royal Conservatory plans to distribute the program to its 300,000 music students across the country.

According to professor Philip Abrami, research chair and director of Concordia's Centre for the Study of Learning and Performance (CSLP), and a co-investigator on the project, iSCORE serves as a multimedia portfolio for music studio teachers and their students, and supports their learning by helping them set goals and strategies, act on these, and then reflect on their performance.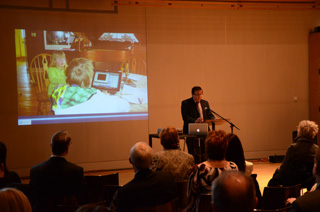 "It's a learning support tool, as well as a multimedia container," he says. "It was developed based on research from the learning sciences, and research on music teaching and learning. It's an evidence-based tool."

Rena Upitis, a professor of education at Queen's University, also helped in the development of iSCORE. She praises the software for its use of technology to transform learning. "By engaging students through the digital technologies and social media that are so important to them, iSCORE also engages them in what really matters most: learning," she says.

The idea for iSCORE came from a chance meeting between Upitis and Abrami. When Abrami told the Queen's professor about the learning software being developed at the CSLP, called ePEARL, the Queen's researcher wondered if it could be applied in an arts learning context.

"Upitis had links with the Royal Conservatory," Abrami explains. "We first started experimenting with our portfolio tool in the Royal Conservatory's school-based program called Learning through the Arts." The program was so well received that the Royal Conservatory told the researchers they wanted a similar learning tool for their mainstream music education program. "So, we approached Canadian Heritage for funding under their new media program and voilà," says Abrami.
Adapting the learning software for this new application wasn't without its challenges, especially considering the funding from Canadian Heritage was to expire after one year.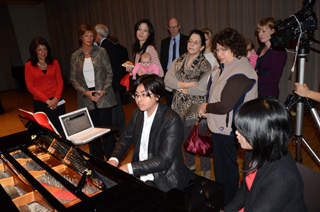 "We had to do some major adaptations and enhancements to the tool in a 12-month time frame," Abrami recalls. "That is a very huge constraint when you're talking about something as complex as iSCORE."

Having spent 10 years developing the ePEARL software, the CSLP team focused on the instructional design and development of iSCORE, while Upitis and the Queen's contingent, and individuals at the conservatory, contributed their knowledge of music education to the project.

The development team managed to get the design and development, the field testing, and the debugging completed within the year. The Royal Conservatory has now begun distributing the software to its students and teachers following the formal launch held at the conservatory in January.

"This innovative teaching tool, developed by leading educators and researchers, fills a need in the music education community," says Angela Elster, the Royal Conservatory's Vice-President, Academic. "iSCORE helps facilitate communications between music teachers and students, regardless of distance or time, ensuring a thorough online learning and evaluation process."

Like most software, iSCORE will continue to evolve, and plans are already in the works for a version for portable devices. "Our tools are never static," says Abrami. "There will be a version two and a version three. As we scale up our research, we'll learn more about what we can do to further refine the tool so that it works even more effectively."

Related links:
• Concordia Centre for the Study of Learning and Performance
• Royal Conservatory of Music iScore homepage
• ePEARL





---