German company returns art to Stern Estate
German casino returns Nazi-looted painting by Dutch master
A masterwork has been returned to its rightful owner, the Estate of Dr. Max Stern. The Masters of the Goldsmith Guild in Amsterdam in 1701 by Dutch portrait painter Juriaen Pool II (1665-1745) is the ninth Nazi-looted artwork to be returned to the estate's university heirs (Concordia, McGill University/Montreal, Hebrew University/Jerusalem) and the first from a German entity.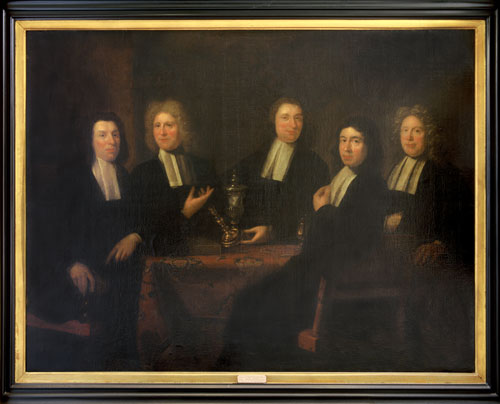 The painting was returned to the Amsterdam Museum, the site of an official ceremony to mark its return.
The location is particularly significant as the Dutch museum has just opened a children's wing in a space that was once occupied by the very orphanage in which Juriaen Pool II was raised.
The figure of the artist now serves as a "guide" for visitors through the exhibitions. Pool married Rachel Ruysch — one of the most important women artists of the time. The couple eventually relocated to Düsseldorf where they became court painters to the Elector Palatine John William.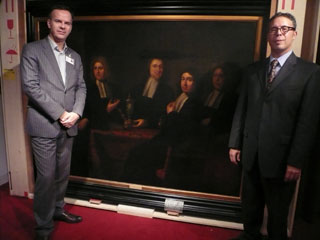 The Stern Estate learned that this large-scale painting of some of Amsterdam's most important citizens had been with the late German-Jewish art dealer's Galerie Stern as late as 1937 when it moved to the Galerie Heinemann in Wiesbaden. In the years after the Second World War it was acquired by a casino in southern Germany where it has resided ever since.
In 2004 Sotheby's auction house contacted representatives of the Max Stern Art Restitution Project regarding the status of the painting. During six years of rigorous research, which included the discovery of key archival records in the Netherlands Institute for Art History (RKD), the Holocaust Claims Processing Office (HCPO) of the New York State Department of Financial Services pressed for its restitution.
"We are extremely grateful to all the important stakeholders — the HCPO, the RKD and Sotheby's — who were critical to the restitution of this work from a German corporate collection," says Frederick Lowy, president and vice-chancellor of Concordia University. "We are in ongoing discussions with a number of German museums regarding works they hold that were taken from the Stern collection, and remain hopeful that more good news will follow."
Dr. Max Stern (1904-1987) was forced to dissolve his Düsseldorf art gallery business during the Nazi period. Following the Second World War, he settled permanently in Montreal, Canada, where he became one of the country's most important art dealers and collectors. He bequeathed the bulk of his estate to three major universities.

The Max Stern Art Restitution Project is spearheaded by Concordia through the Office of the President, working in close collaboration with the HCPO as well as with numerous institutions and government agencies worldwide including the Art Loss Register, Interpol and U.S. Immigration and Customs Enforcement.

Related links:
• Max Stern Art Restitution Project


---