Walking the Camino trail
Concordia theological students make the journey along the ancient Camino de Santiago.
Every year, tens of thousands of people set off on an experience that will likely change their lives forever — a pilgrimage along the Camino de Santiago in northwest Spain. Also known as the Way of Saint James, pilgrims end their journey at the Cathedral of Santiago de Compostela or, for the increasing number of non-religious pilgrims, a bit further west at the ocean in Finisterre, which means 'land's end', where pilgrims traditionally burn their travelling clothes.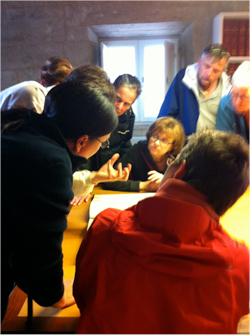 Last summer, part-time faculty members Matthew Anderson and Sara Terreault, along with a small group of Concordia students, set off to complete 270 km along the trail as part of an optional component of a course offered by the Department of Theological Studies.
For two weeks, they walked 25 km a day over mountains and across plains, through crumbling Spanish villages and new Iberian cities, past cathedrals and through forests.
Originating in the ninth century, the Camino de Santiago route is actually many trails originating throughout Europe. The most popular is the Camino Frances at 800 km, starting in Saint Jean de Pied de Port in France and ending in the town of Santiago de Compostela. At the height of its popularity in the Middle Ages, nearly half a million people travelled from all over Europe in search of forgiveness and liberation in memory of Saint James.

Through the centuries, pilgrim traffic on the Camino has waxed and waned. But its popularity is again on the rise, with people of all ages and from all over the world walking, biking or horseback riding sections of the UNESCO World Heritage Site for religious, spiritual, and personal reasons. Even Hollywood is getting in on the walk: a film about the route to Santiago de Compostela, The Way, starring Martin Sheen will be released this fall.

In recounting his experience at a recent departmental meeting, Anderson noted that the enthusiastic group of students who participated in the journey brought a rich diversity of religious and secular backgrounds to a multimedia interdisciplinary study that focused on ancient and modern pilgrimage texts from the Bible to contemporary pop culture.

What did the Concordia group discover?

Says Terreault: "we trek through geographic as well as interior landscapes, sometimes alone and sometimes in community, but our itineraries always reveal or deepen our lives."

Anderson is preparing another interdisciplinary undergraduate course, with a travel component, open to all for May 2012. The theme of the course is Pauline literature and the world of the first century, and includes a two week trip to Greece and Turkey. If interested, please contact Anderson through the Department of Theological Studies.

Related link:
• Concordia Department of Theological Studies
• Presentation on the walk





---