Sowing the seeds of hope
Dr. Paul Farmer and Concordia grads Régine Chassagne and Madeleine Féquière discuss engagement in Haiti.
He brings medical care to those who need it most in Haiti, Peru, Cuba and Russia. He challenges the unspoken view that poor people can only get poor medical care. He builds hospitals in the middle of nowhere. He treats. He inspires.

He is Dr. Paul Farmer, who, as part of Concordia's Up Close and Personal: A Panel Discussion on Engagement in Haiti on September 22, helped cap off the university's Homecoming '11 celebrations with characteristic élan.
In 2009, Farmer was named UN deputy special envoy for Haiti under Bill Clinton, the UN's special envoy for Haiti. Farmer is an expert on the poorest nation in the Americas, not least because he is married to a Haitian and worked there for decades through Partners in Health, an NGO he co-founded that provides medical care to the poor.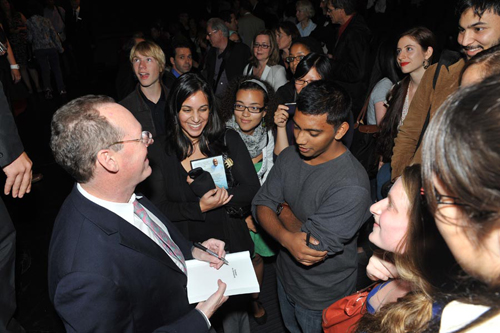 While cautioning that "Haiti is a very fraught problem," the Harvard Medical School professor pointed squarely to Montreal's own Haitian population as a source of hope for the devastated nation. "The diaspora has a huge role to play," said Farmer.

On stage in front of a capacity crowd of 380 at Concordia's D.B. Clarke Theatre, Farmer was flanked by two Concordia graduates: co-panellists Régine Chassagne, BA 98, of Montreal-based indie rock group Arcade Fire; and Domtar executive Madeleine Féquière, BA 85. Farmer's global lifesaving work was celebrated in Tracy Kidder's widely admired book, Mountains Beyond Mountains: The Quest of Dr. Paul Farmer, a Man Who Would Cure the World (2003).

But moving a mountain happens "one village at a time," said Farmer explaining his decision behind the launch with Chassagne and Féquière of the aid group KANPE (Créole for "stand up"). KANPE zeroes in on vulnerable Haitian communities and families with a view to ending poverty by encouraging financial independence. It pools its expertise with other organizations, too, such as Partners in Health and Fonkoze, which helps poor families achieve financial independence.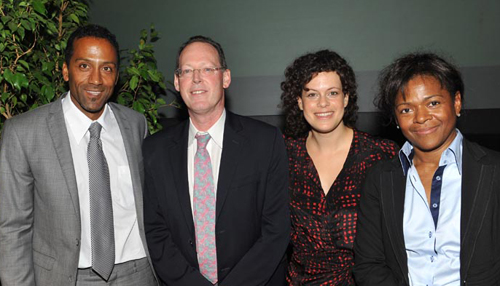 "We've created an organization where Haitians are working together," said KANPE board member Féquière. "We are hoping that Haiti will get off the ground and do some business, so we can get out."

But an exit will take time in coming. Haiti arguably is the most ill-fated nation in the western hemisphere, long hobbled by political instability and violence, extreme poverty, epidemics and natural disasters.

More than a year after its devastating earthquake, hundreds of thousands of Haitians eke out an existence in temporary shelters. Doctors and nurses continue to operate under extraordinarily difficult conditions, often working in tents with little equipment or medicine.

Yet there are moments of joy — moments, as Chassagne discovered while playing music to a child in hospital — where anyone can help soothe Haiti's pain. It was her gentle tune that brought movement to a previously unresponsive infant as Haitian nurses looked on in amazement.

That, said Chassagne, was her initial way of engaging in Haiti. Still uncertain of her role in Haiti's rebuilding, she managed to offer sharp-minded advice: "If you have time to give, give time. If you're a small enterprise, offer your services," she said.

Haiti has a way to go on its road to recovery, but the journey will be shorter with Farmer, Chassagne and Féquière leading the way.

Related links:
• Up Close and Personal site
• Homecoming site






---