Campus Stores give back
For the third year, Concordia's Campus Retail Stores has raised funds to donate to worthy campus causes.
Campus Retail Stores has donated fund to Sustainable Concordia's R4 campaign and the Student Emergency and Food Fund. The money was raised by selling reusable bags, instead of offering plastic ones, a decision that was made in 2009.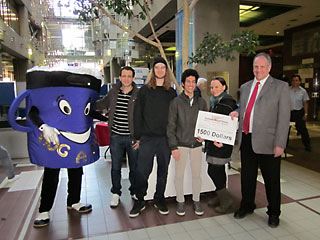 Daniel Houde, Director of Campus Retails Stores, which explained the decision to direct profits from the bag sales to projects that "support community engagement and social responsibility" Was intended to reinforce the university's goals as stated in the strategic framework.

The university's Campus Retail Stores raised $3,000 this year selling the bags at the university's book, computer and digital stores. Each bag sells for 99¢ and Houde says that purchases are generally made by first year students.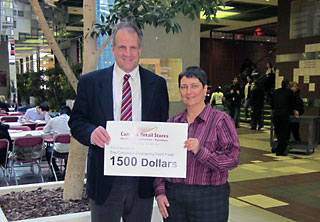 Half of the profits went to Sustainable Concordia's campus waste reduction efforts (the R4 campaign), which finds ways to reduce campus waste by composting, recycling and promoting alternatives to landfill. Their waste audits help determine what goes into the trash to better determine how to reroute it.

Meanwhile, $1,500 was given to Rev. Ellie Hummel at the Multi-Faith Chaplaincy for the Student Emergency and Food Fund offering grocery cards to students on the basis of need.

Related links:
• R4 campaign
• Multi-Faith Chaplaincy
• Campus Stores
---